Bathrooms. Yes, bathrooms. We all need them, especially at Disney World when we are drinking water constantly to stay hydrated.
Disney knows this and is prepared! They have tons of bathrooms located all throughout their parks and resorts.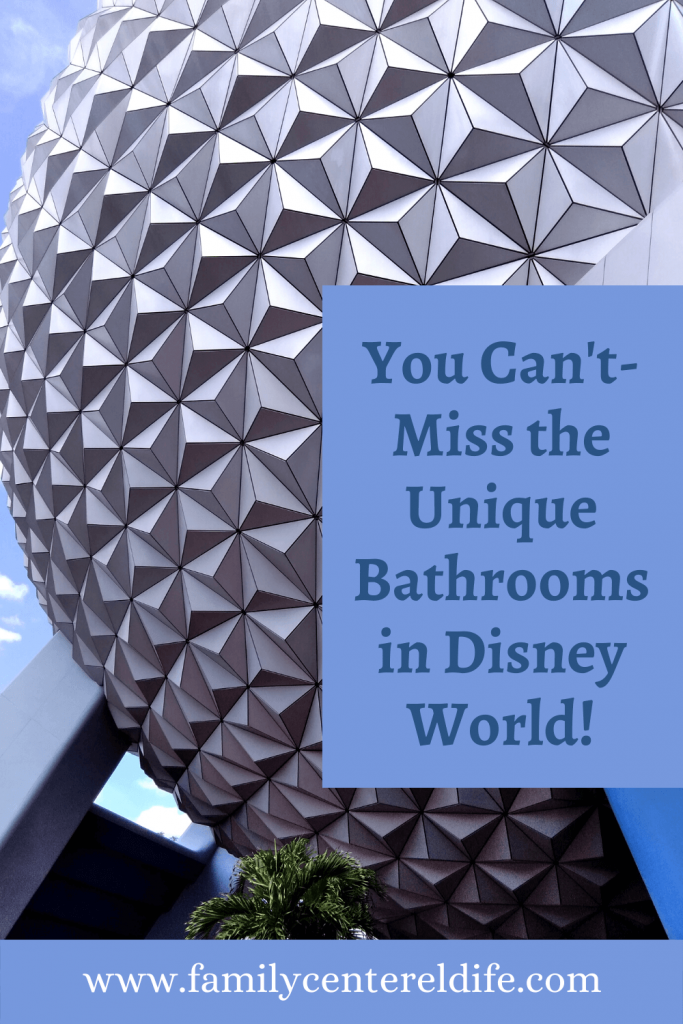 The Walt Disney World App will even show you where all the bathrooms are! You just click on the park map and change "wait times" to "restrooms" and poof! There you go!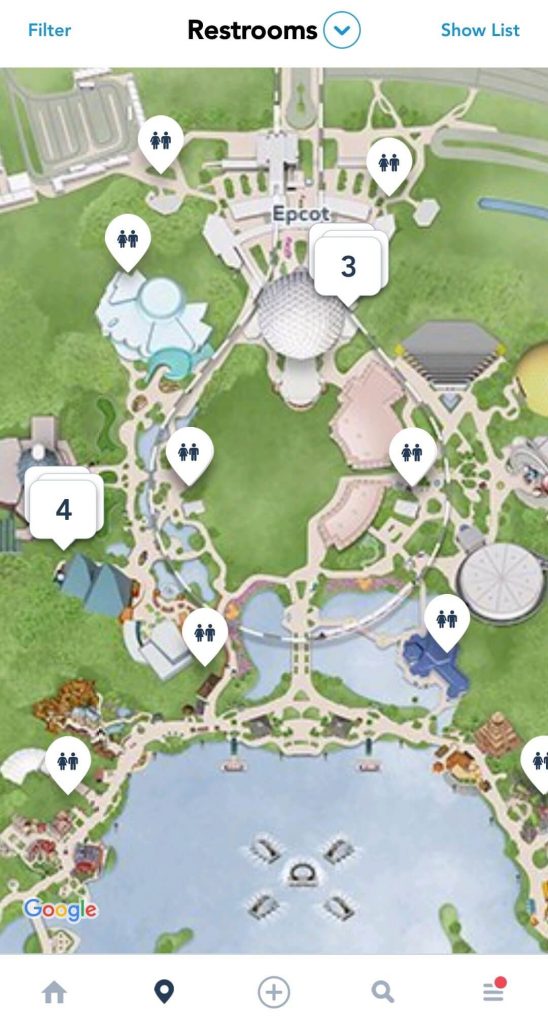 When you are at Disney World the map is interactive and you are the blue dot! Thus, you know exactly where you are and how far the bathroom is from you every time you need it!
However, many times Disney bathrooms are about much more than just necessity! They are about theming, beauty, and so much more!!
Here are some of our favorites!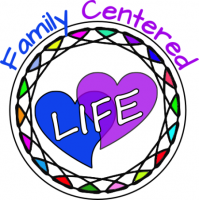 Resort Rooms
First, let's check out some of the resorts! All of the resorts have different themes and decorations. They are beautiful and well done. The actual resort guest rooms are just as beautifully done.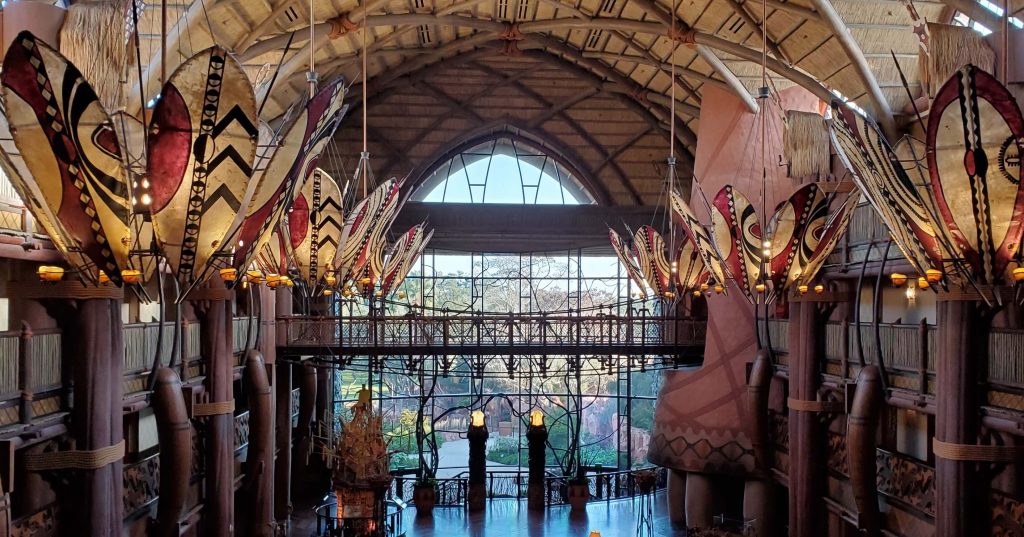 The pictures below are of Disney's Animal Kingdom Lodge resort. It's one of my favorites and I adore all of the large and small details that make it unique and special. One of the small detail I enjoy in this resort room is that even the shower is animal-themed!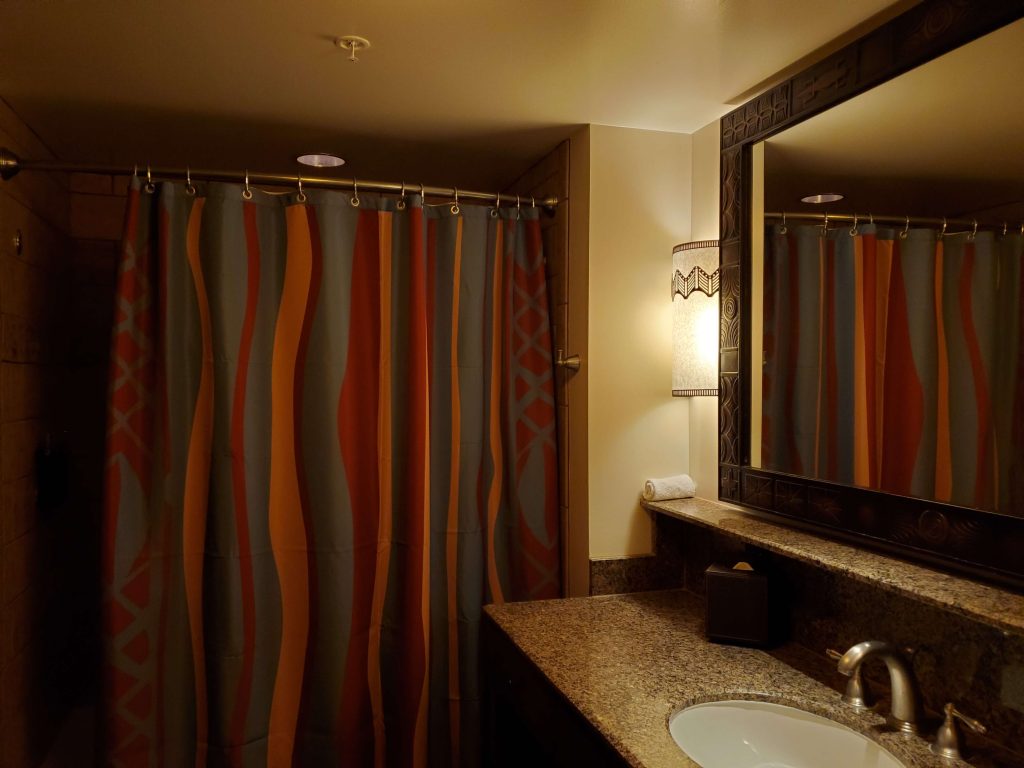 If you look close enough at the shower walls, you can see that the decorative strip in the middle is a variety of animals! So simple, but so perfect!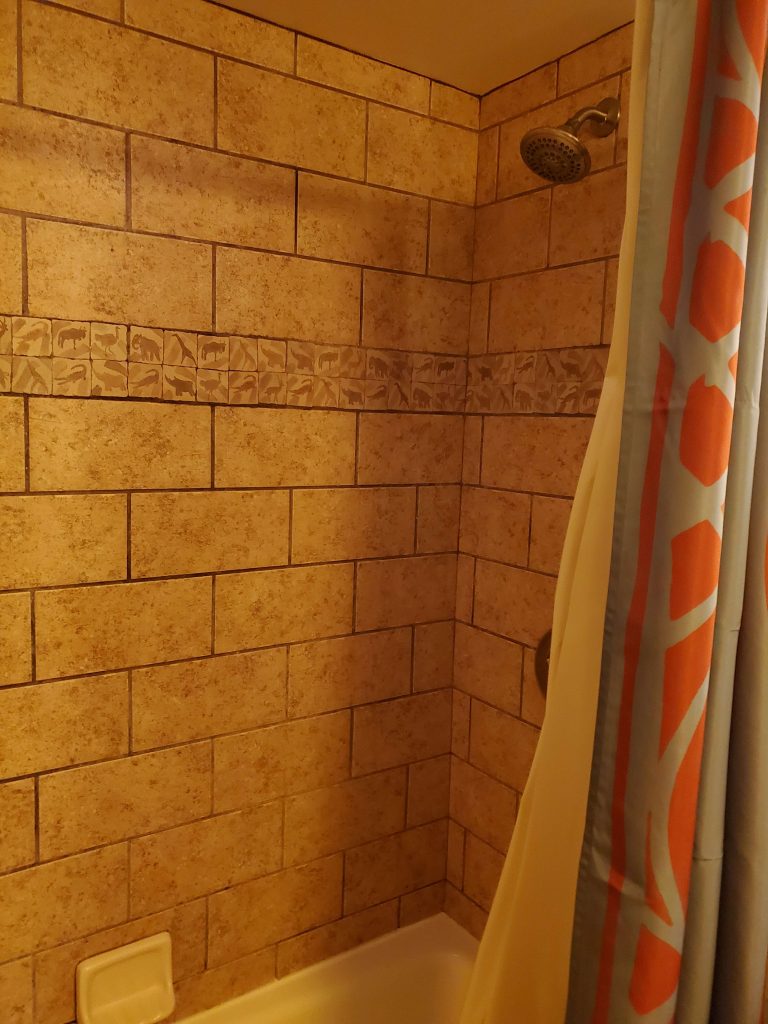 Other resort hotel rooms have much more unique (and fancy in my opinion) touches! The picture below is from Disney's Polynesian Resort's bungalows. My son and I got to tour the bungalow since it is part of the Disney Vacation Club (DVC) and it would be an amazing place to stay!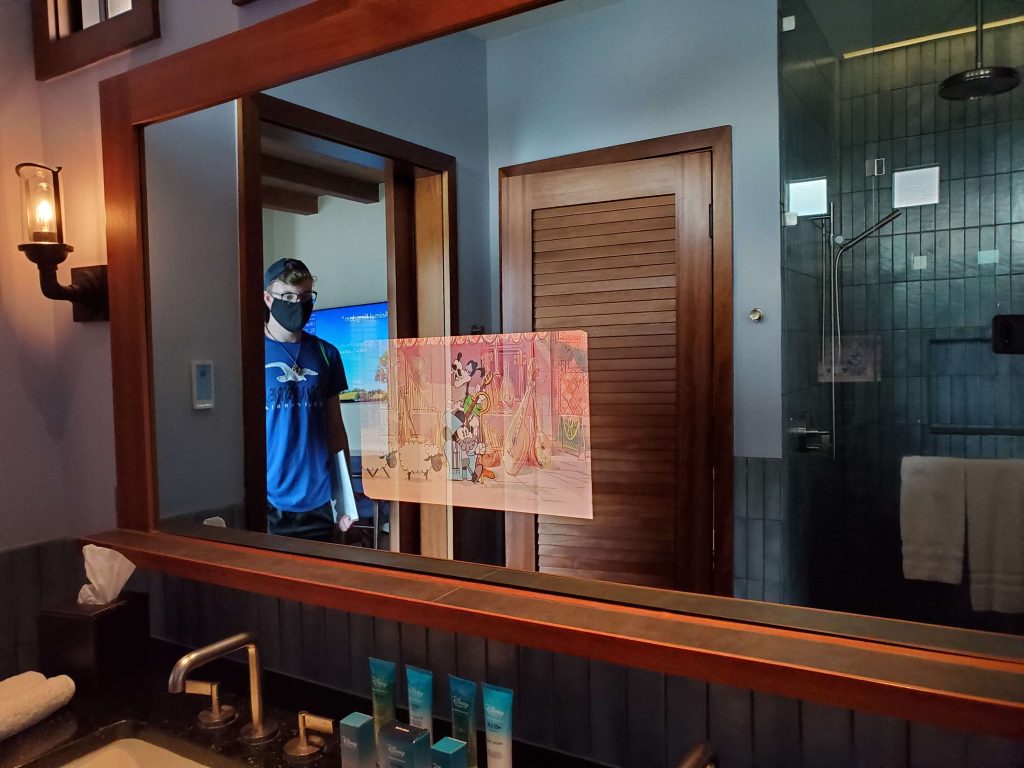 And, yes, that's actually a working television in the bathroom mirror and a clear bathroom shower! If you stay here, you don't have to miss your favorite show or sports program to get cleaned up for dinner!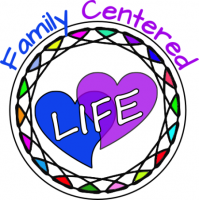 Theme Parks
Next, let's focus on the theme parks!
Disney does an amazing job so decorating and theming their parks to make us feel like we are not only in the magic but part of the magic! They put little details everywhere, including the bathrooms!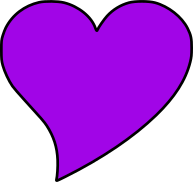 Disney's Hollywood Studios
Disney's Hollywood Studios is absolutely amazing, especially with the new Star Wars area. However, there is more to Disney's Hollywood Studios than just Star Wars!
My favorite bathroom in this park is actually the one in Toy Story Land. It's adorably decorated and I LOVE the way they announce that it's a bathroom…with Scrabble letters! It's a nice replacement for the decorations and Scrabble letters that were removed when they renovated the Toy Story area!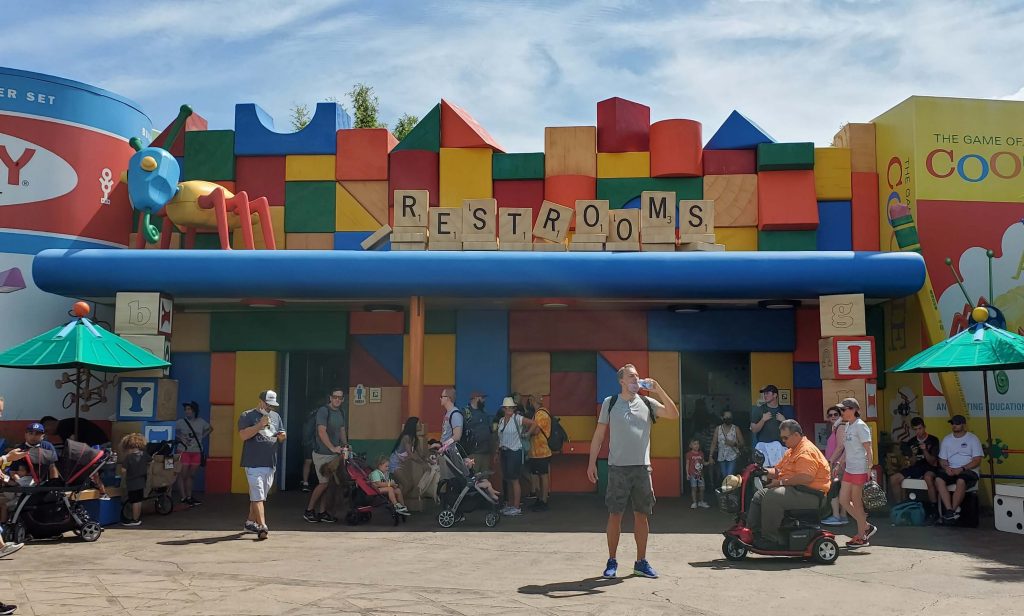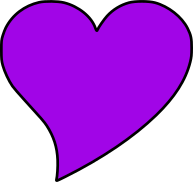 Magic Kingdom
My favorite example of Disney going all-out on a bathroom is the picture below! This is Rapunzel's tower in Disney's Magic Kingdom, right next to It's a Small World. The tower is not a ride or attraction of any kind, it is simply a bathroom! It's a plain, ordinary, simple bathroom on the inside but the outside is spectacular!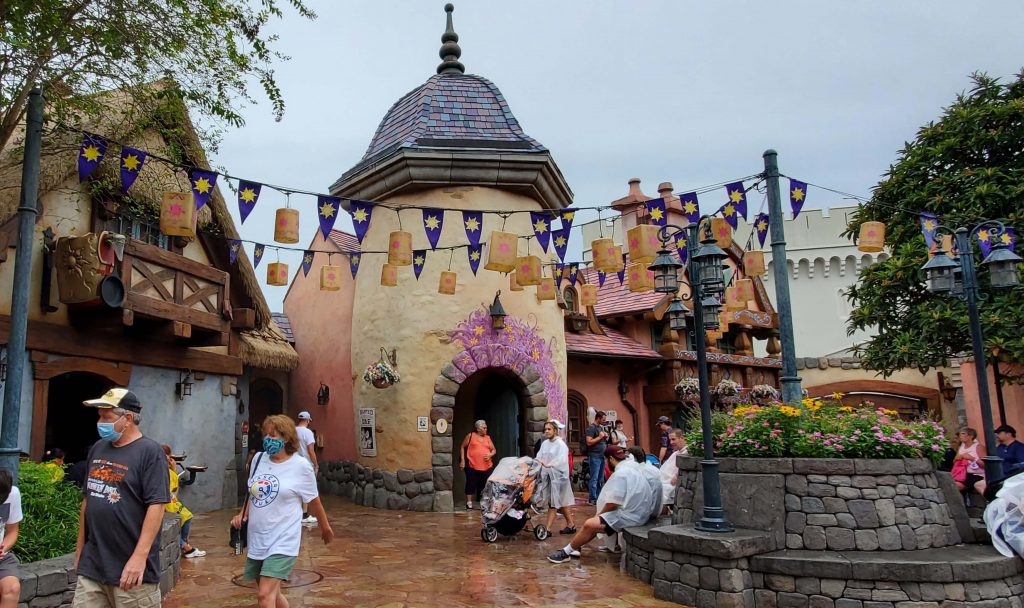 To me, it looks like it should be more than just a bathroom, but it isn't.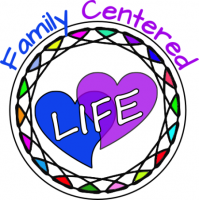 Other Locations
Lastly, off to Disney Spring we go!
I have to throw in the fire station bathroom in Disney Springs. Disney Springs' theme is that of a small town. So, it makes sense that they have a fire station because all cities and towns have fire stations. However, I find it particularly humorous that the fire station is only a bathroom because my husband is a firefighter!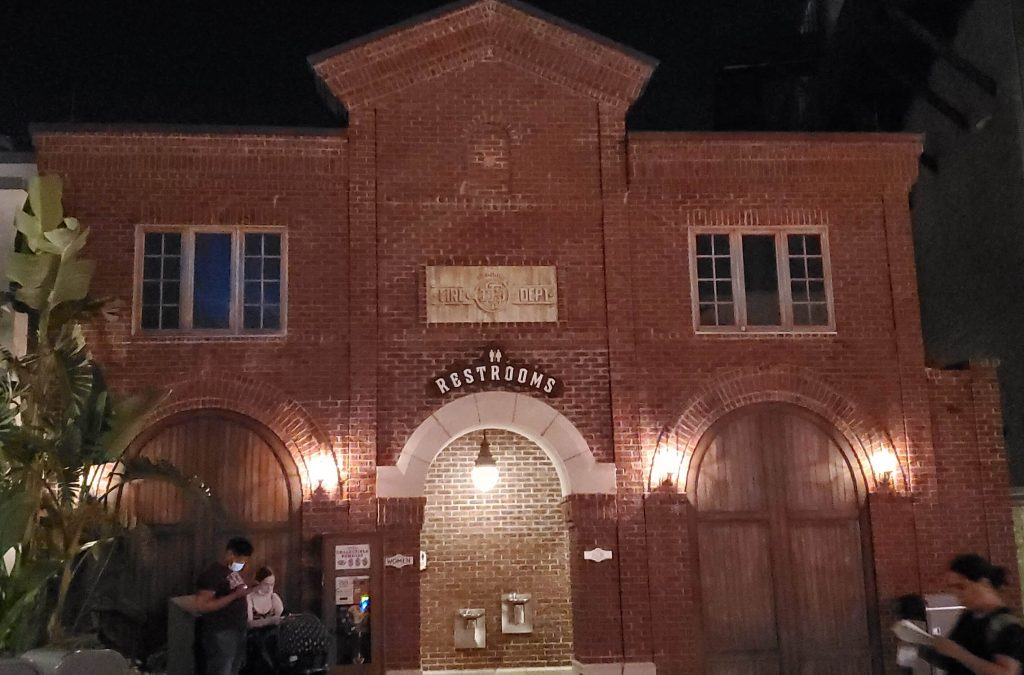 When Disney first re-themed Disney Springs, my husband was not with me when I saw the fire station for the first time. I laughed out loud when I saw it and had to text him a picture! He was even working at the fire station that day, which made it even better!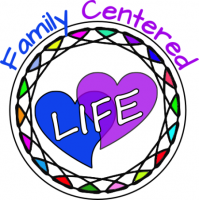 Bonus: Your Home
Best yet, you can take some of that Disney-theming home with you to your own bathroom! It will likely not be as grand as Disney World, but it can still be adorable!
Check out some of these cute ideas!
Shower curtains:
Decals:
Soap: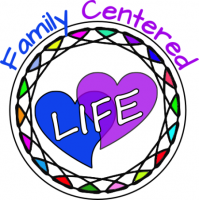 Check out more great information about Disney here!