Ready for a fun weekend stop? Check out some of the many fun things to do in Atlanta, Georgia!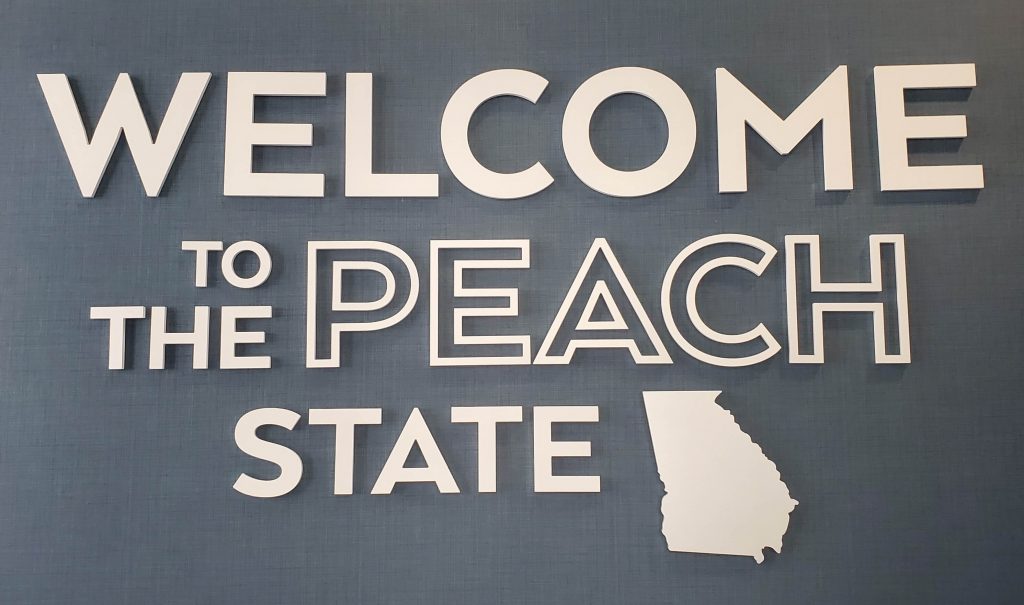 There are so many fun and exciting activities to do in Atlanta, Georgia! There are plenty of outdoor activities, history, and big city life to enjoy! I am a huge fan of animals, so I enjoyed the zoo and aquarium among other things!
The zoo, aquarium, and other attractions were available with City Pass and we took advantage of the great discounts City Pass has! It's one price for many of the local attractions! The price of City Pass is just slightly more than the cost of only doing the local zoo and aquarium. Basically, City Pass gives you free admission to local museums or World of Coke when you visit both Zoo Atlanta and the Georgia Aquarium!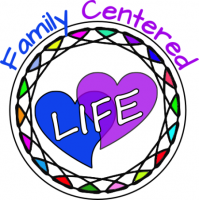 First, we explored The Georgia Aquarium! We have enjoyed several aquariums across the US throughout the years. However, the Georgia Aquarium was the most massive aquarium we had ever been to!
The Georgia Aquarium is one of the several attractions available with City Pass.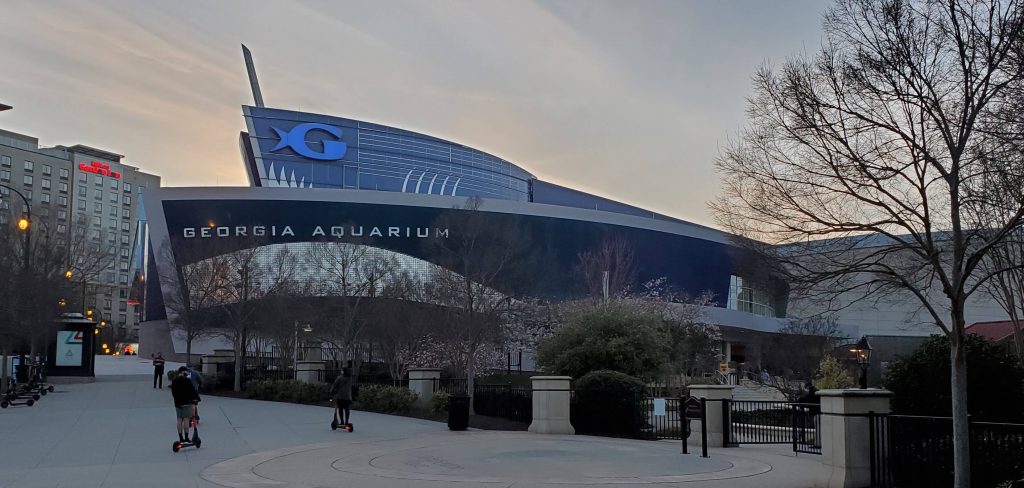 There were several large tanks throughout the facility! One of my favorites was the first one we ventured through! The Ocean Voyager area had a moving sidewalk that went through the walkway in the middle of the tank! It was amazing to see such creatures swimming all around us!
I had never seen a whale shark before that moment and got to watch it swim above my head!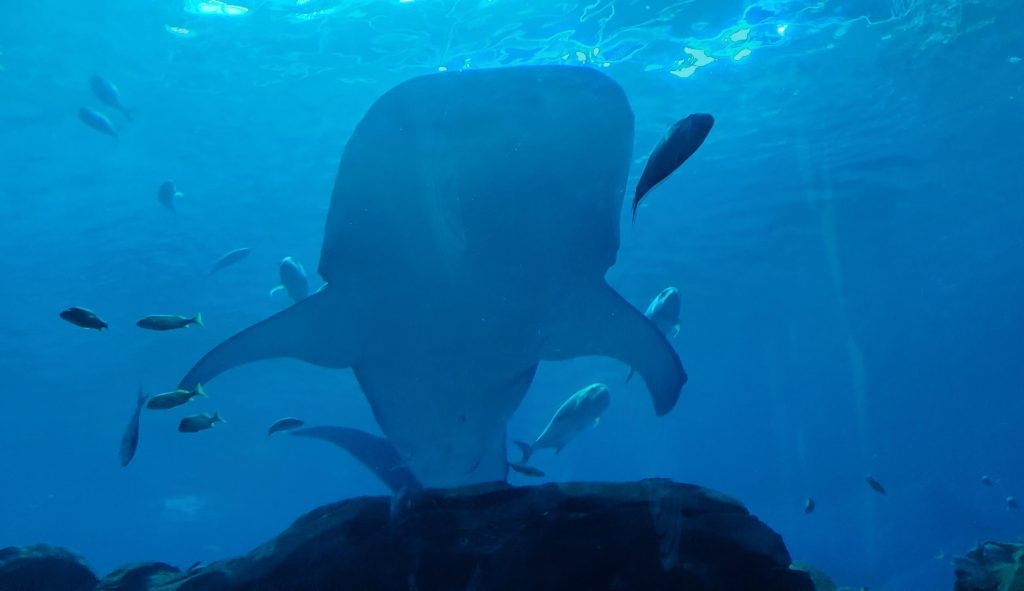 There were several other massive tanks throughout the facility and were several stories tall! It was absolutely amazing!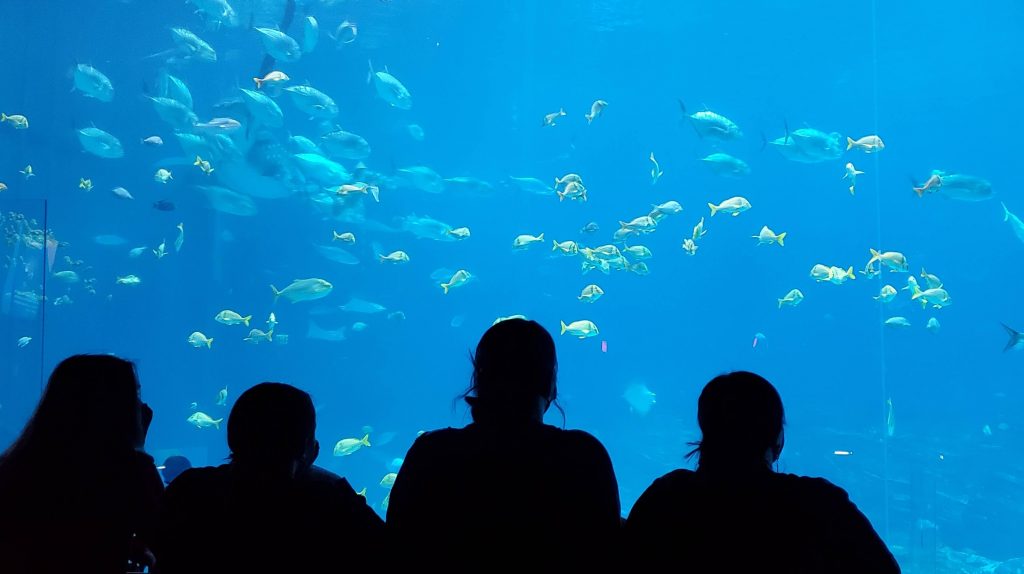 Additionally, we were able to see several other animals that were not just fully aquatic animals. There were otters, penguins, and more. However, my favorite was the penguins! They were just so adorable. Specifically, we had one that continually swam in front of us seeming to want its picture taken!!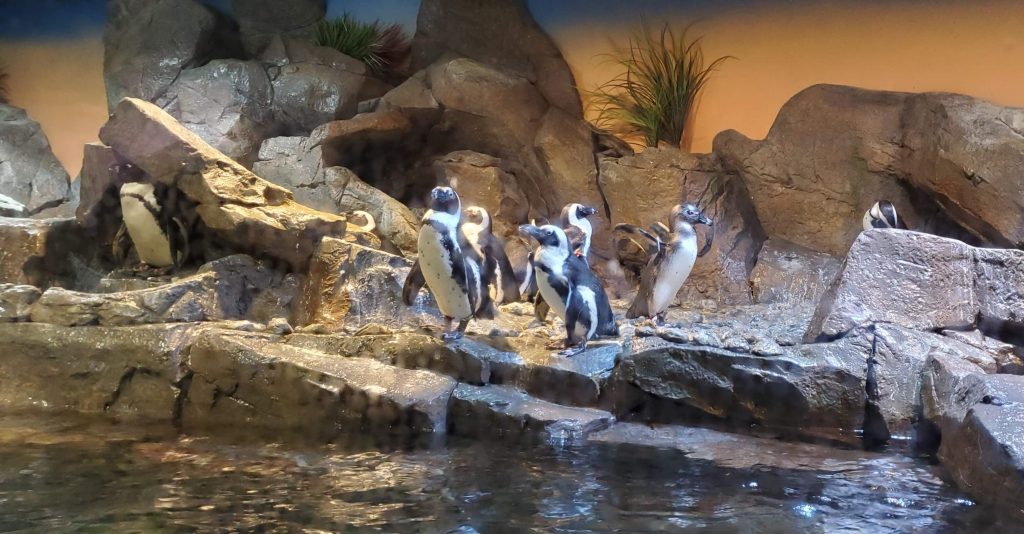 However, my favorite part of the Georgia Aquarium was the touch pools! I absolutely love touch pool and look forward to this any time we visit an aquarium!!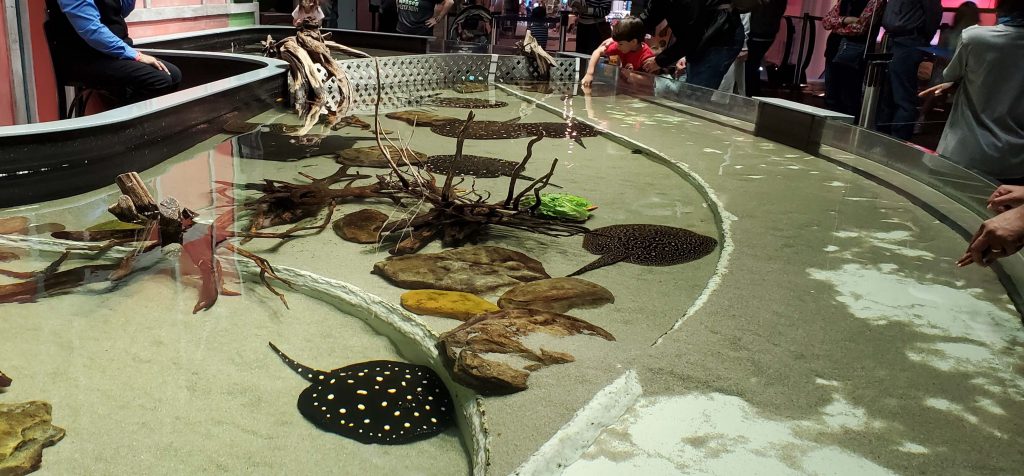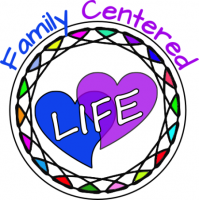 Next door to the Georgia Aquarium, is World of Coke! I had no idea what to expect before we visited World of Coke. However, I knew it was something that I've always heard was a must-do when you are in Atlanta!
World of Coke is another of the several attractions available with City Pass!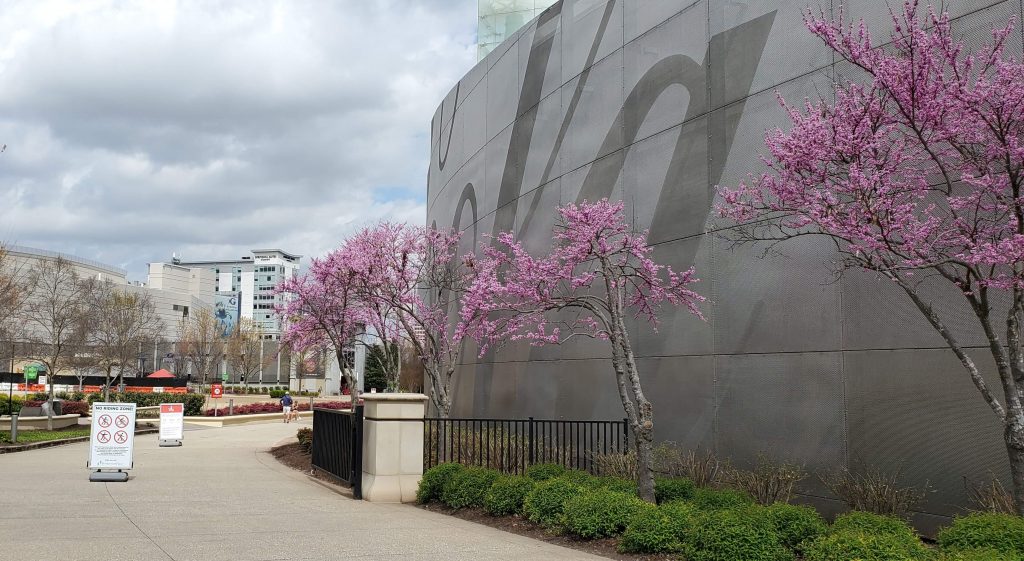 Upon first entering World of Coke, we got to choose a Coke beverage to take home with us and meet their mascot!! I love our adorable selfie with their very large polar bear mascot!!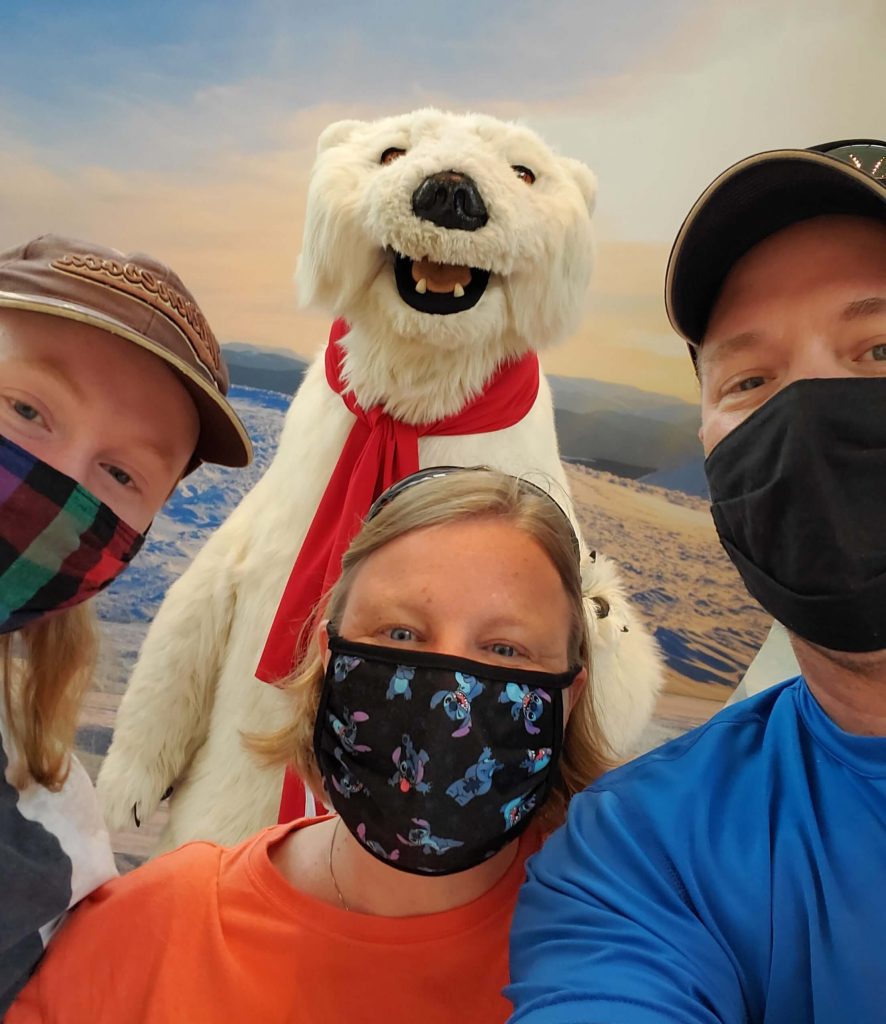 There was a gerat deal of information about their history, how the secret Coke formula began, and how they have changed advertising strategies throughout the years to meet the desires of the population!
Their marketing strategies may have changed some, but their product taste has not changed (besides the short time of New Coke) since the very beginning!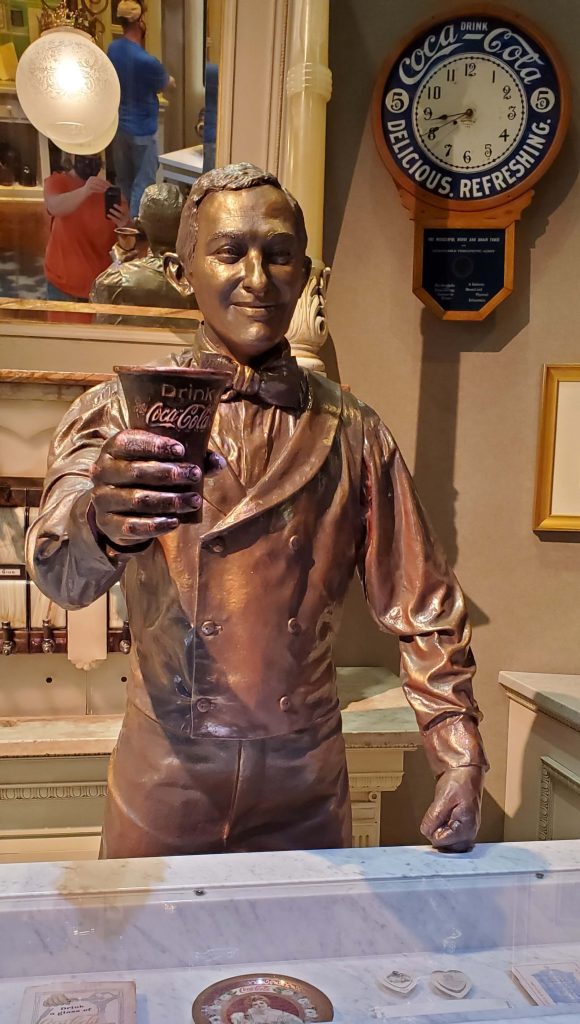 They end the tour of World of Coke with a tasting room! You get to try several Coke beverages from other countries. It's a unique experience, to say the least. However, everyone needs to try Beverly at least once! It's….interesting…to say the least!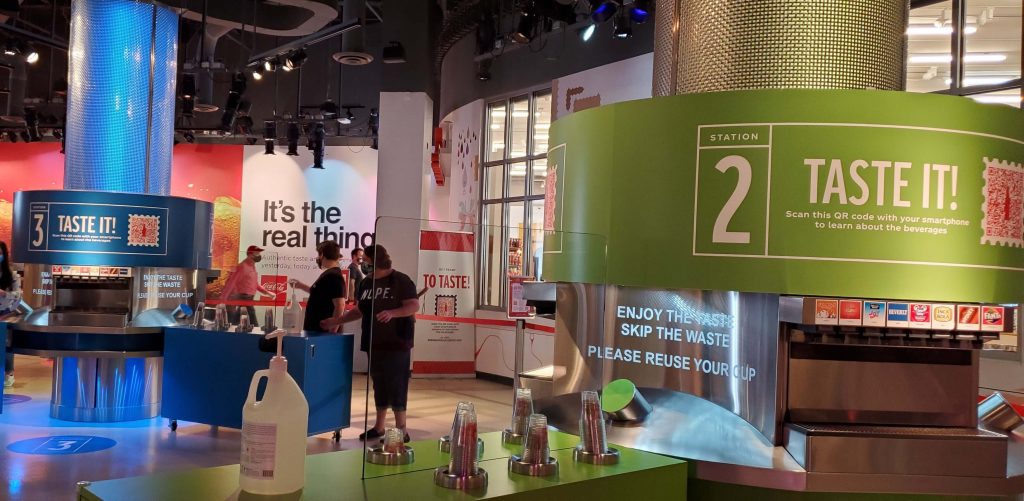 Interesting fact: There is a similar tasting room in EPCOT at Walt Disney World! Both tasting rooms are free and you can try all you want!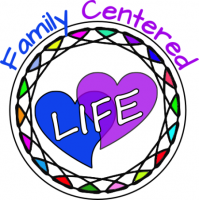 Downtown Atlanta
The World of Coke and The Georgia Aquarium are located in downtown Atlanta, but there are several other fun activities in the downtown area!
This mural is within walking distance of many of the major attractions in downtown Atlanta and it is such a great reminder no how to live life!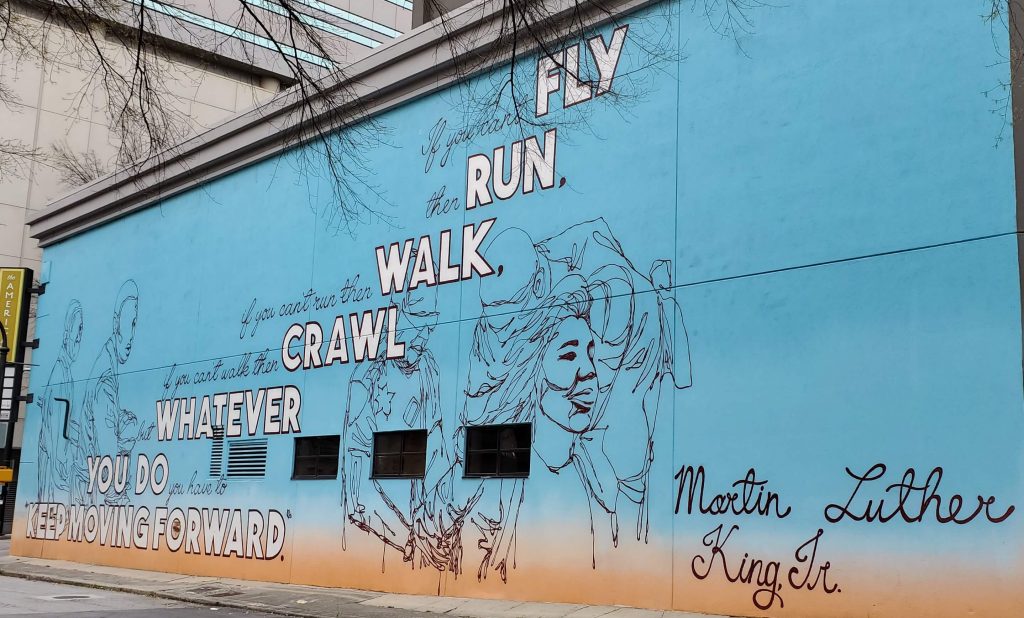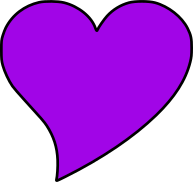 Olympic Park
One of the main attractions in downtown Atlanta is Olympic park. This is the area where the Olympics were held in 1996.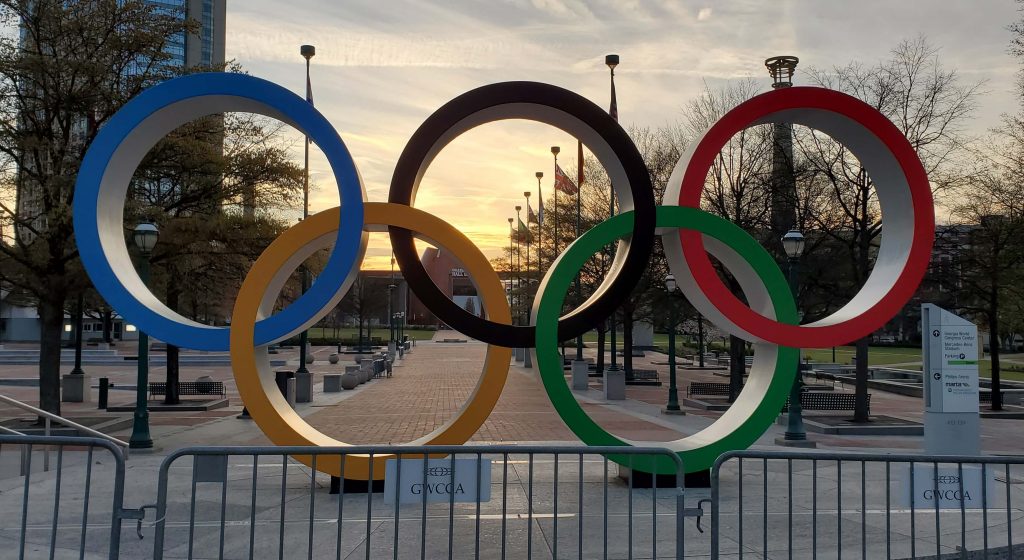 It's a beautiful park with a great deal of space to picnic or just spend time with family and friends.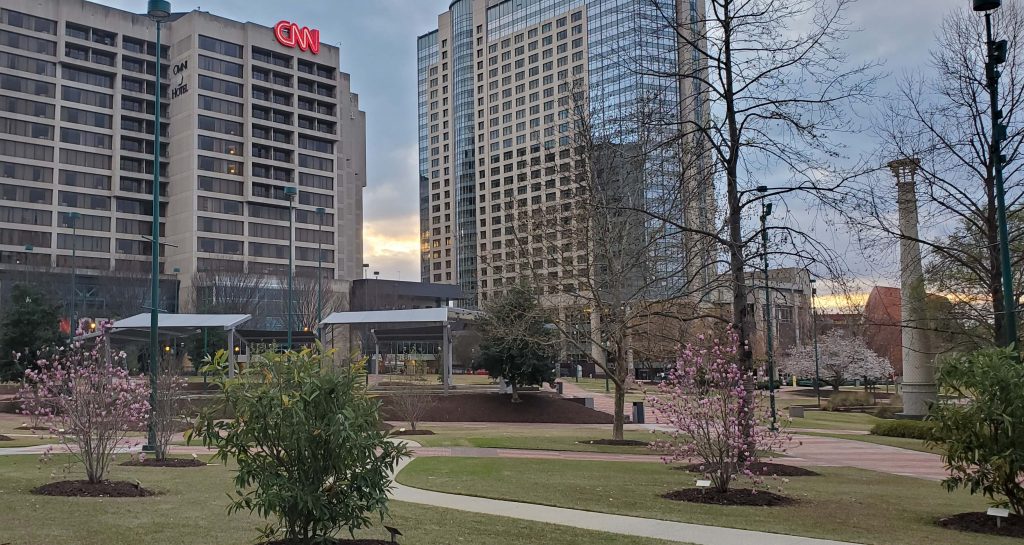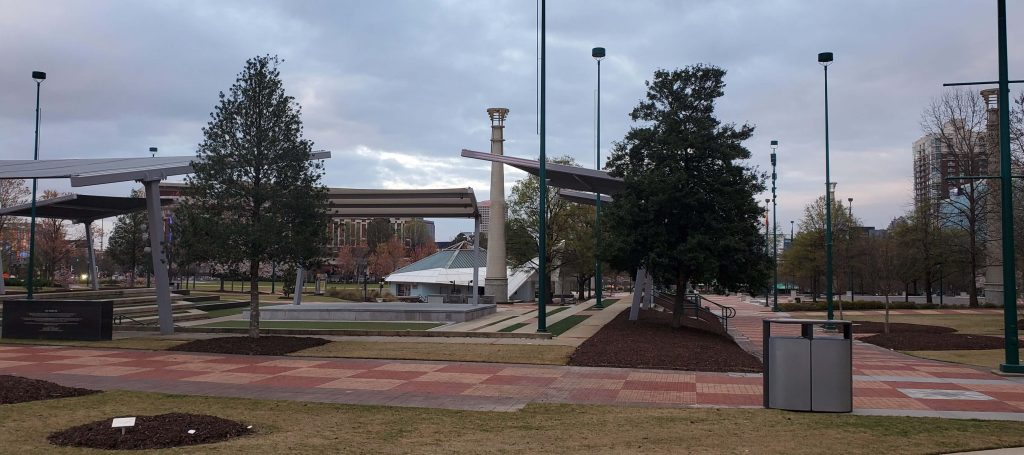 The park spans between SkyView Atlanta and where World of Coke and the Georgia Aquarium are located.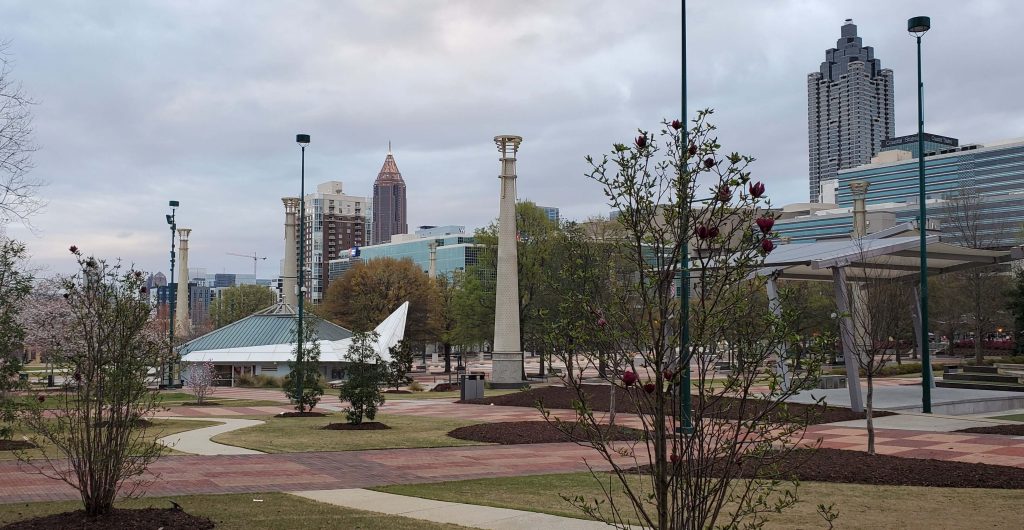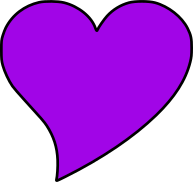 College Football Hall of Fame
The College Football Hall of Fame is another attraction available on the Atlanta City Pass! It is locating about one block from the Georgia Aquarium. The College Football Hall of Fame was closed when we were visiting Atlanta, so we did not have a chance to visit his museum.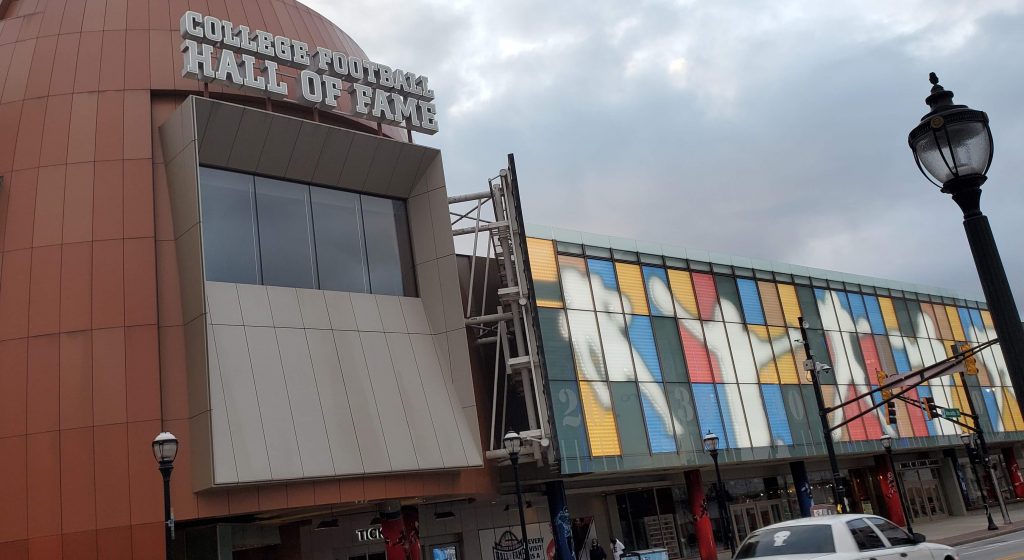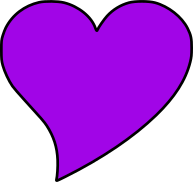 SkyView Atlanta
SkyView Atlanta was another attraction in Downtown Atlanta. It's a large, enclosed Ferris wheel, such as the Orlando Eye or London Eye. It gives a beautiful view of the downtown area, especially at night!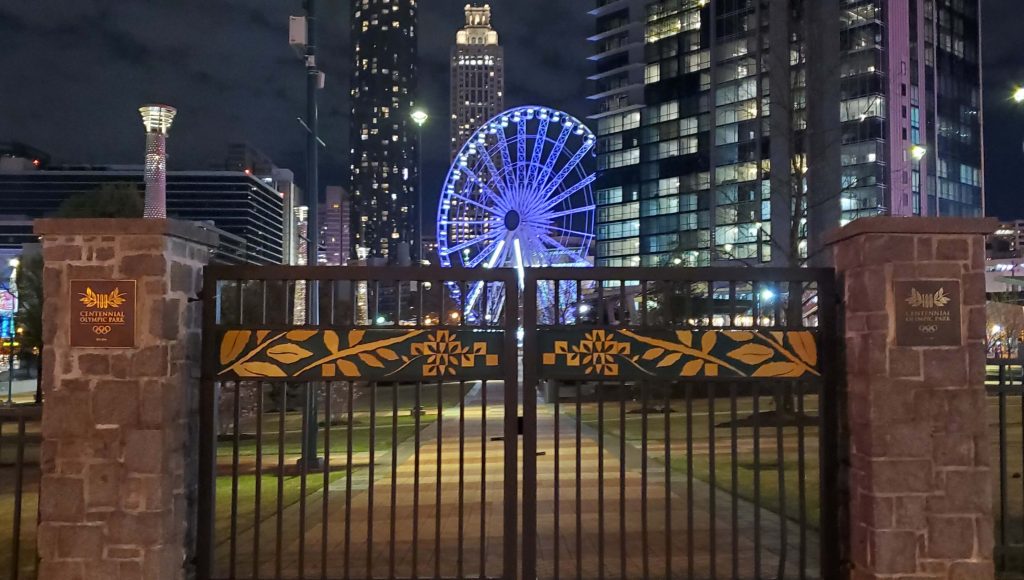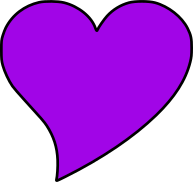 Children's Museum of Atlanta
The children's museum is another attraction we did not have the opportunity to see, but it is located just across the street from World of Coke and adjacent to Olympic Park.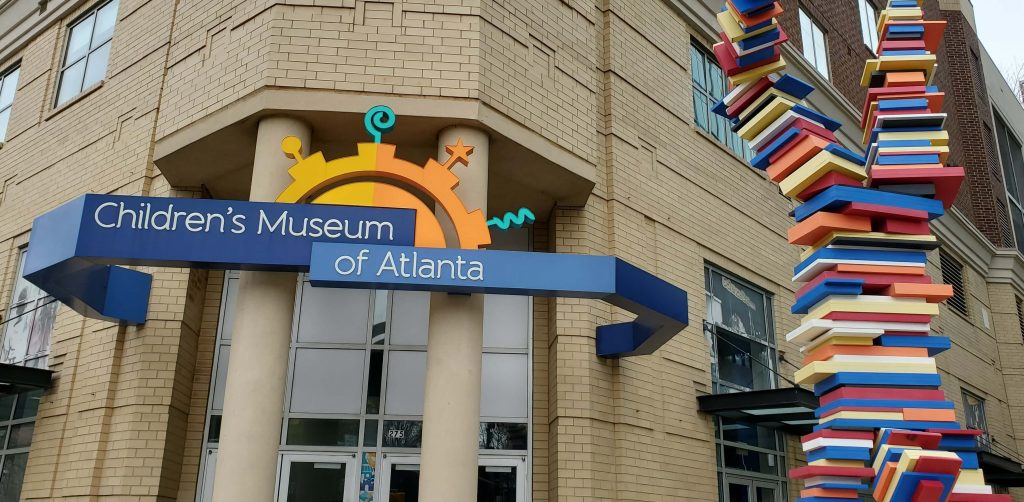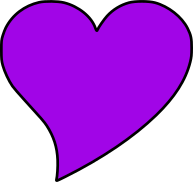 Sub Zero
Now, let's talk about some sweet treats available in the downtown Atlanta area!
I very much enjoy ice cream, but I had never had ice cream quite like this before!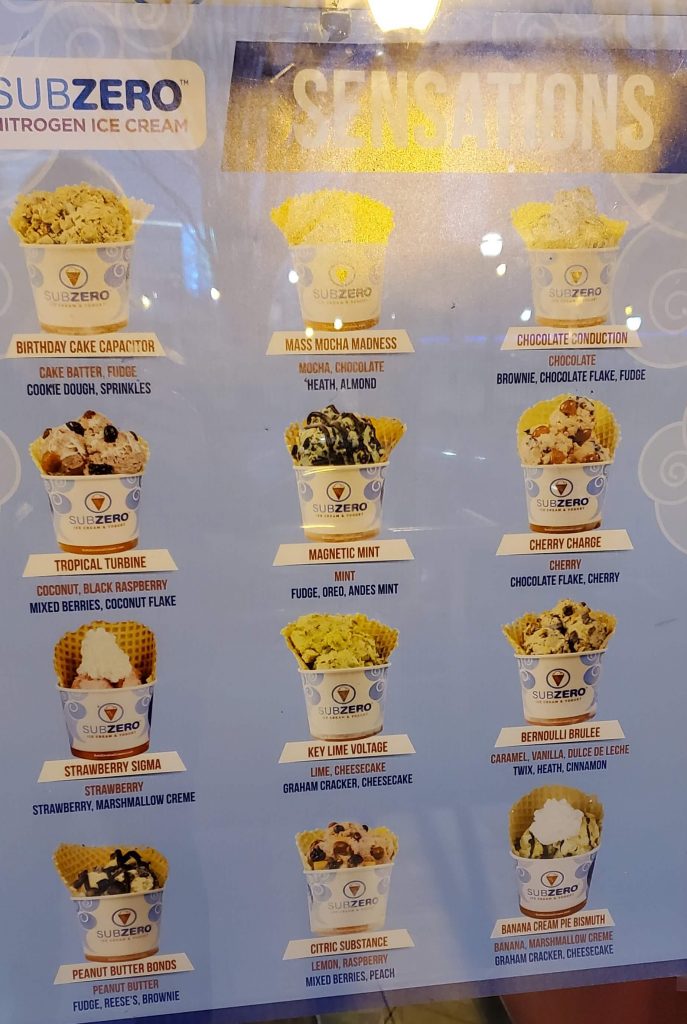 Subzero ice cream is made right in front of you with the help of nitrogen!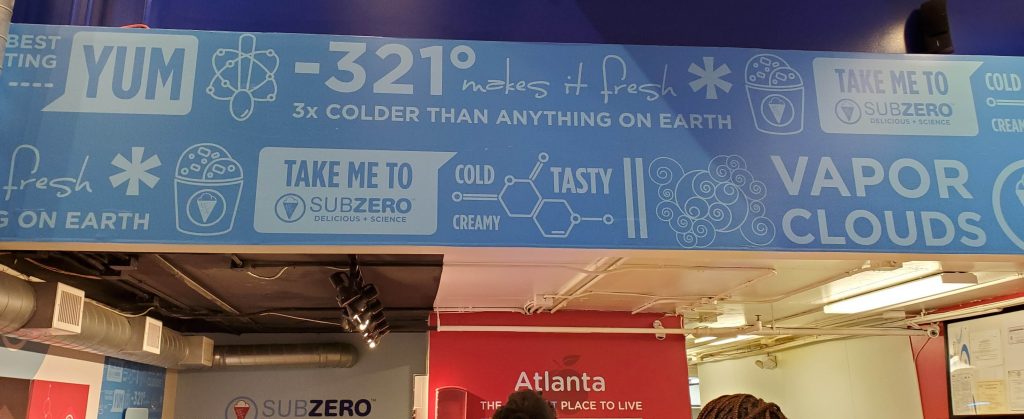 You choose your flavors and additives (chocolate chips, cookie dough, strawberries, and more)! Then, they make it while you watch!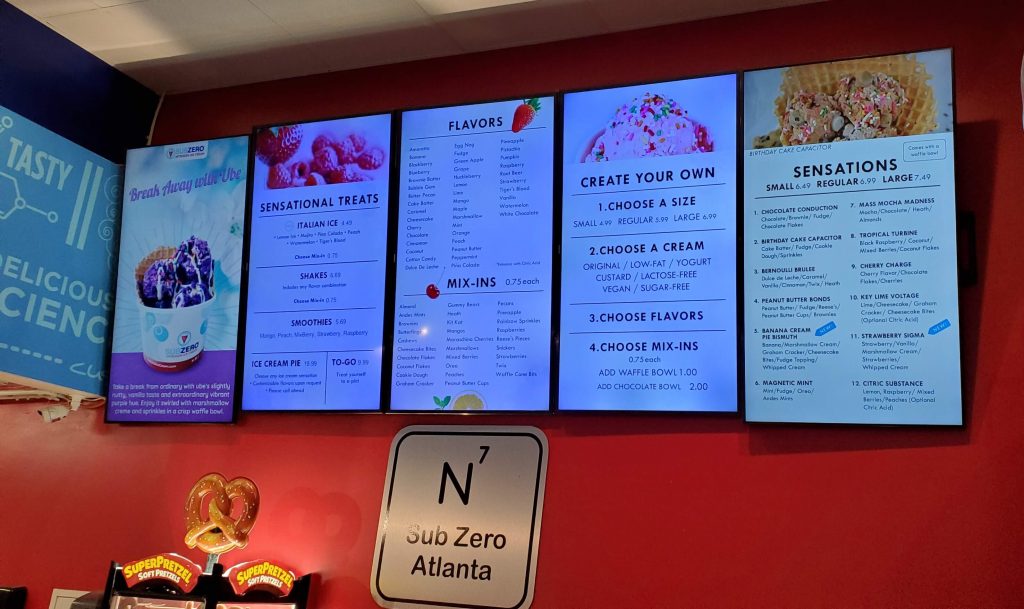 Here are some of the choices they offer: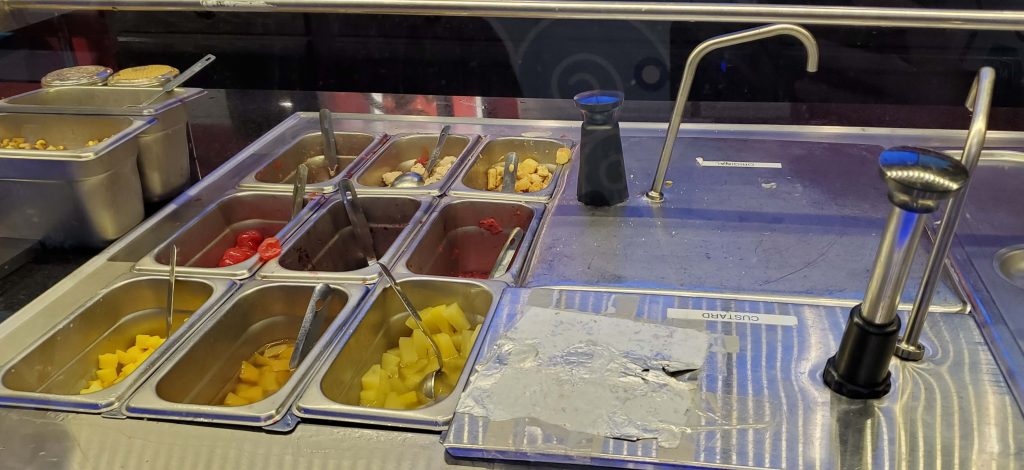 And, here is where they actually make the ice cream! The ingredients go into a metal bowl and then nitrogen comes out to freeze the ice cream!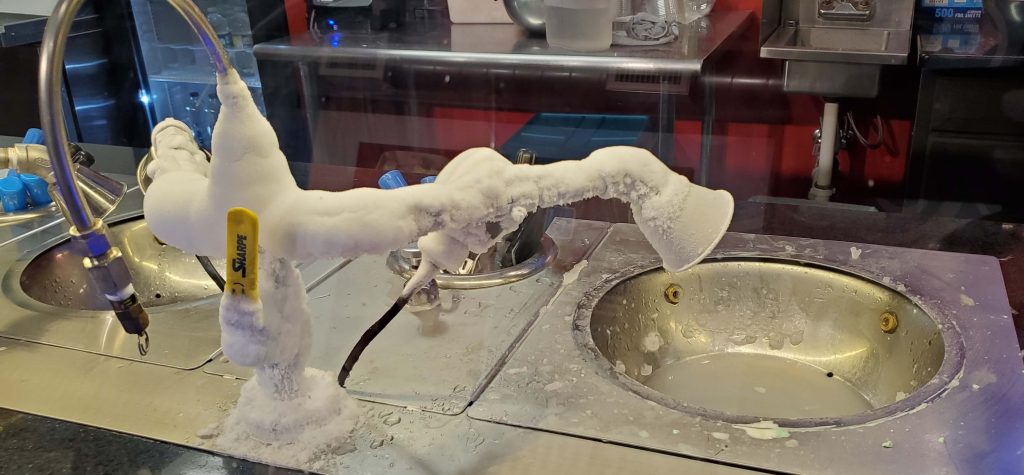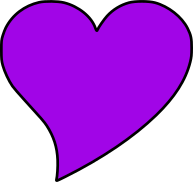 The Yard Milkshake Bar
Looking for a great treat while you are in downtown Atlanta? Check out The Yard Milkshake Bar! It has amazing ice cream and cookie dough treats! I was happy to make another ice cream stop!
Did I mention I REALLY like ice cream?!?!?
The Yark Milkshake Bar has delicious ice cream and amazing treats they add to your ice cream! Of the two ice cream stops, this one was definitely my favorite!

This was my treat! Brownie and oreo ice cream topped with a very large brownie and Cookie Crisp cereal! The edges of the mason jar are covered in fudge and rolled in M&M candies!
It was a most delicious treat!!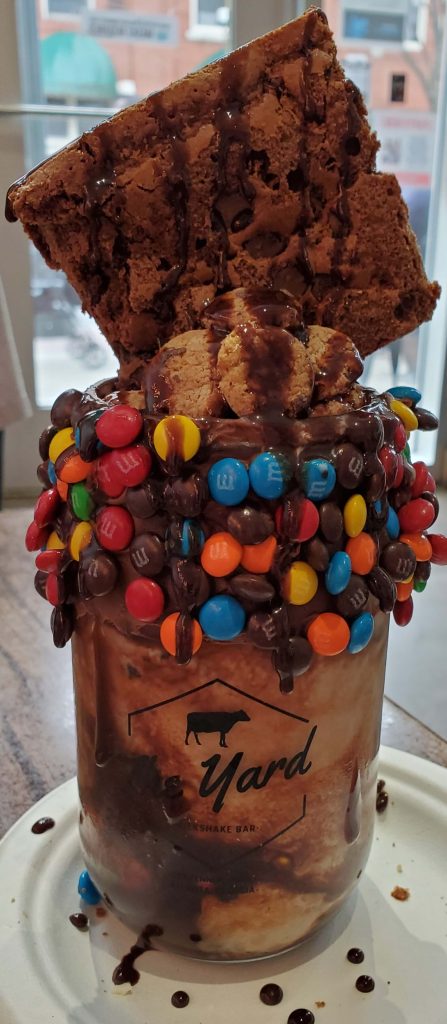 Here are some of their many specialty treats!
You get to keep the mason jar your ice cream comes in as a souvineer. Because of how yummy and gooey these delicious treats are, they have a sink to rinse your jar before you go!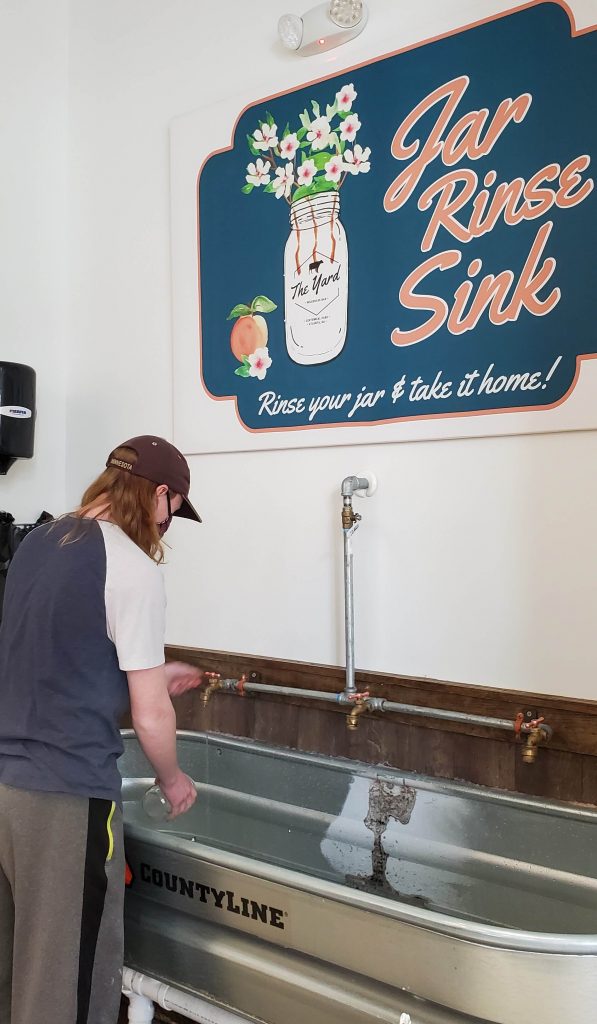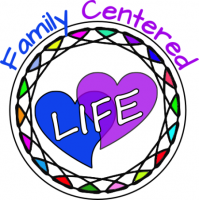 Another great animal attraction, that was also available through City Pass, was Zoo Atlanta!
I was very much looking forward to this attraction because they have PANDA BEARS!!! This is one of the few zoos in the US that house pandas.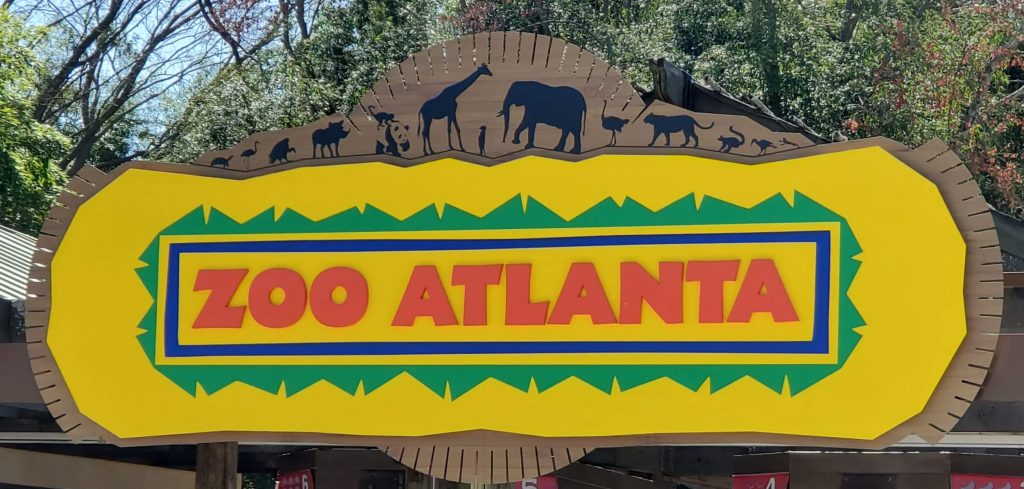 Pandas are my absolute favorite!! I didn't want to take up this entire article with panda pictures, so I have another article that consists only of my panda pictures from this amazing zoo exhibit!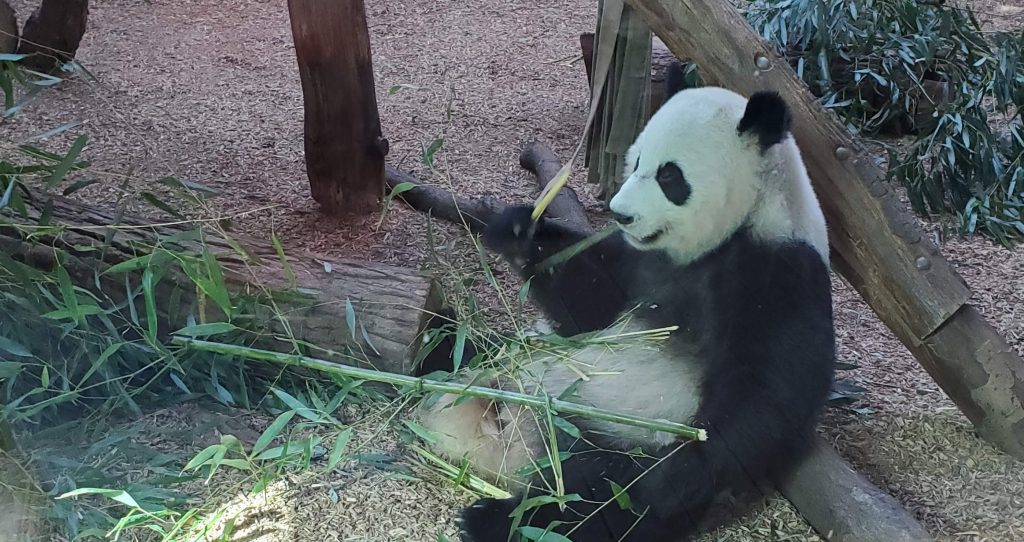 It was a very large zoo and they had many other animals besides pandas. The giraffes and zebras lived together in the African area of the zoo. There was even an opportunity to feed the giraffes if you chose to do so!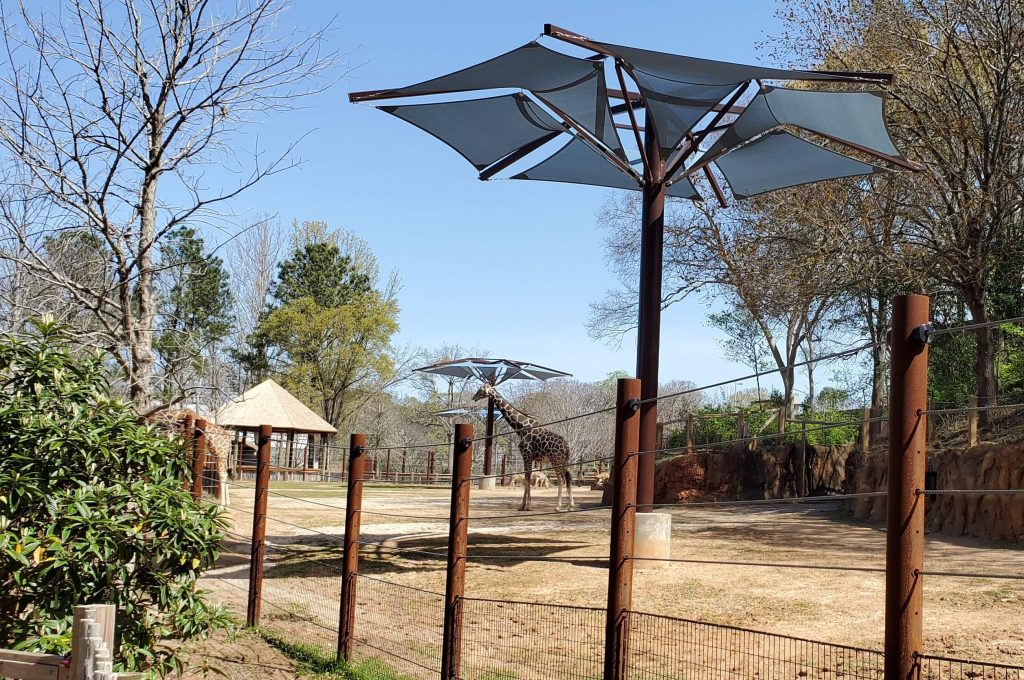 The gorillas had another great exhibit! I'm always amazed by all of the used fire hose in the exhibits, such as the gorilla exhibit. My husband is a fire fighter and I love the idea of being able to reuse this important equipment.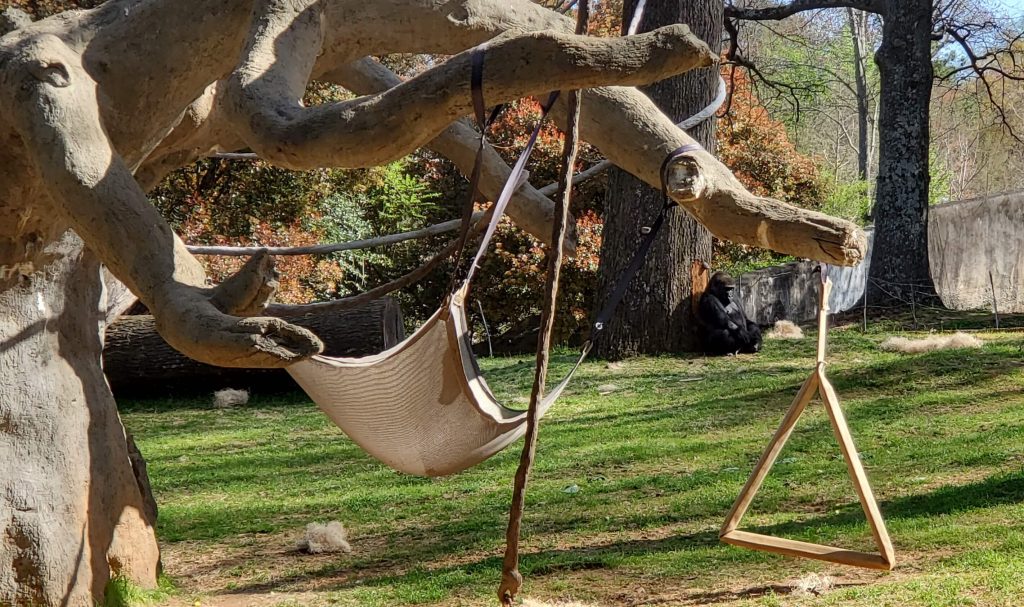 Additionally, Zoo Atlanta has many other activities, besides the regular exhibits. There is a train ride around the zoo, a carousel, and even a petting zoo to enjoy!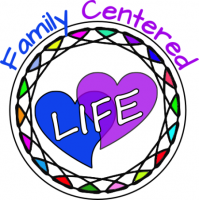 Fernbank Museum of Natural History
Another great attraction on the City Pass is the Fernbank Museum of Natural History!
The Fernbank Museum of History was our last stop on our Atlanta City Pass adventure. My son decided to stay at the hotel rather than join us, but he surely missed out!

They had various attractions, but we were only able to see a few attractions since we arrived at the museum just slightly more than an hour before it closed.
There were dinosaur exhibits in several different sections of the museum.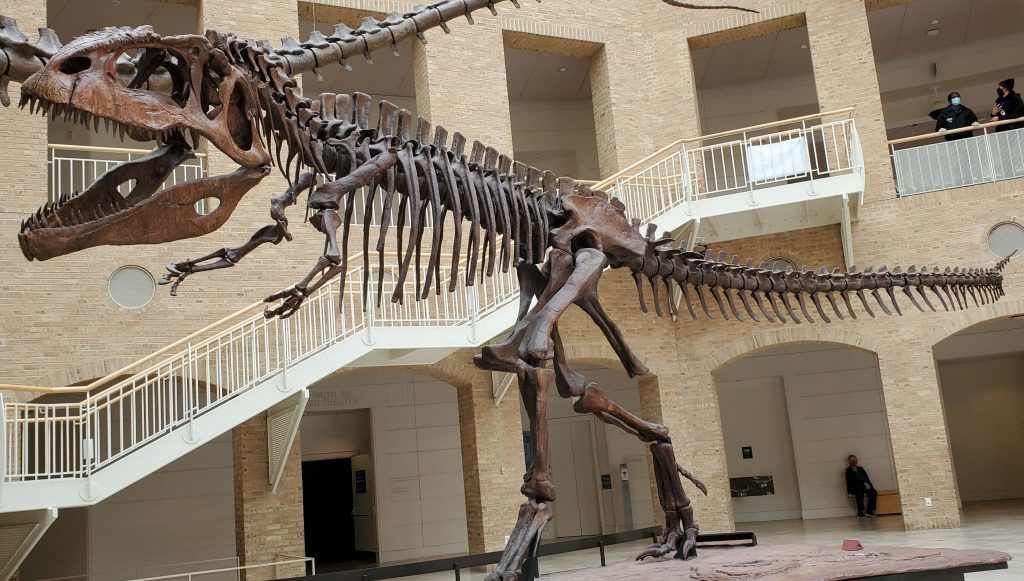 They had a special exhibit at the time we visited and lucky for me, it was a Mayan exhibit! I love learning more about various cultures and the Aztec and Mayan cultures are two of my favorites!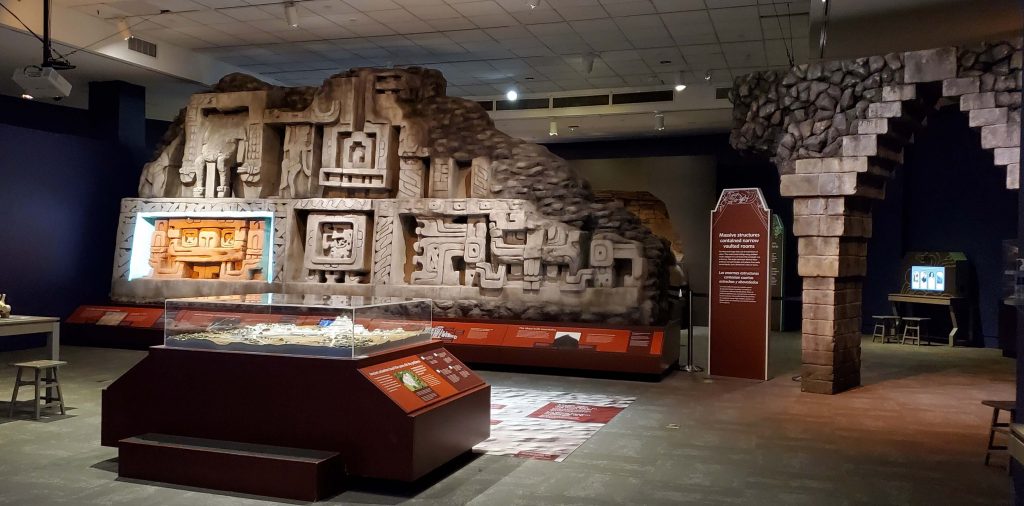 They had a great deal of information about Mayan history and life. In addition to this exhibit of what it looked like when archeologists first discovered one of the tombs!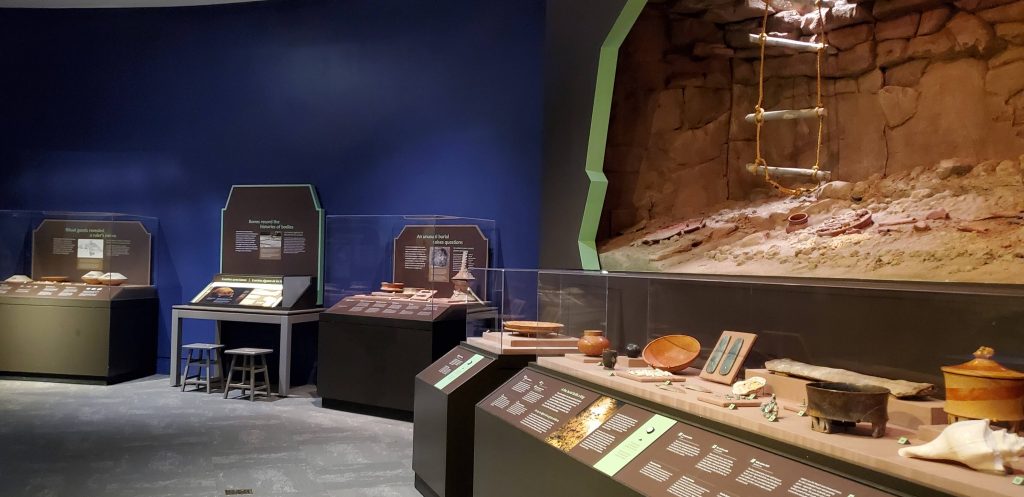 In addition to the indoor exhibits at the Fernbank Museum of Natural History, there was an outdoor area to explore! There were places to walk, nature to view, and areas for children to play.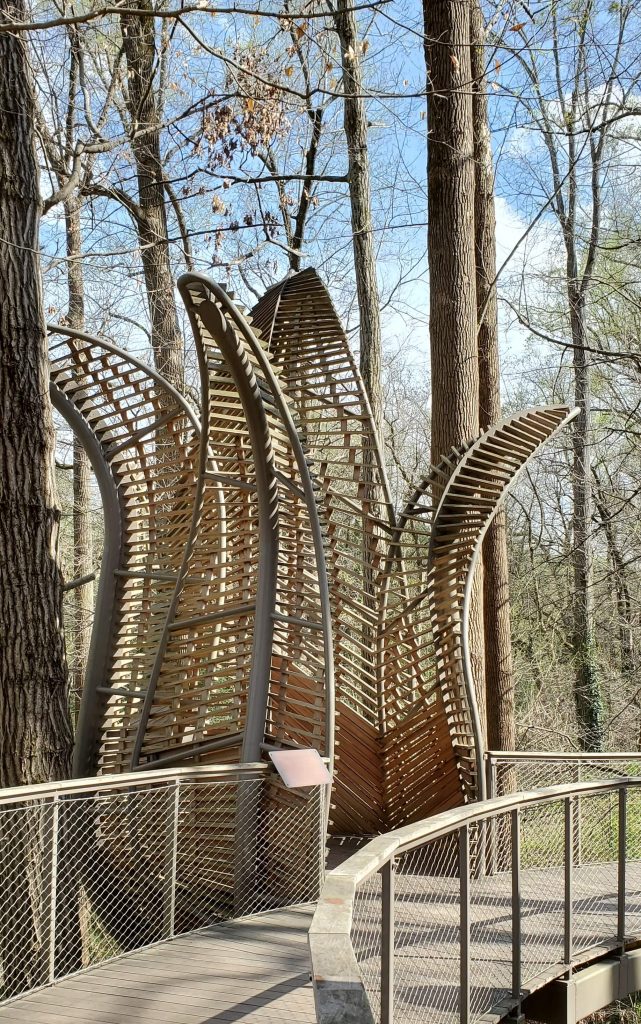 There was such a beautiful area to walk and enjoy and Ioved the decorative seating areas they had around the outside of the facility!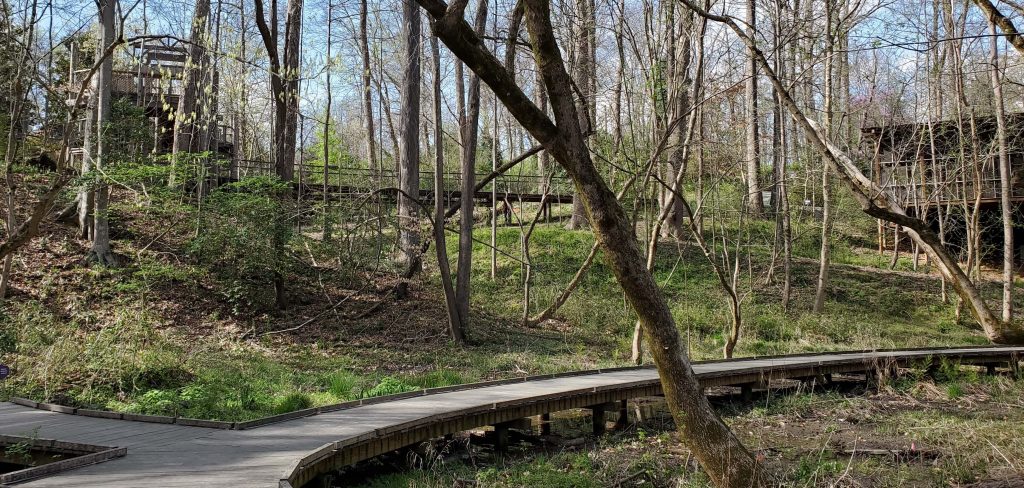 This was a last minute stop for us and I'm so glad that we took the time to venture to the Fernbank Museum!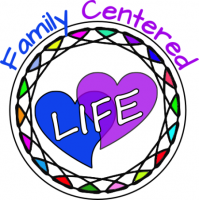 Medieval Times
Medieval Times ia another Atlanta attraction that we have visited in the past and were excited to visit again. This was the attraction my husband was most looking forward to visiting!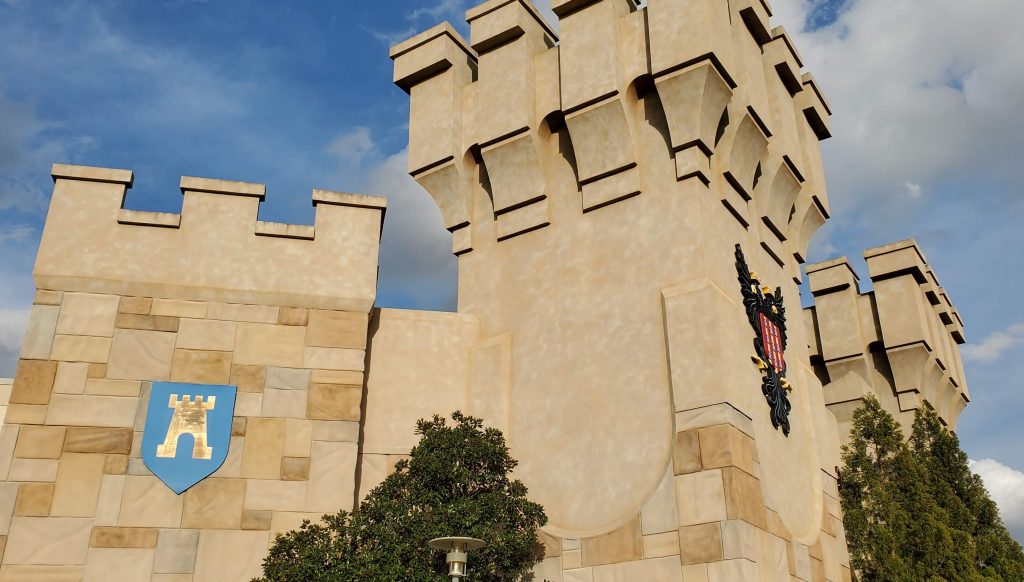 This attraction was not on the Atlanta City Pass, but definitely worth the stop! The atomosphere is fanastic and the food is amazing!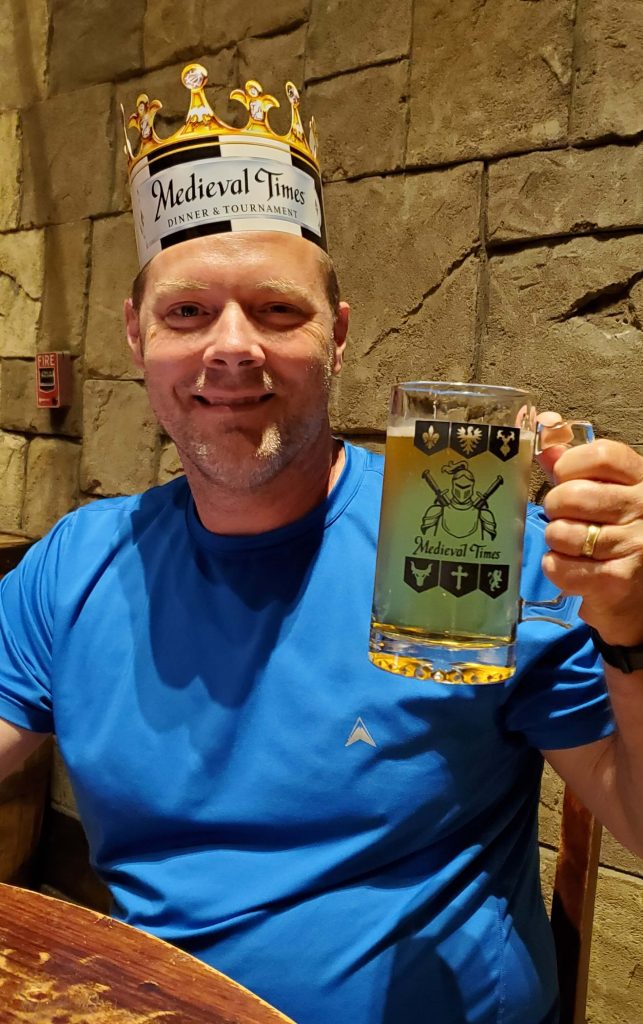 There is a plethora of food and it is definitely delicious! It is one meal that we enjoy and it has a reasonable price considering you get a full meal and amazing entertainment to go with it!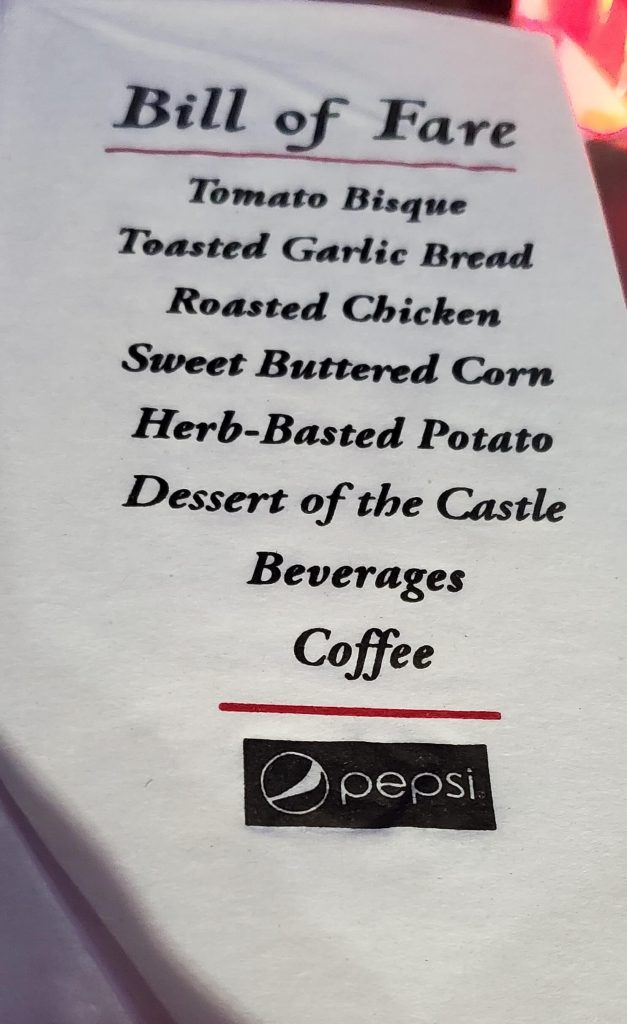 There is stadium seating so everyone can see all of the action!

There are horse shows and presentations.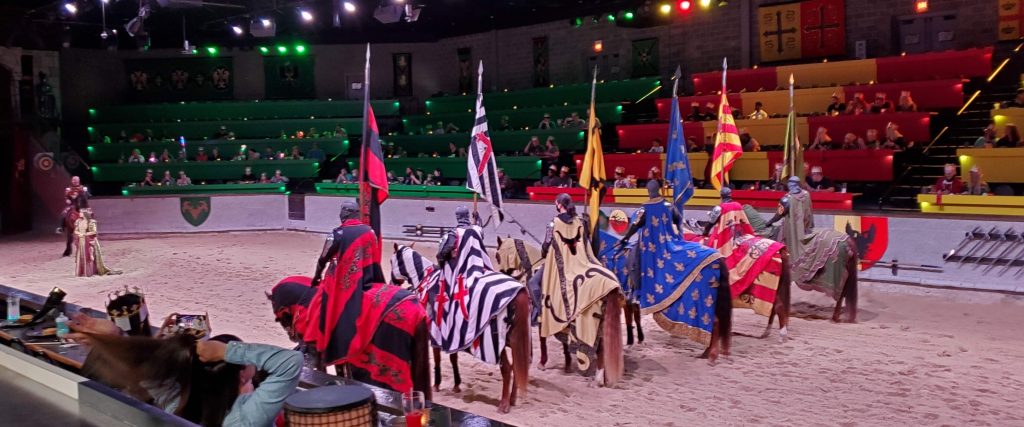 As well as, jousting, challenges, and fights! (Staged fights of course, but the clanging metal was real!)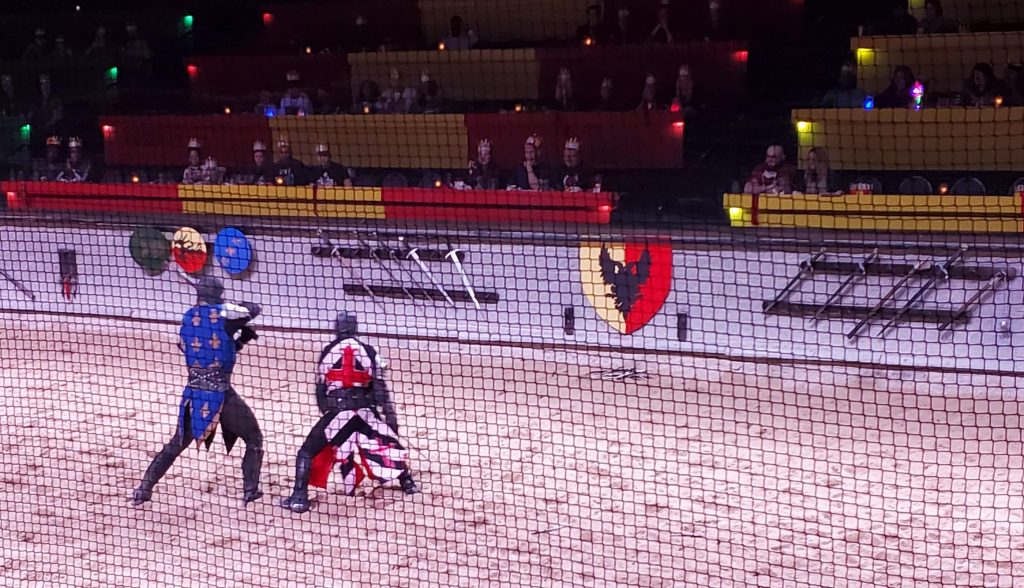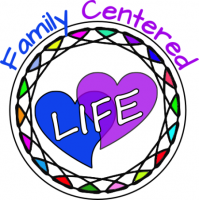 So, now when are you going to visit Atlanta?!?!
It is definitely a fun place to visit for kids and adult alike!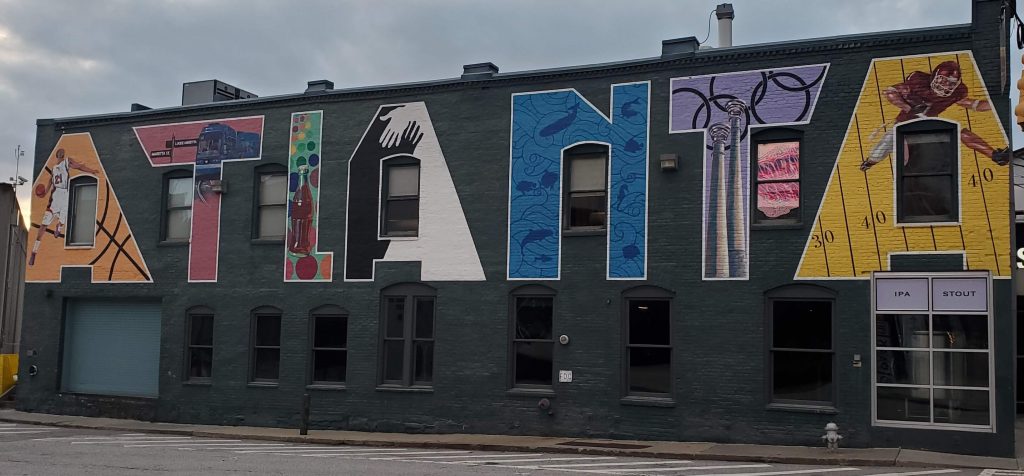 Don't forget to check out City Pass the next time you head to Atlanta or any other major city! For Atlanta, the price of City Pass is just slightly more than the cost of only doing the local zoo and aquarium. Basically, City Pass gives you free admission to local museums or World of Coke when you visit both Zoo Atlanta and the Georgia Aquarium!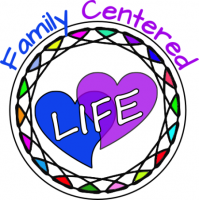 You may also enjoy…