I grew up going to Holiday World as a child and adolescent, though it was Santa Claus Land while I was a very young child.
As an adult, I have had an annual pass there for almost twenty years…wow…I hadn't done that math until just now! I can't believe it has been almost 20 years. I've enjoyed spending so many days there each season with my children and, now, with my grandchildren too.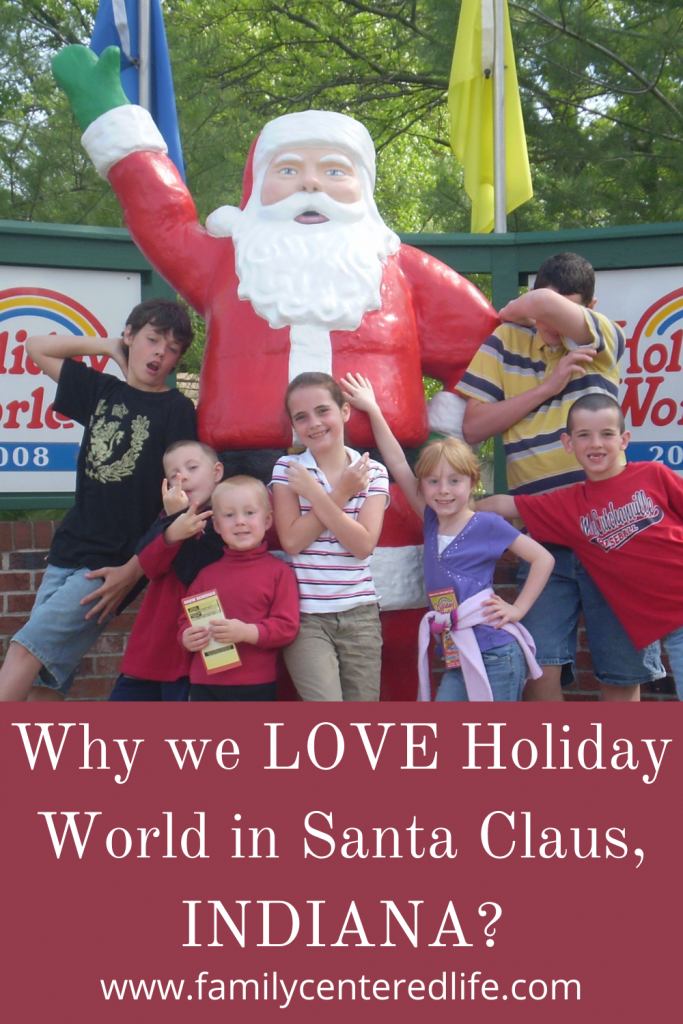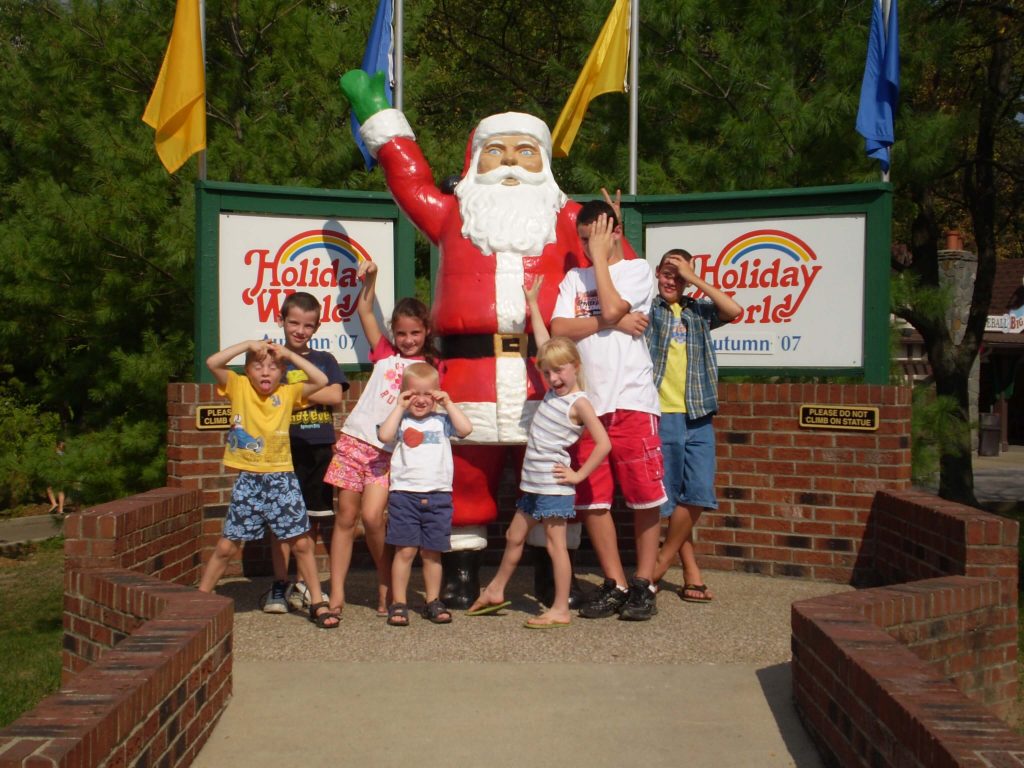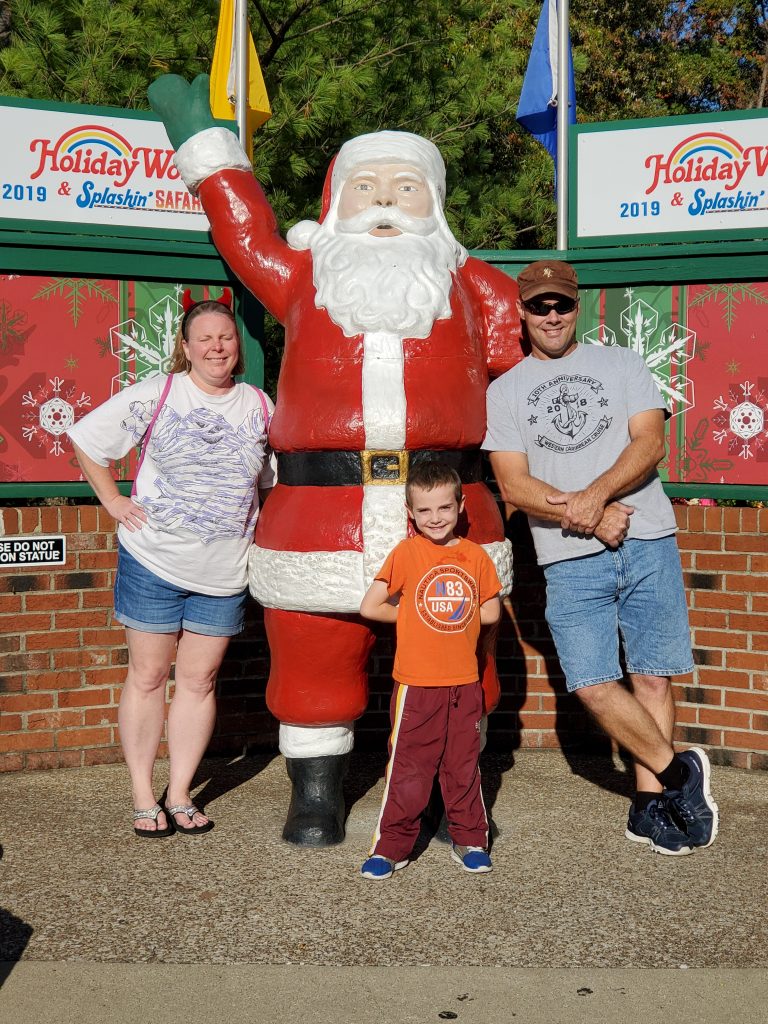 Anyway…I chose not to get my Holiday World Season pass because we got Disney World annual passes instead. However, even with spending 23 days at Disney World in 2019, I still missed my Holiday World pass and the time there with my family.
I've come to realize that Holiday World (particularly their lazy river in their water park) is my stress relief and self-care time. I love theme parks with Holiday World only being about 50 minutes from my house, I can go there much more often than Disney World 12 hours from my house.
We love MANY things about Holiday World and Splashin' Safari and here are our TOP FIVE!
Our Top 5 Favorites at Holiday World
1-Roller Coasters
USA Today ranked Holiday World's Voyage roller coaster #7 in the United States in 2019. That's ranked up there with roller coasters at Cedar Point and Six Flags!
They have three wooden roller coasts, one steel roller coaster, and a kiddie roller coaster (plus three water coasters in their water park)! One of their water coasters were even ranked #1 in the world for the scariest water coaster in 2018 by CNN!
My favorite is their first steel roller coast–the Thunderbird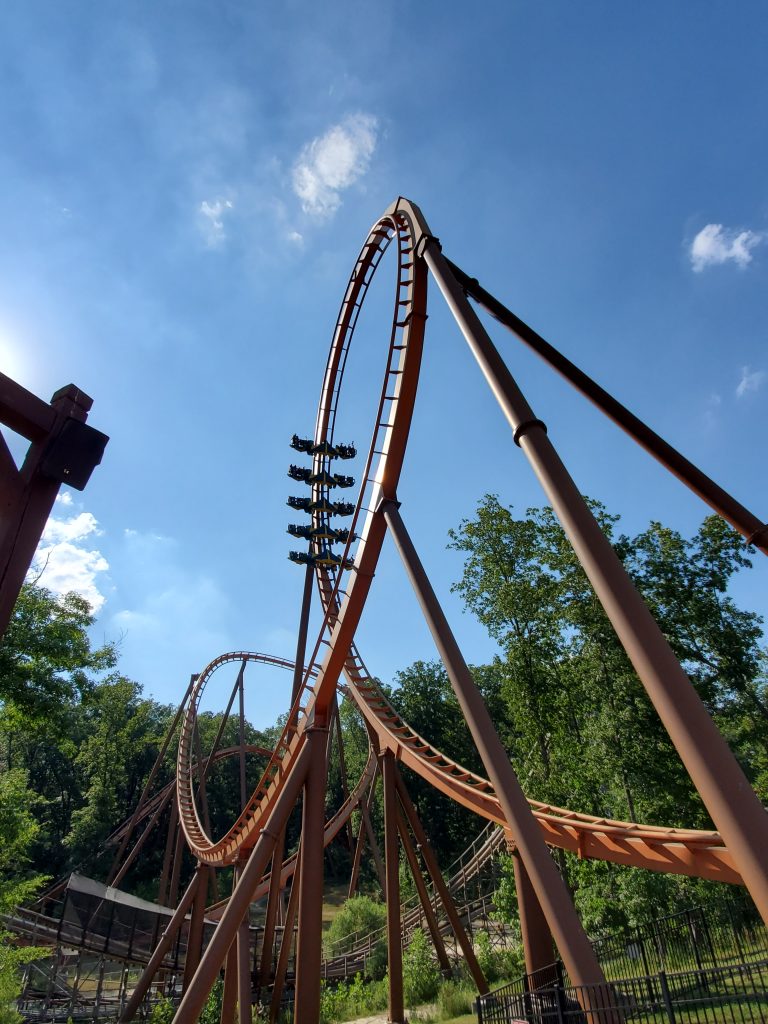 2-FREE parking and FREE fountain drinks
Theme parks are expensive, but you can save money on drinks and parking at Holiday World! They have several options for free fountain drinks, including typical Pepsi products, as well as Gatorade, tea, and lemonade.
Free drinks are located at all food locations as well as at special "Pepsi Oasis" spots throughout the park that just house the free fountain drinks.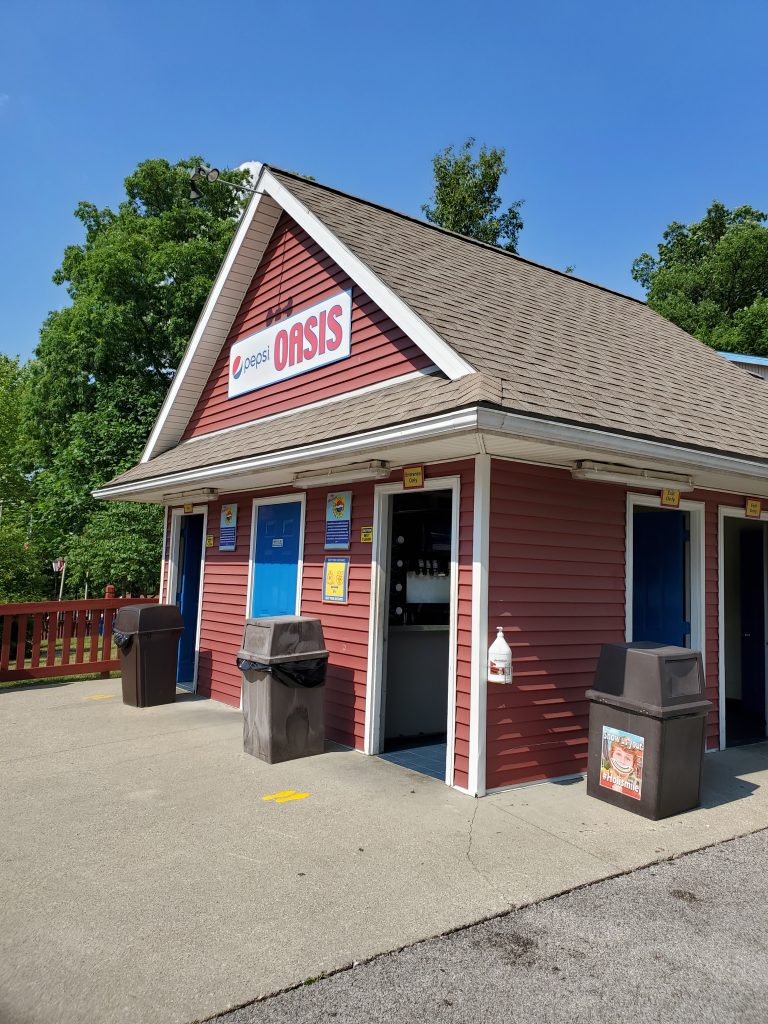 3-Little Kid rides as well as big kid rides
I mentioned roller coaster above, so you know Holiday World has big kid rides.
They also have great areas for little kids with the main areas being the Christmas themed areas with small fair-type kiddie rides and Holidog's Fun Town that has two rides and a playground and spray ground.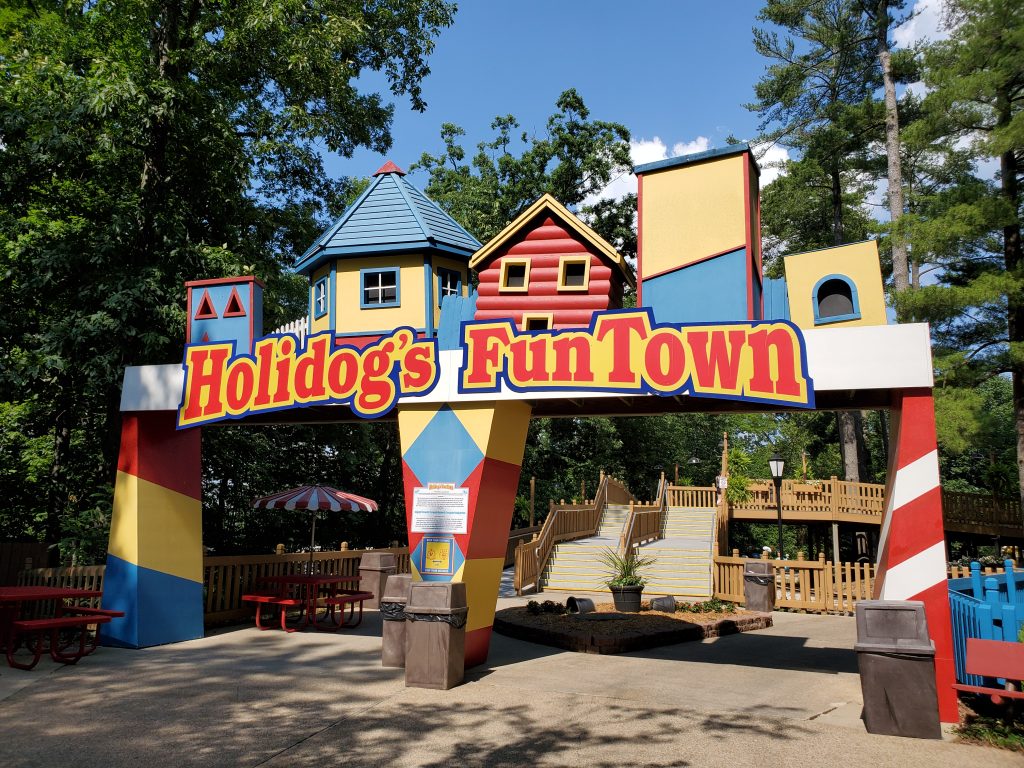 The playground is fenced off in the picture below due to being closed off due to COVID-19 at the time we visited.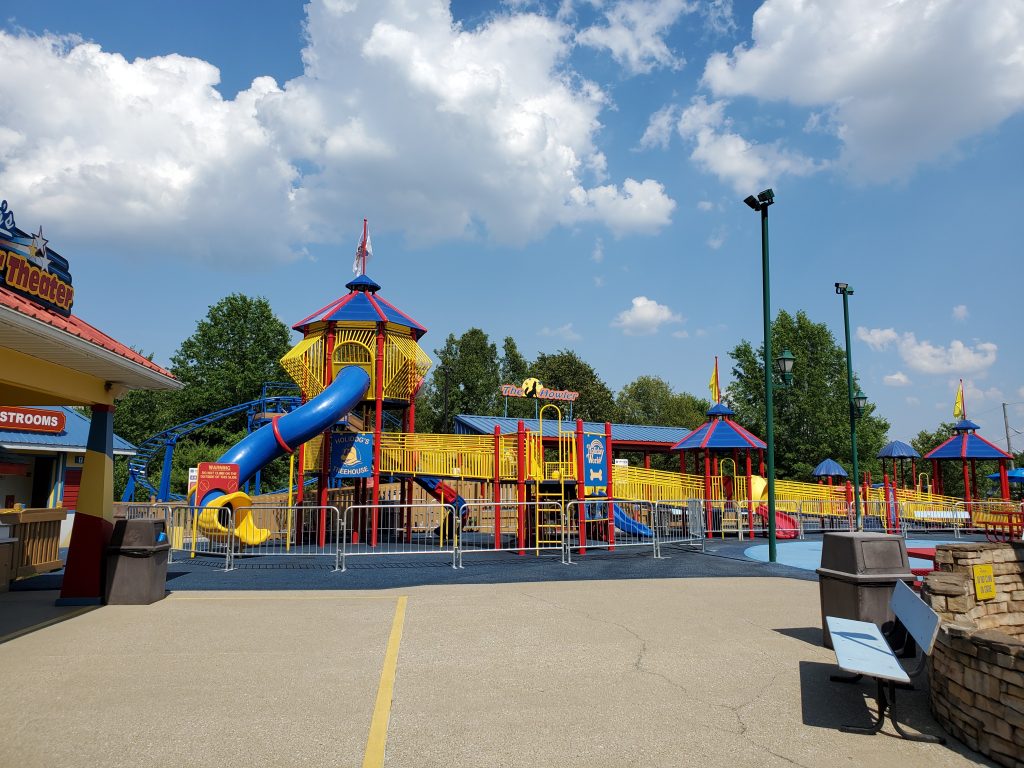 They also have a tiny train that kids and adults can ride. It goes in a circle around Holidog's Fun Town. Along the train ride there are statues of various nursery rhymes and the conductor of the train recites the nursery rhymes for the kdis!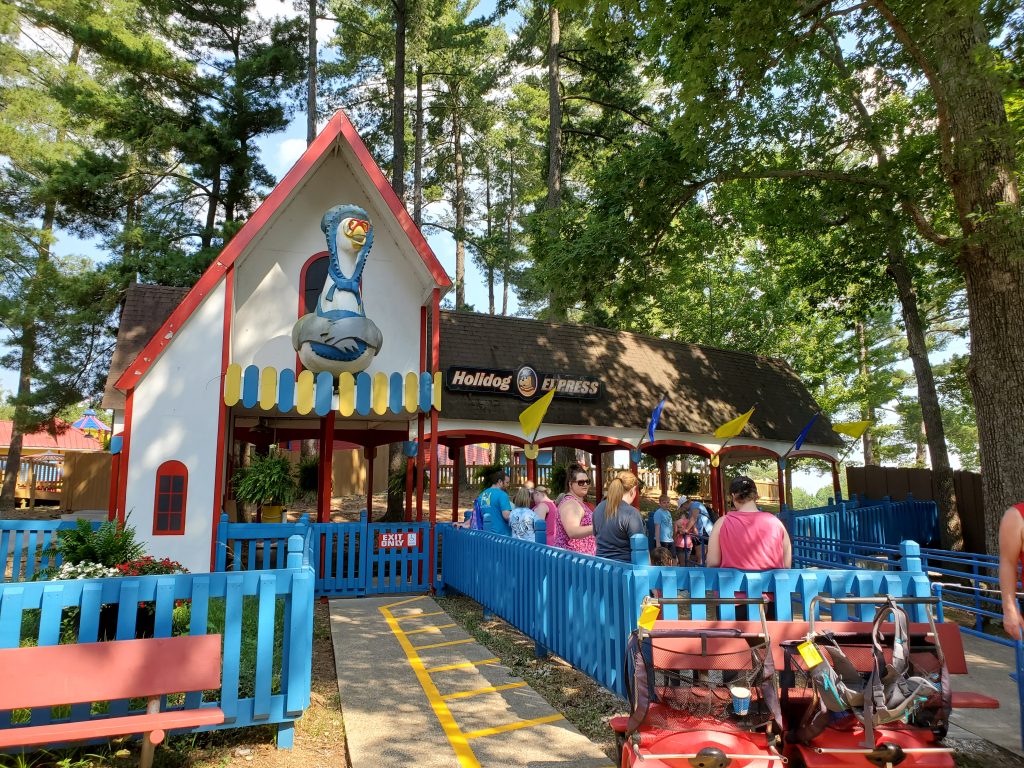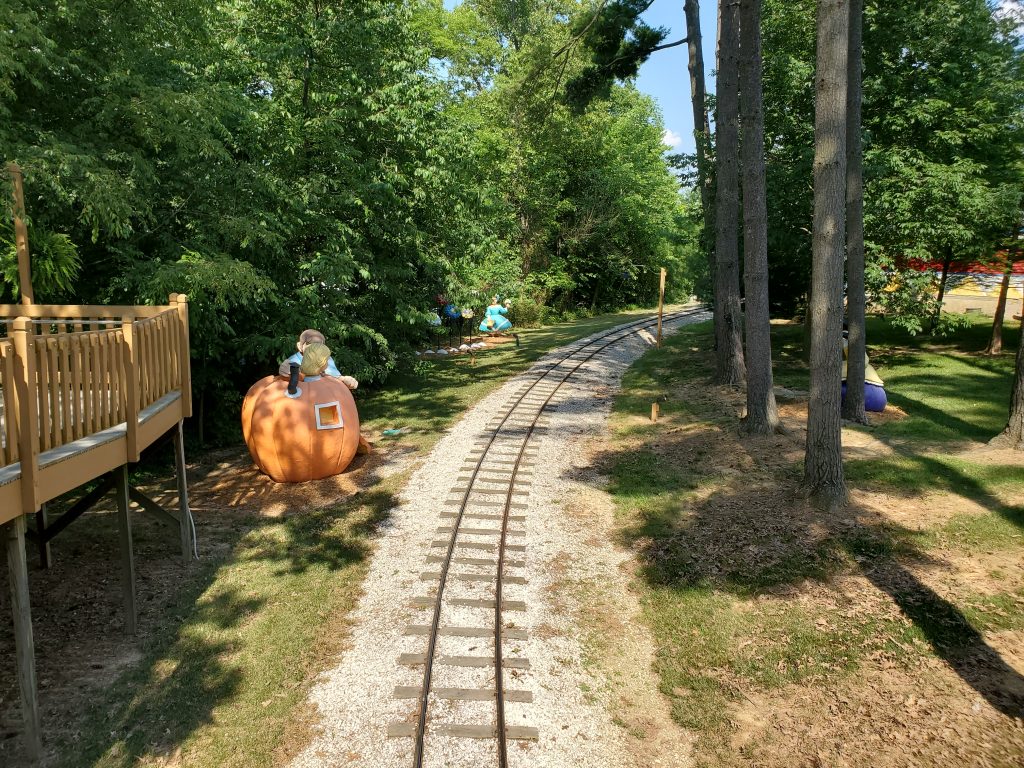 4-Family Friendly and Family Orientated
Holiday World has something for everyone at every age. Just myself and my husband went up on this trip (with no kids) and had a great time walking around, eating, and riding rides.
They have characters that represent all of the areas of their park–Splashin' Safari (alligator), Halloween (kitty), Fourth of July (eagle), and Holidog represents all of Holiday World, as well as Holidog's Fun Town section of the park.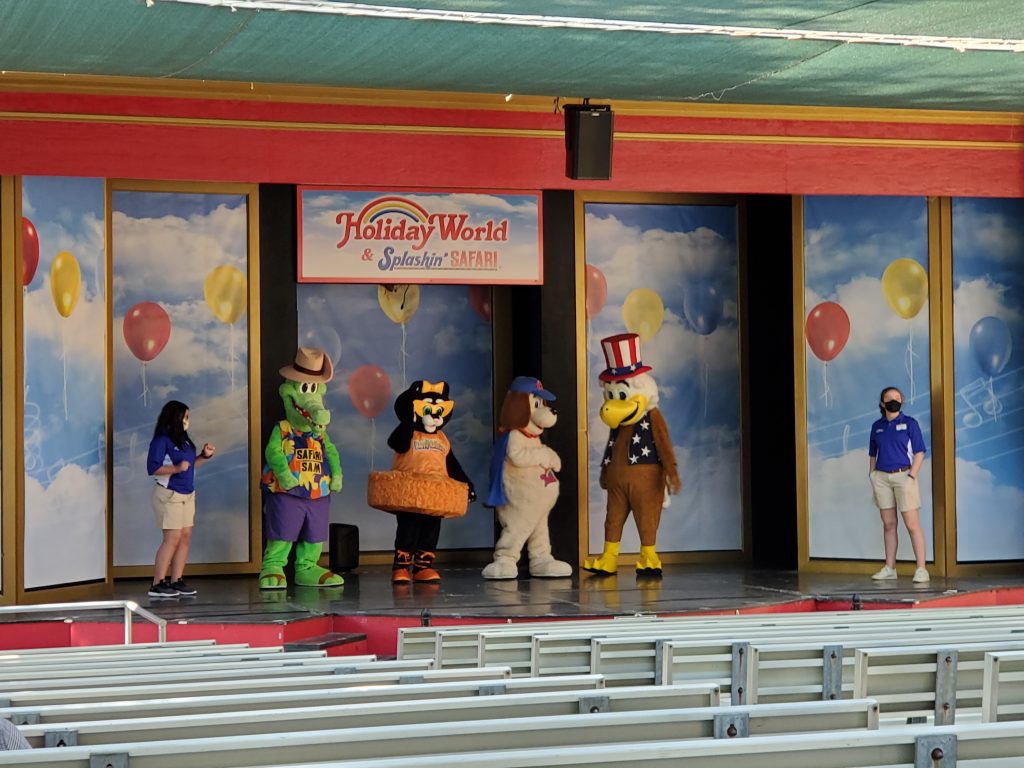 And the main attraction in Santa Claus, Indiana is…of course…Santa Claus!
Santa spends his summer vacation in Santa Claus, Indiana at Holiday World!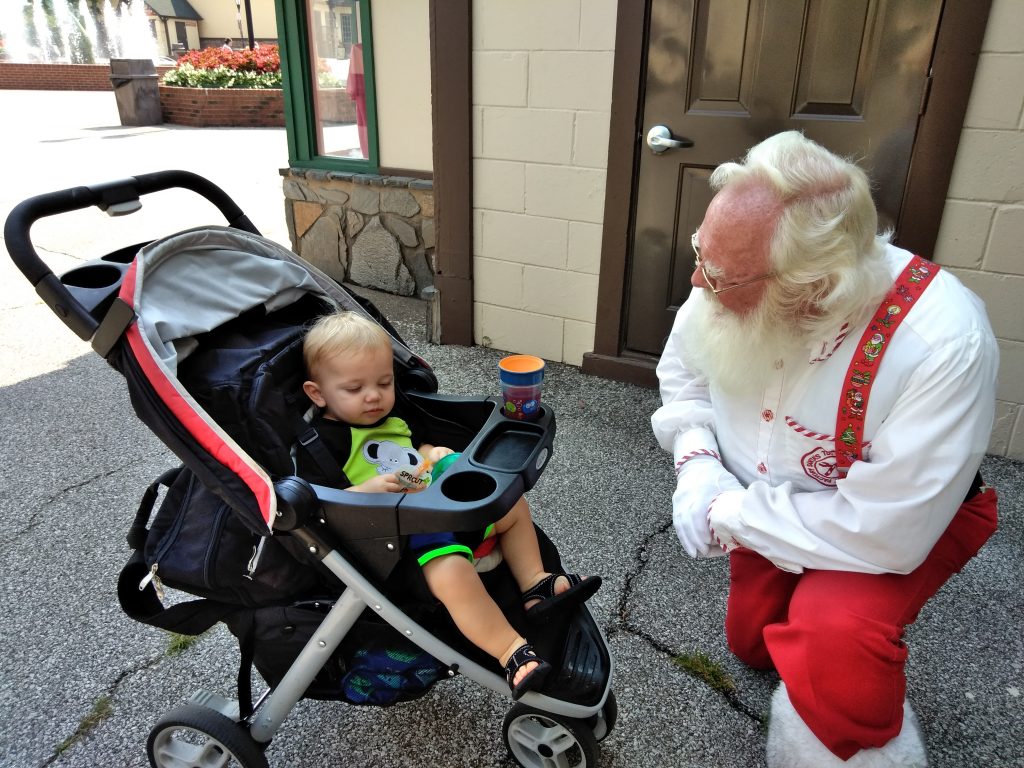 Holiday World is also a very family-orientated theme park. They are a family owned business with the owners being from and living in the local area.
Below is a picture that shows the sign "Will Power." This is one touching symbol of their family-orientated business. Will Koch was the owner until he passed away suddenly from a health issue a few years ago. He always wanted to have a steel coaster in their park, but he did not live to see this happen. So, when they built the steel coaster they added this "Will Power" sign as a way to honor him. (This sign always touches my heart due to the reason for it.)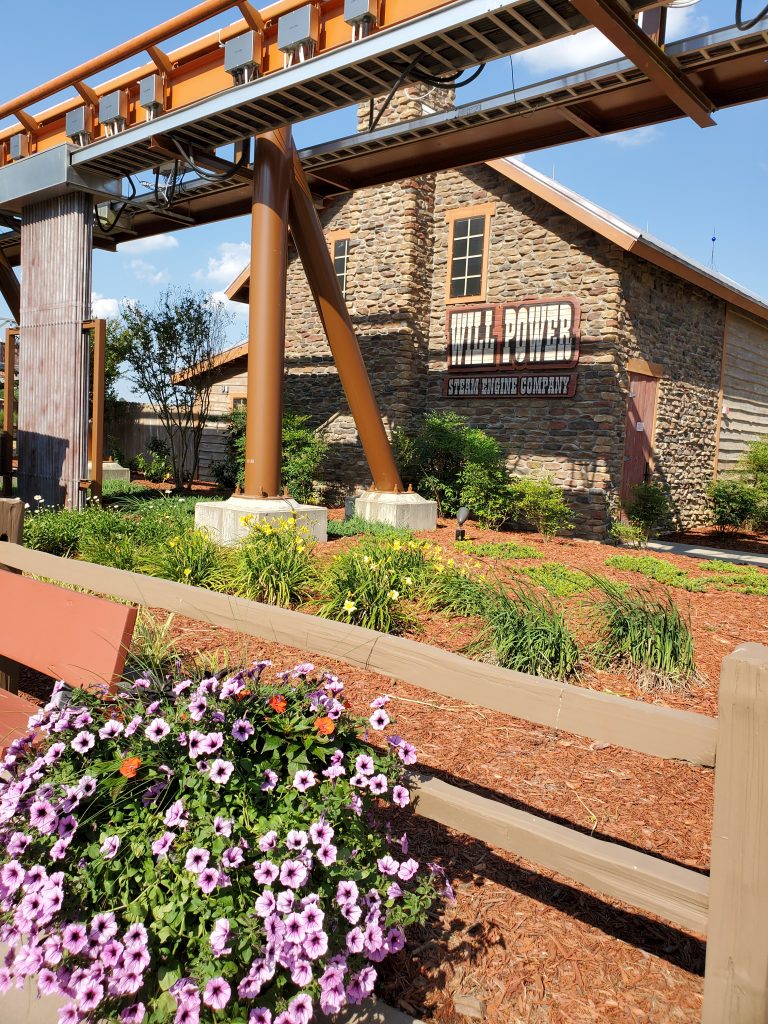 5- Voted Cleanest Park in the World
Holiday World has been voted the cleanest park in the world for decades!
This is nice because I don't have to worry about my little kids (and now grandkids) picking up dropped food or anything else from the ground.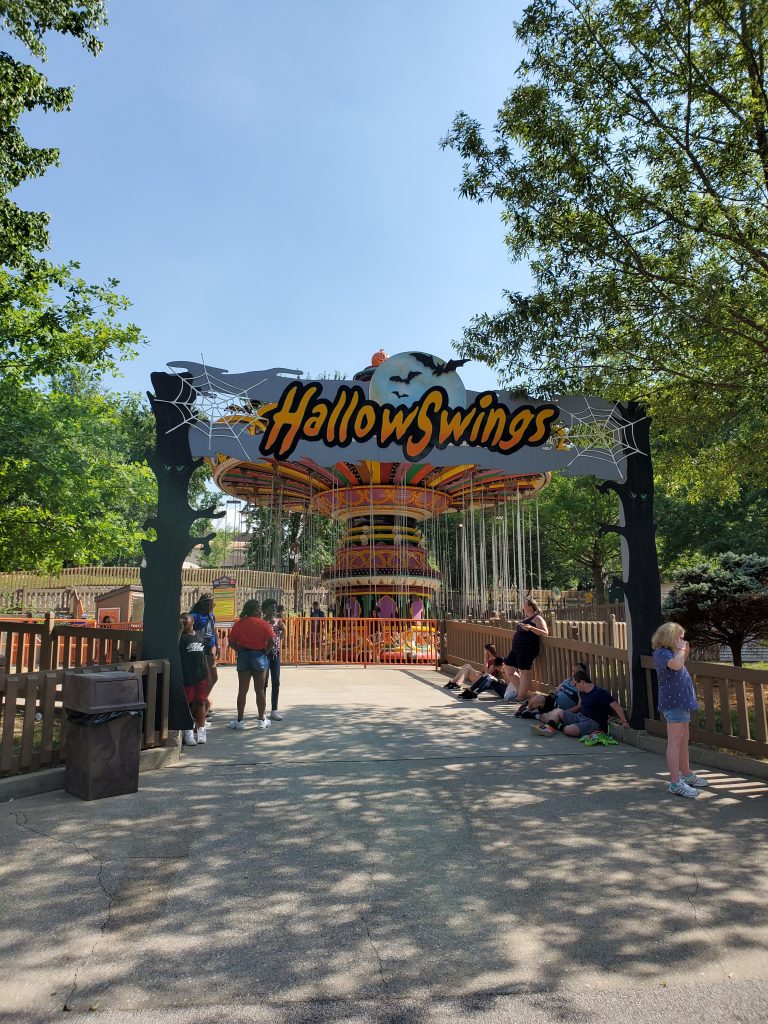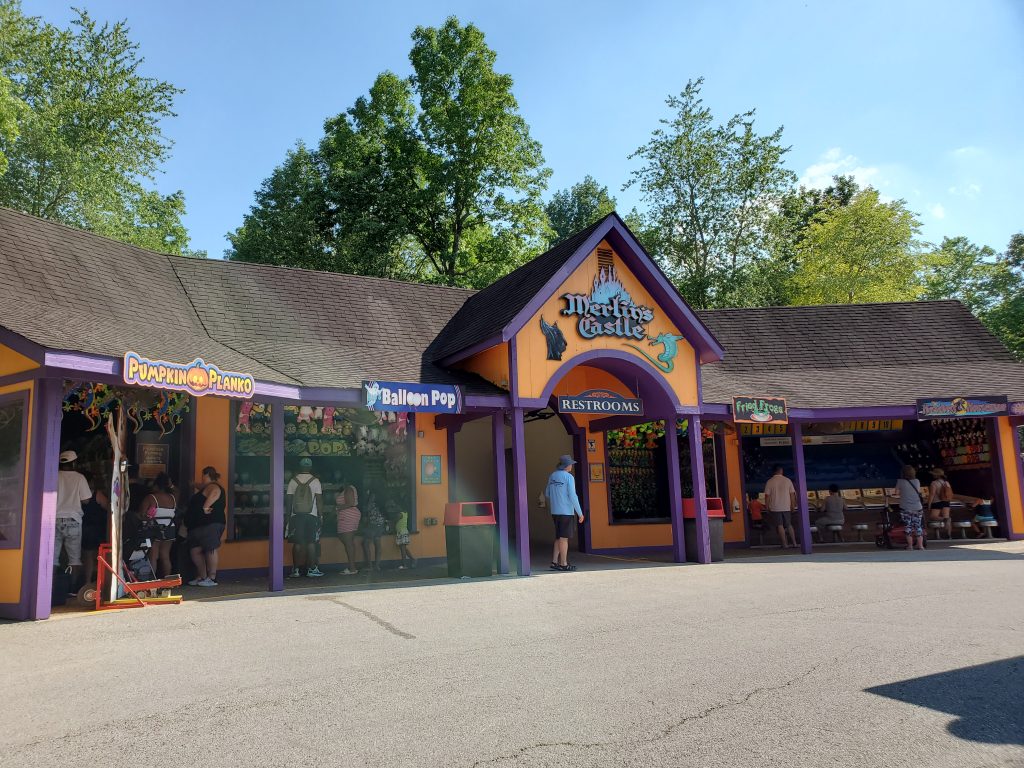 Bonus-

Splashin' Safari Water Park

Holiday World's water park (Splashin' Safari) admission is included with their theme park admission. The water park is open for shorter hours than their theme park, but for many years it was voted the top water park in the United States. The travel channel considers it one of the best water parks in the United States today!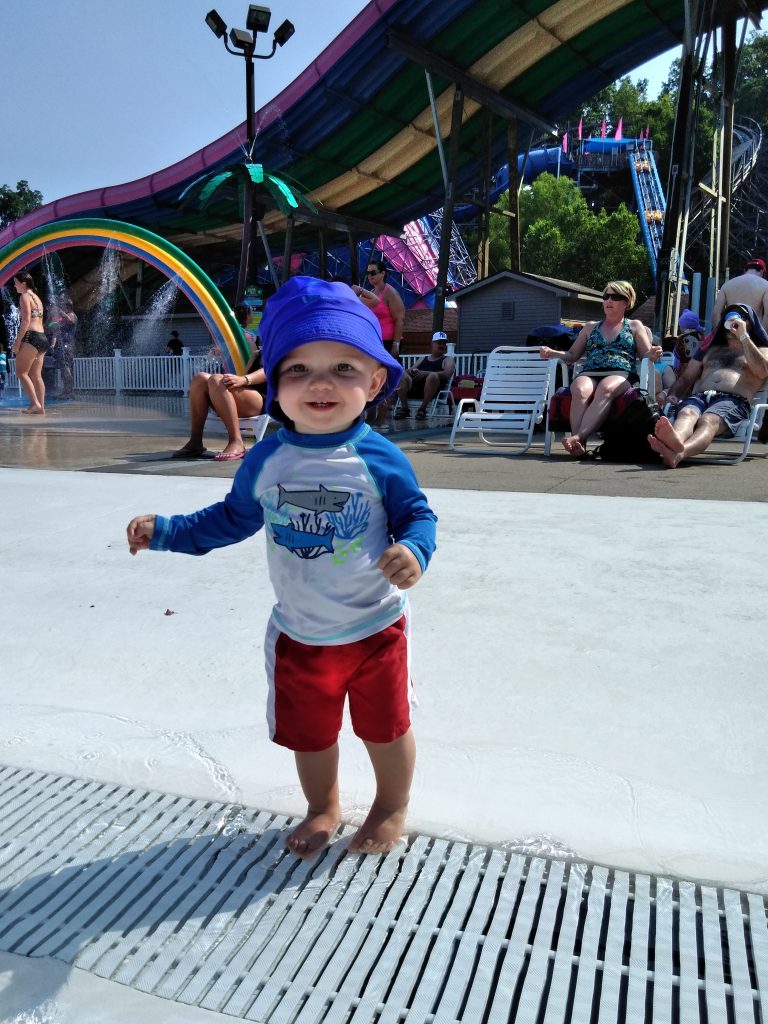 We LOVE the water park as much, if not more, than the theme park! My favorites are the lazy river and two wave pools.
I had a great time on this trip with my husband and can't wait to go back with the grandkids in a couple of weeks!
---
Check out some of our other adventures! We have posts on Niagara Falls, Disney World, and the joy of traveling in general!