There are ways to decrease the cost of DISNEY without decreasing the FUN!
Doing Disney on a budget is possible! You can still have a FANTASTIC trip and not be stressed about finances.
---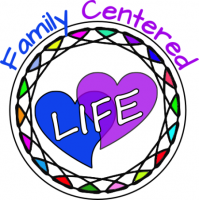 TIPS FOR BEFORE YOU GO
Purchase Gift Cards
Save money with Sam's, Target, Costco, etc… by purchasing gift cards! You can use gift cards to pay for pretty much anything at Disney! You can pay for your hotel, meals, souvenirs, and pretty much anything else! It is definitely worth your time to price check where you can get the best deal on the gift cards. Target gives its Red Card users 5% off all purchases, including gift cards.
At Sam's, you pay slightly less than the face value on the cards. Do the math at Sam's!! You often save more when you purchase the package that has $75 in gift cards versus the one that has $500 in gift cards.
One more tip….once you purchase the gift cards, you can go to Disney's gift card website to transfer the money onto one gift card. However, the max you can put on any one individual gift card is $1000.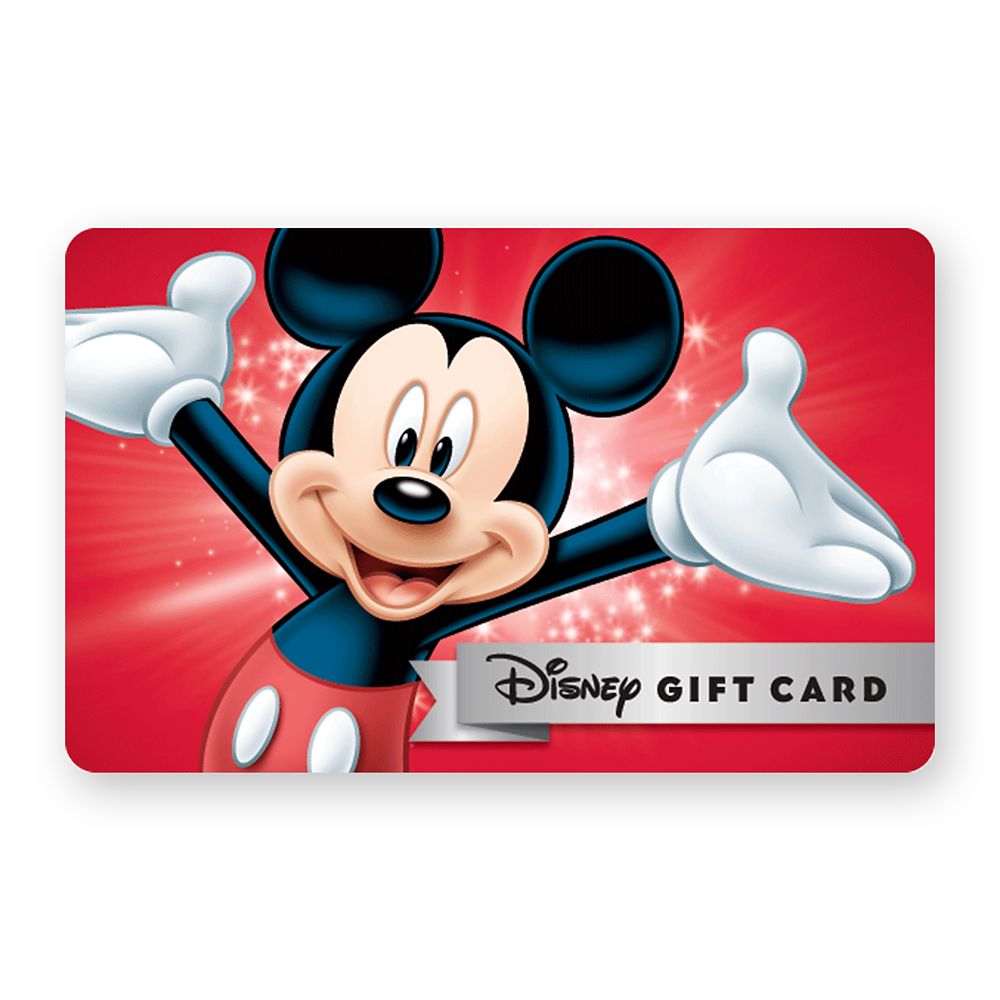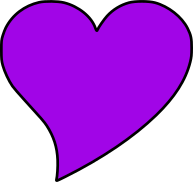 Use Credit Card Rewards
With Discover card, you can use the cash-back bonus for gift cards and this allows you to earn slightly more in cashback bonus in gift cards, compared to just using the cash towards purchases. For example, with gift cards, you can purchase clothes you need for the trip or pack gift cards for restaurants on property (Rainforest Cafe) or off property (Bahama Breeze) with you for the trip.
With Airline reward points or miles, you can decrease the cost of travel to Disney World or even make travel to Disney FREE, depending on how many points you have!
With Disney Premier Visa., you can use your reward dollars to reimburse yourself for the airline tickets you bought using that card. You can also put your reward dollars on a special debit card from Disney Premier Visa that can only be used on Disney purchases. This Disney debit card money can go towards hotel stays, food, tours, souvenirs, or pretty much anything else at Disney World!
My favorite is purchasing Disney gift cards from Sam's (saving about 3%). In addition to this 3% saved, I earn an additional 1% in free Sam's money (which I then use to purchase more Disney Gift Cards when that free money becomes available once a year), ADDITIONALLY, I pay for my purchase at Sam's with either my Discover card or Disney Premier Visa to earn additional reward money to go towards my next trip to Disney!
Check out Party City's current Coupons & Promotions!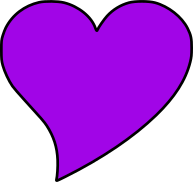 Pin trading
Pin trading is not free, but it can be inexpensive if you plan ahead. You can purchase less expensive packages at a Disney World with several pins or you can purchase them ahead of time from eBay or other such sites. My preference is getting them on eBay where they end up being about 40 cents each when you purchase random bulk packages of pins. The pins purchased on eBay can still be traded at Disney and you often get an upgrade to find other pins that you like more!
Disney Parks Food Icons Pin Set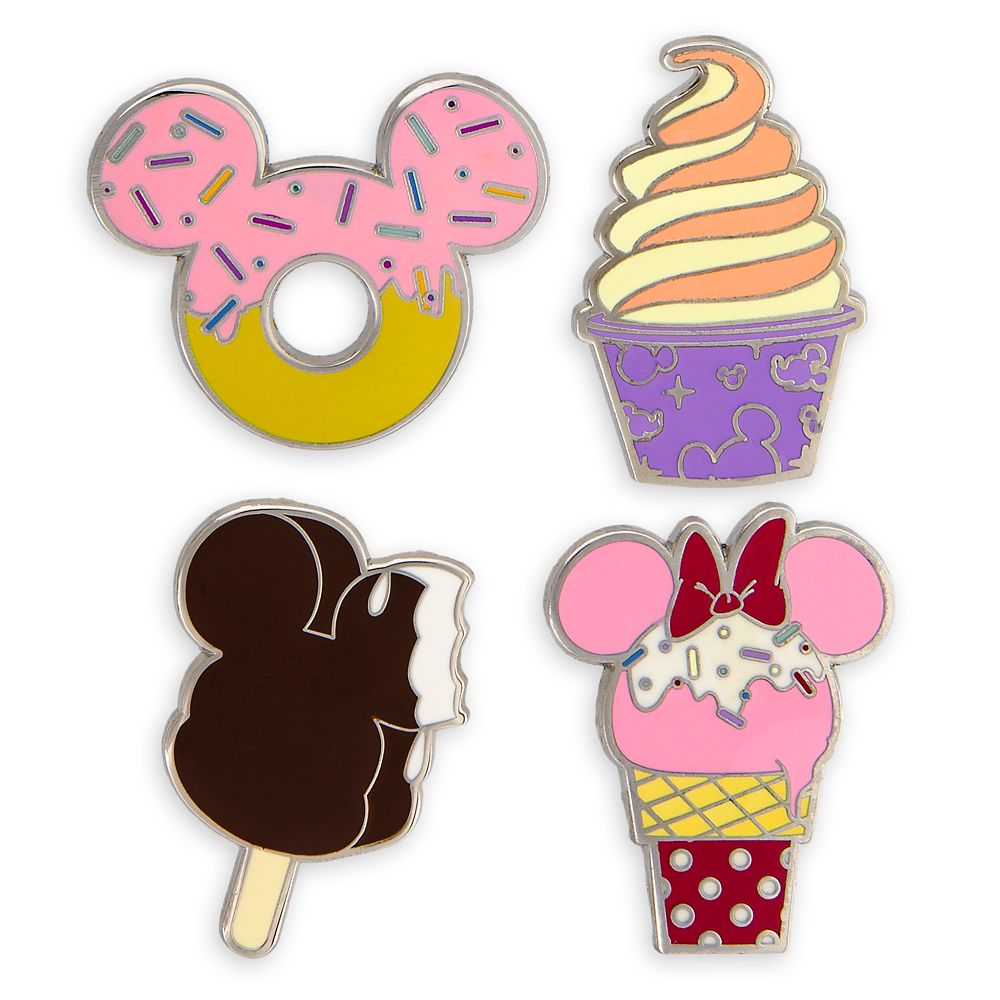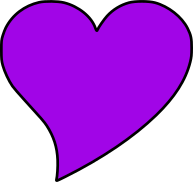 Decide some things before you go…
Memory Maker is amazing! However, it is $30 cheaper if you purchase it ahead of time, rather than once you arrive at the parks. I'm a HUGE fan of Memory Maker and I have decided it is something I do not want to go without! I love the surprises they can add to the pictures (like Lumiere in the picture below). Later, you can add fun things to the pictures using My Disney Experience and your iPhone (like the yellow at the bottom with Belle and the rose).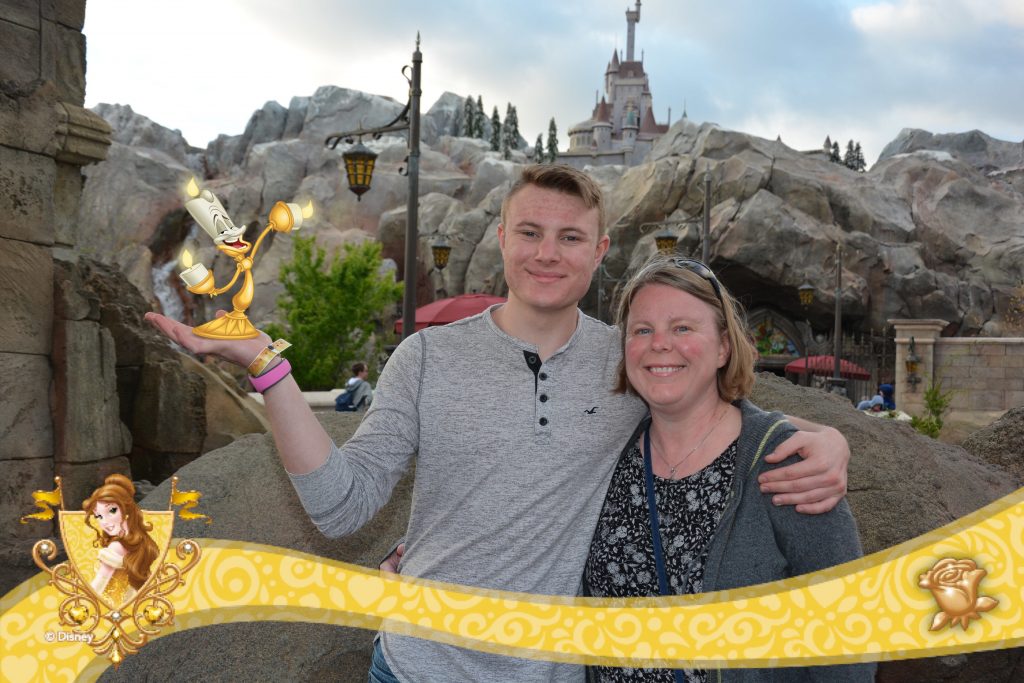 You can also look for Disney discounts on room rates, packages, or go when free dining is offered. You can check Disney's website and look for discounts as they appear. Disney will let you make changes to the package you already have if you find something less expensive unless it is within a very short time before your trip. You can also look for deals through agencies such as UnderCover Tourist.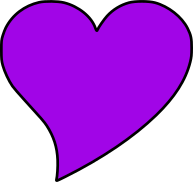 Pack some things from home
Snacks: Snacks are great for the long lines and to keep little ones busy when waiting for anything. Plus, this will save some money. You can purchase a $2 bag of pretzels and divide them up into sandwich bags to last a few days. Now compare this to a $6 soft pretzel that you may need two or more of
Breakfast items: Packing along easy breakfast items to eat in the hotel room or on the way to whatever activity you are doing that day can save both time and money! You don't have to take time to sit down to eat breakfast at a restaurant and whatever you are bringing with you, it will probably be cheaper than purchasing an additional meal at Disney World. We typically pack Pop-tarts, granola bars, fruit bars, and easy fruits or vegetables. This way we can grab and go or one of the kids can eat in the room while the other is getting ready in the mornings.
Medications: Needless to say, you will need to bring your prescription medications with you. However, it's also a good idea to pack along some over-the-counter medications that you and your family typically use. I typically pack Advil, allergy medication, and medication for an upset stomach that I keep in my park bag. It's also a good idea to pack the over-the-counter medication because they are expensive to purchase on Disney property,
Ponchos: It's Florida! The chances of it raining at some point during your trip are almost 100% Due to being in Florida it may even rain a little every day. You can purchase small, inexpensive ponchos for $1 to $2 at the local dollar store or sporting goods store before you travel. It makes it convenient to have the items with you in your park bag and they can be expensive if you purchase them from the park!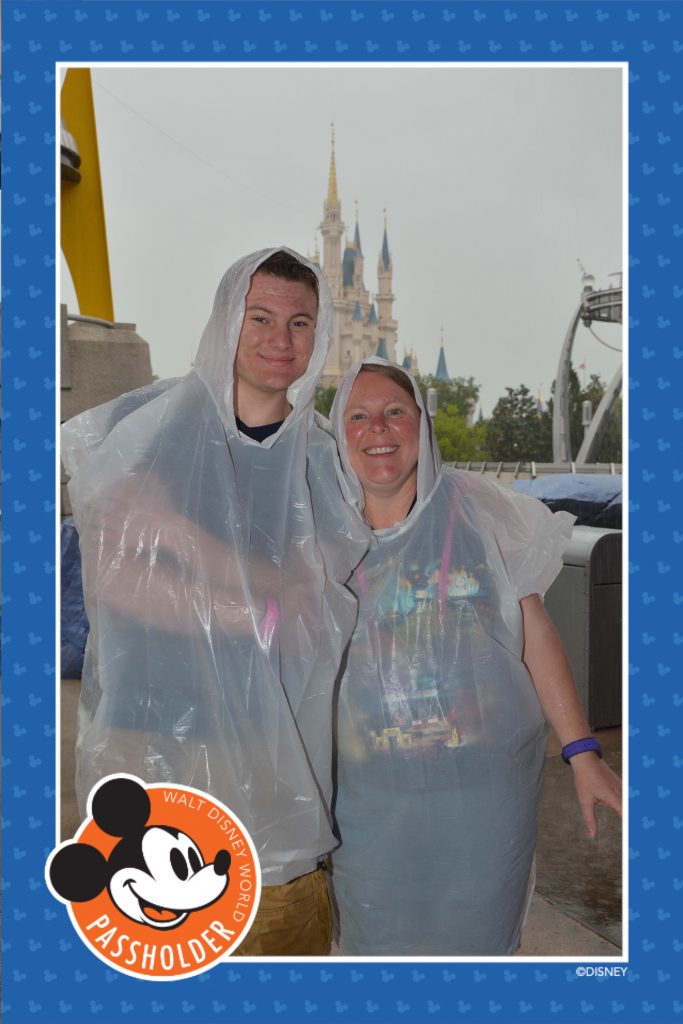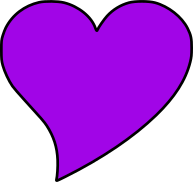 Use Apps to earn free money before you go on vacation
I use Ibotta! It allows you to earn free money and then you can use that free money to purchase items you need or want for your trip. I usually use my Ibotta money for my pre-trip "splurges" since it comes through PayPal. For example, I find matching shirts I like on Etsy and purchase those with the free Ibotta money I earned.
Ibotta is an app that allows you to earn money from purchases you are already making at the grocery store and other locations. You earn cash for purchasing certain items and this item list changes periodically. Once you earn the money, it can be put on your PayPal account to be used to purchase from anyone that takes PayPal. If you are interested you can use this link to sign up for Ibotta!
---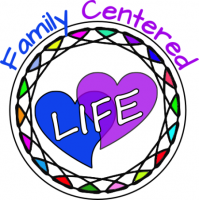 TIPS FOR ONCE YOU GET TO DISNEY
There are still ways to save money once you get to Disney World and there are several FREE activities you can do throughout Disney World that you do not need a park ticket for!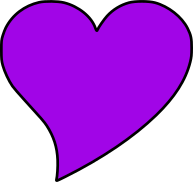 Explore the Resorts
Enjoy Holiday Decorations! The majority of the resorts have beautiful decorations up for the holidays and each hotel is unique!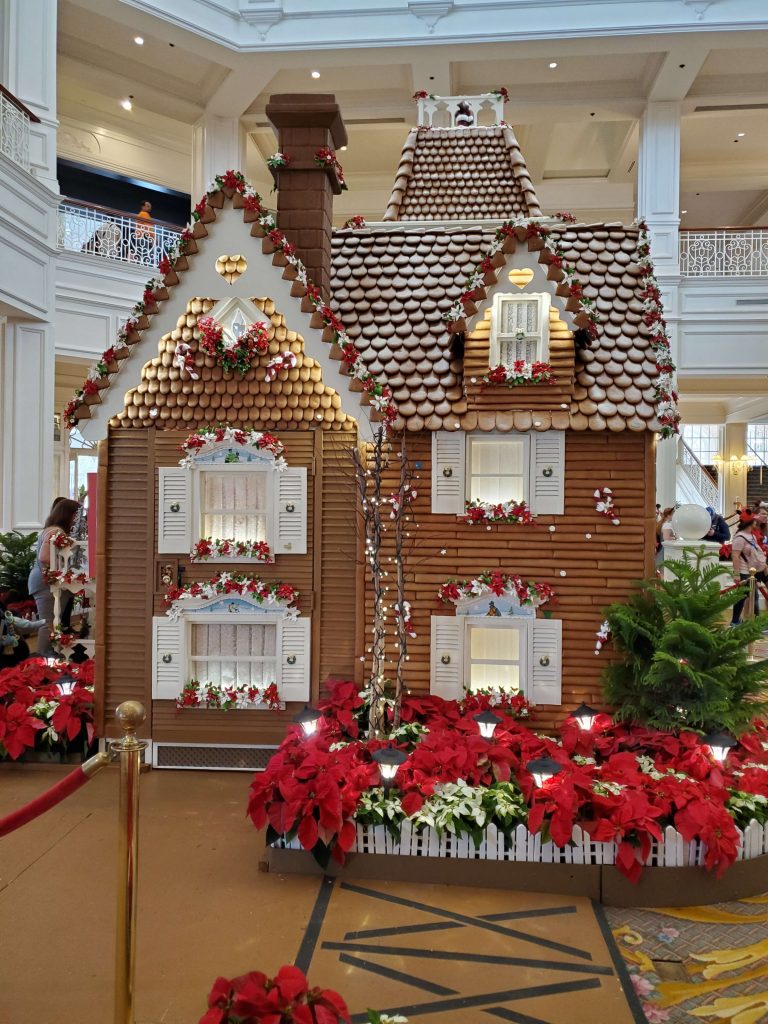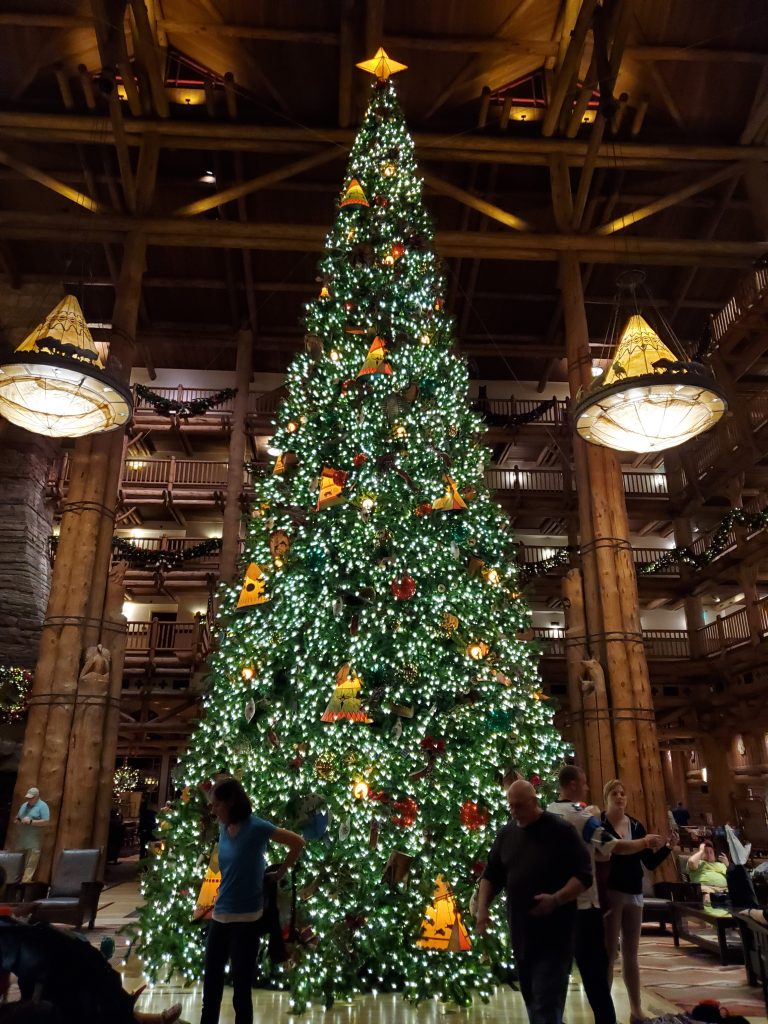 Take tours! There are several tours you need to pay for and some of the tours require a park ticket on top of the fee for the tour. However….there are some free tours! Some of the resorts, such as Old Key West, offer free tours of the facility! We got a free tour to learn about the history of the Old Key West resort and why it was designed the way it is. Plus, our free tour ended with a free Disney pin, free banana bread, and free water! All of it was amazing and such a great opportunity!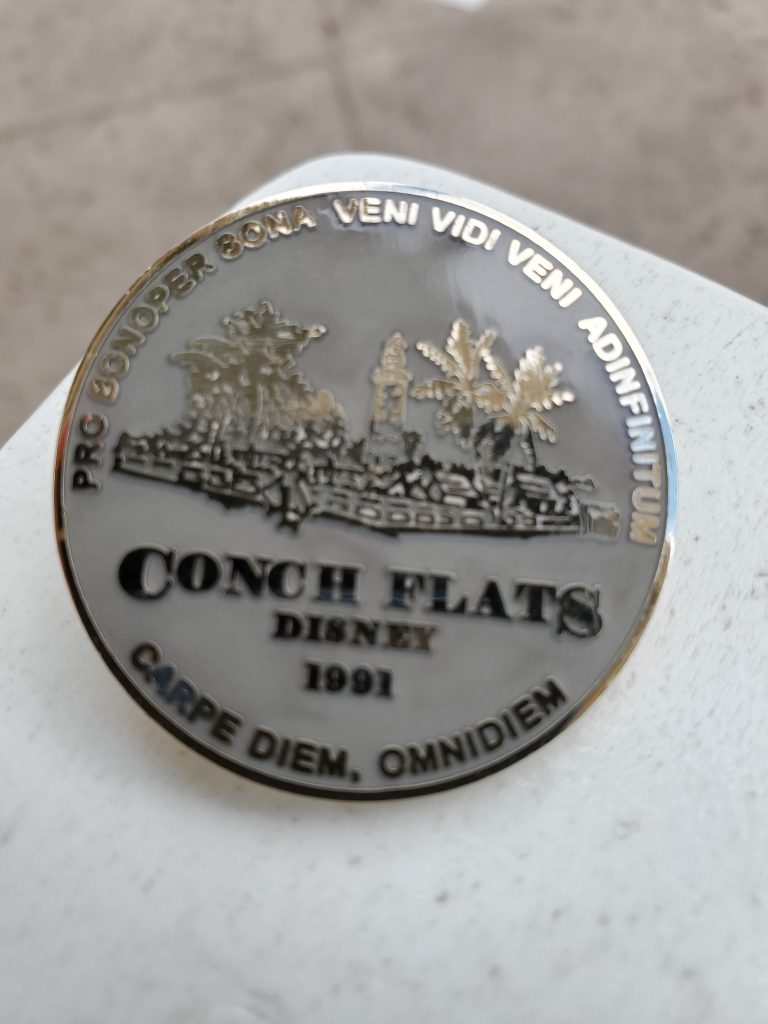 Look for special things at each hotel. For example, Art of Animation has adorable statues of various Lion King, Cars, Finding Nemo, and Little Mermaid characters that are fantastic for pictures!
Here is a picture of my husband with Mater at Art of Animation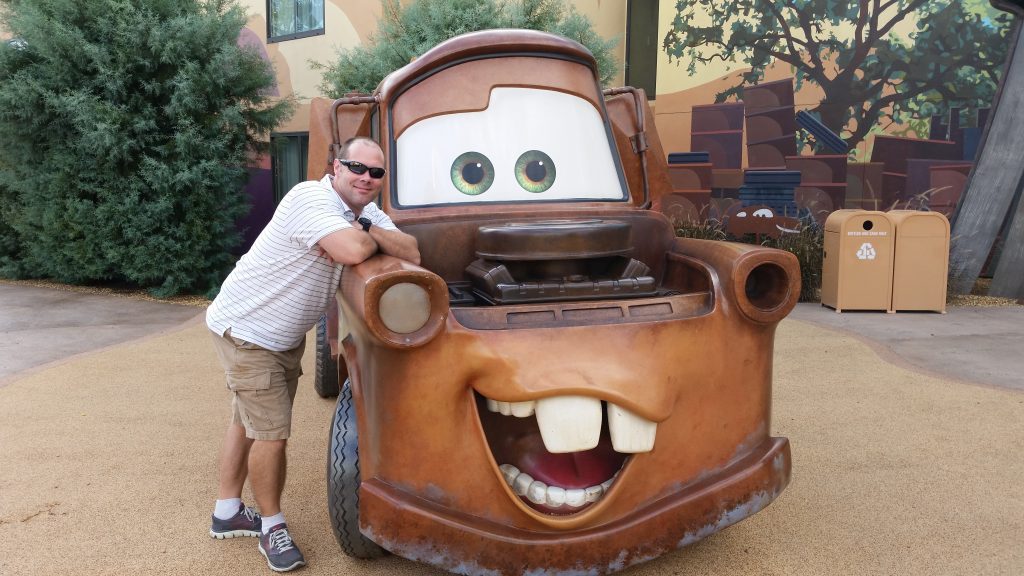 Here is a picture of my husband with the 1970 sign at Pop Century. It was a MUST because he was born in 1970!!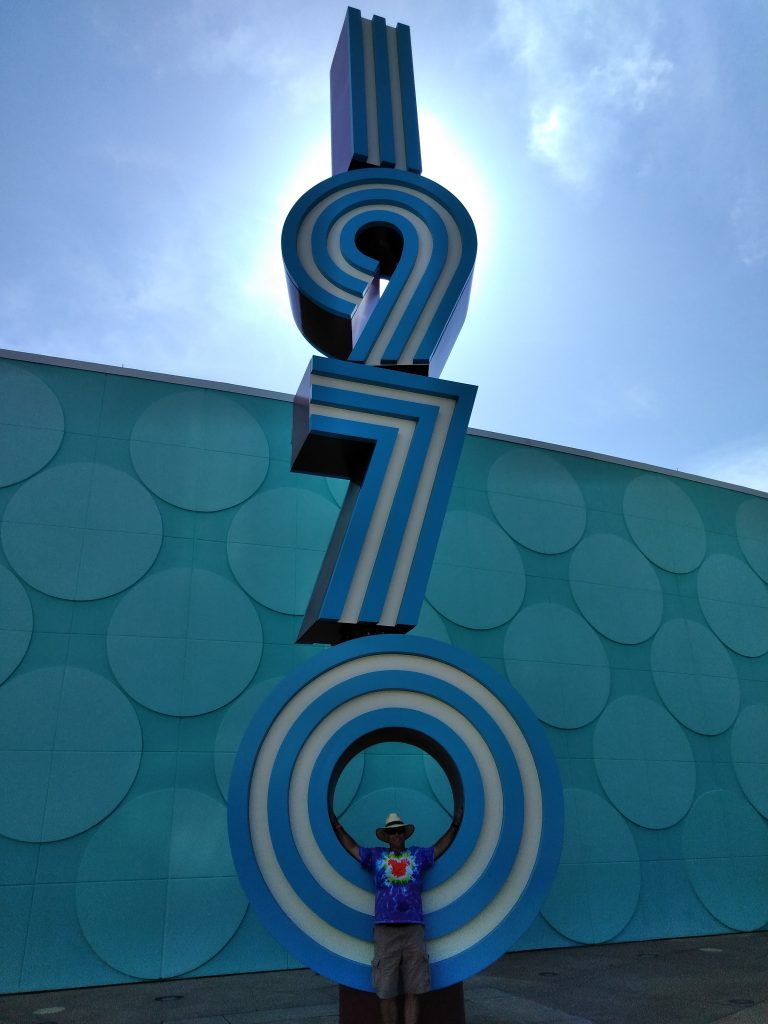 See animals at Animal Kingdom Lodge and Kidani Village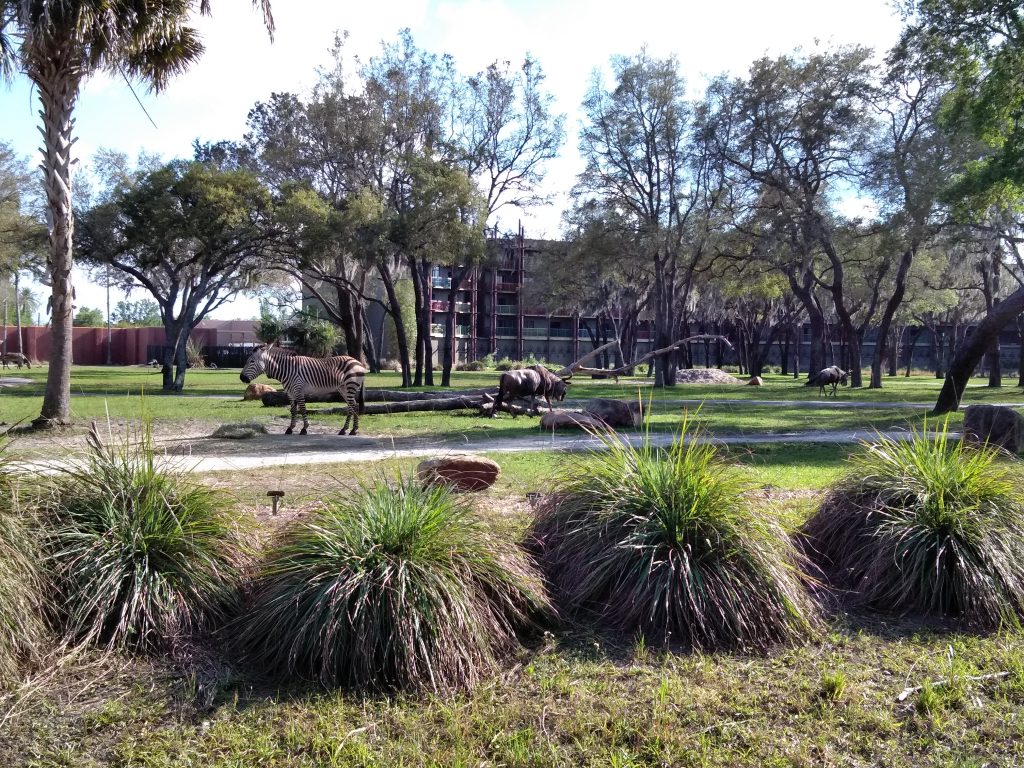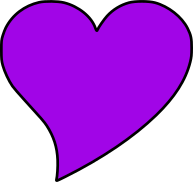 Enjoy Free Activities
Art classes: Art of Animation offers free drawing classes in their lobby three times a day!
Campfires: Several Disney Resort hotels offer campfires at least once a week, assuming the weather is cooperative! The majority of the Moderate and Delux Resorts offer campfires in the evening. There is even at sing-a-long with Chip and Dale at Fort Wilderness Resort! Many of them offer marshmallows for free, but s'more kits are available for a fee (typically $5 each). However, you are welcome to bring your own s'more supplies!
Movies Under the Stars: Most of the resort hotels offer free movies outside by the pool or in other open recreational areas. The movies are different each day of the week and different hotels play different movies. You can see the movies at your own resort hotel or at any Disney World resort hotel!
Swimming: All of the Disney World Resort hotels have at least one pool! Many of the hotels have two or three or more pools and some even have hot tubs! All or a majority of the moderate and deluxe resorts have at least one pool with a large slide for adults and big kids. Many of the moderate and deluxe resorts also have playgrounds, splash pads, and small pool slides for the little ones!
Ride transportation: Disney World offers buses, boats, the monorail, the Sky Liner, and walking paths to get to and from various locations. There is no charge for any of these modes of transportation and they can be ridden by individuals staying on-site at the Disney Resort, as well as people just wanting to hang out for the day. If you or your child has never been on a boat, try it! You should definitely ride the monorail and Sky Liner at least one time in your life! My two-year-old grandson enjoyed riding the buses as much, if not more, than he liked It's a Small World!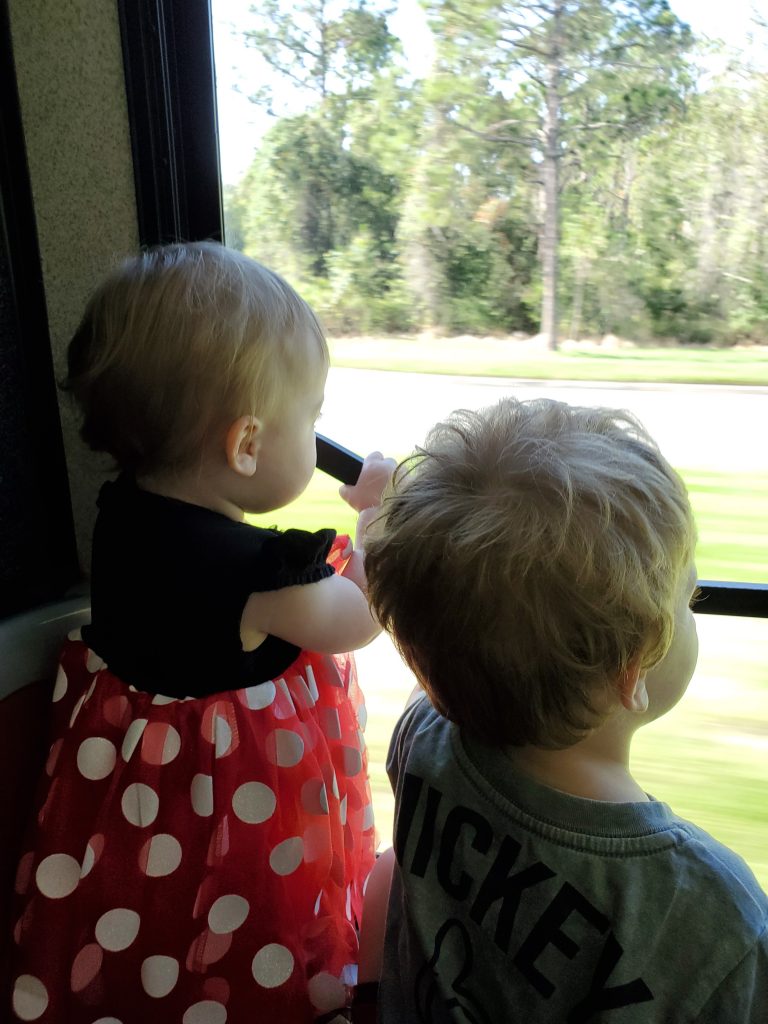 Pin trading–Did I mention how much I enjoy pin trading?!?!? One year we gave our children five pins each and we spent over two hours wandering around Disney Springs and trading pins with workers in the shops! It was amazing and fun and the kids still talk about it today! Again, pin trading is not free, but you can purchase tradable pins from eBay or other such websites for much less money compared to purchasing them at the parks or Disney Springs.
Star Wars: The Rise of Skywalker Pin Trading Starter Set Disney Parks 2020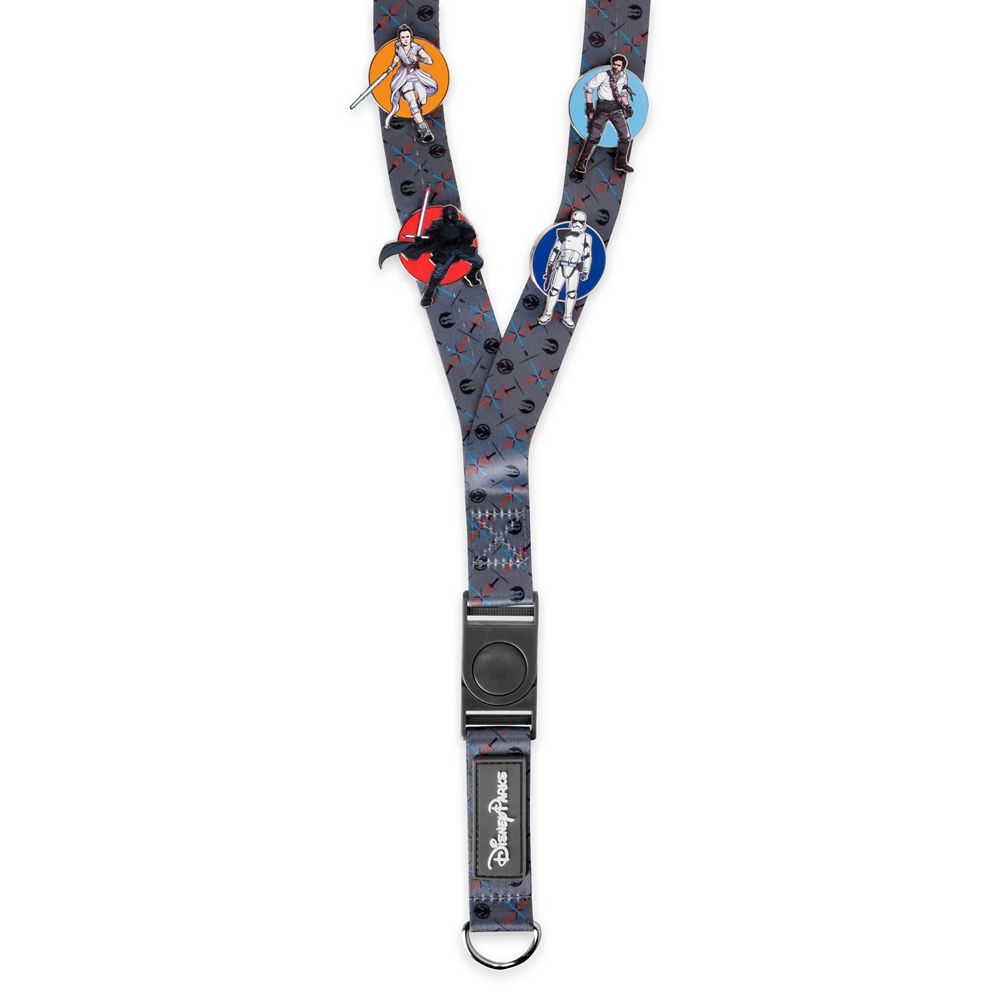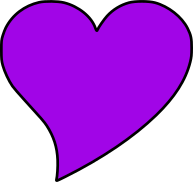 Free Drinks
Every quick-service location will give you cups of ice water for free. There is no need to purchase a $3-$5 bottle of water unless there is a need for that particular type of water. You can also bring your own water bottle from home and refill it with water from water fountains or from the free cups of water given by the quick service locations.
Additionally, if you have the resort refillable mug, you can carry those with you instead of bringing a water bottle from home! You cannot refill the resort mugs with fountain drinks or other types of drinks for free in the parks, but you can leave with them full from your resort and refill them with water in the parks. The mugs are not free (unless you have one of the Dining Plans), but can be purchased for approximately $20 at any resort hotel. If you will be drinking at least six fountain beverages or coffee while at a Disney Resort Hotel, it is likely to be worth the cost of the mug since drinks are typically $3.99 to $4.99 each.
Additionally, if you are going to another resort hotel for any reason, you can refill your resort mug in any of their quick service locations. For example, if you are going to have breakfast at Chef Mickey's in the Contemporary Resort, you can refill your mug in their quick service location before heading to the park. Another example would be if you are walking from Disney's Hollywood Studios to EPCOT you will walk by the quick service at the Boardwalk Resort and can refill your mug there!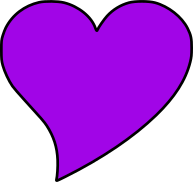 Free buttons!
Cast Members at Disney World hand out free buttons for various occasions. There are always buttons for "special occasion," "birthdays," and anniversaries for their 'ears together! They also give out special buttons on special days, such as the button below! We happened to be at Disney World on Mickey's birthday and cast members were handing out these buttons when we walked into the park!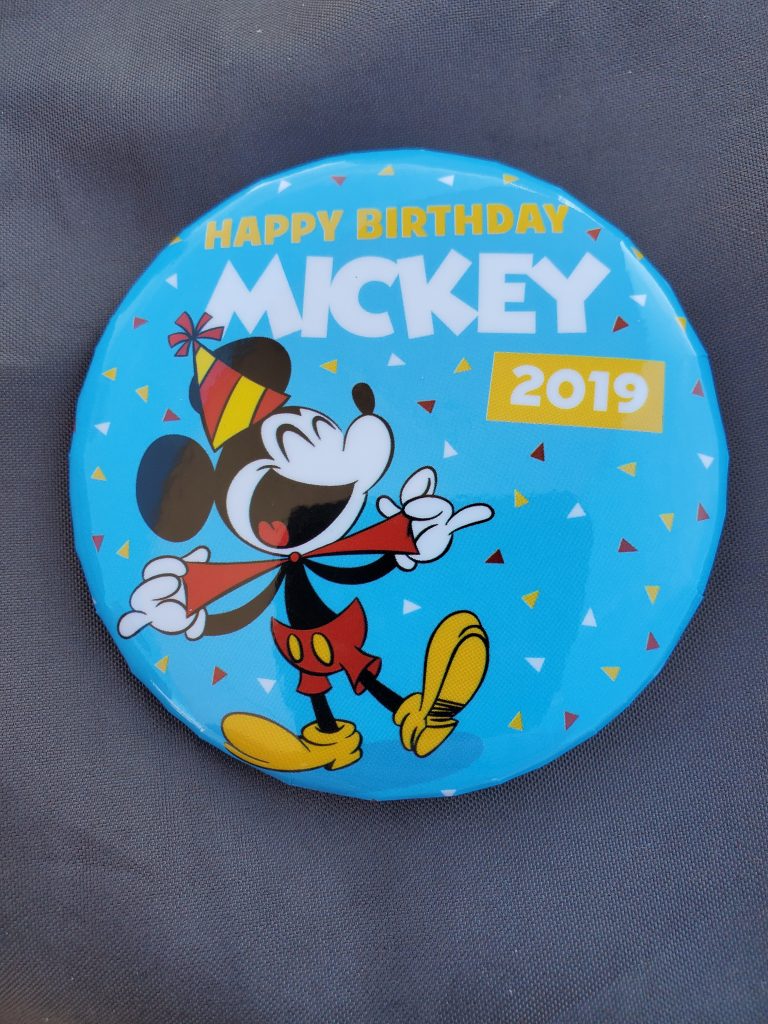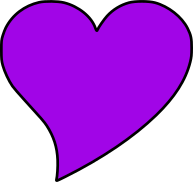 Hunt for Hidden Mickeys
There are "Hidden Mickeys" all over the Disney World resort! Some are easy to find and some are more difficult. It's always fun to keep your eye out for them. PLUS, it's a great way to keep kids busy in lines or just walking from ride to ride in the parks.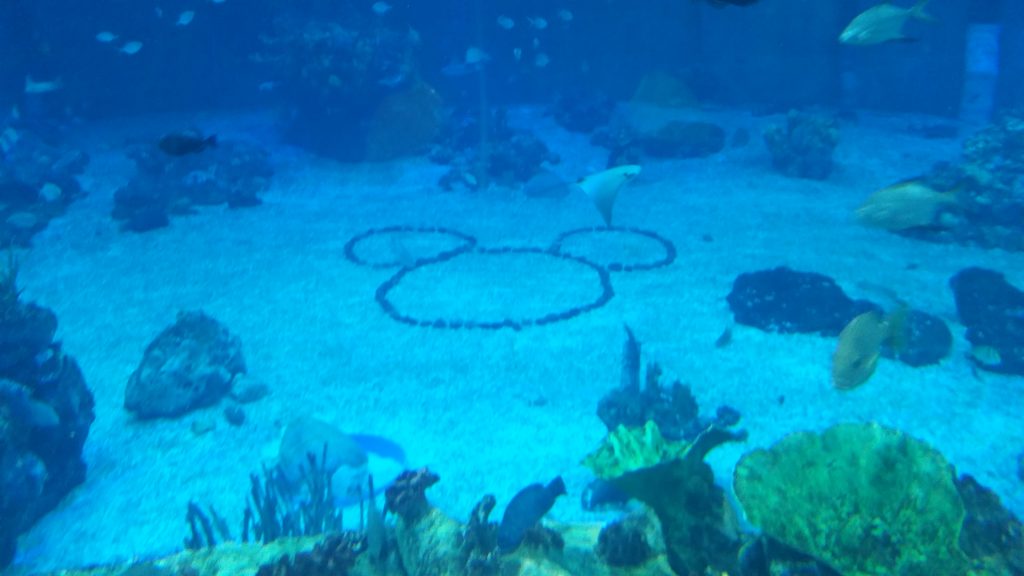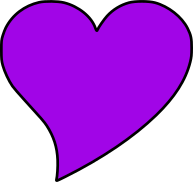 Explore places where you don't need a ticket
Boardwalk:
Boardwalk has several fun activities and entertainment features, but there is no admission fee to see all they have to offer! Boardwalk has a gift shop, table service restaurants, a quick-service pizza window, a bakery, and an amazing ice cream shop (Ample Hills). They also have two dance halls, surrey bikes you can rent, and magic shows along the walkway. Plus, you can just have a seat, enjoy the view, and watch people at the Boardwalk and boats in the water!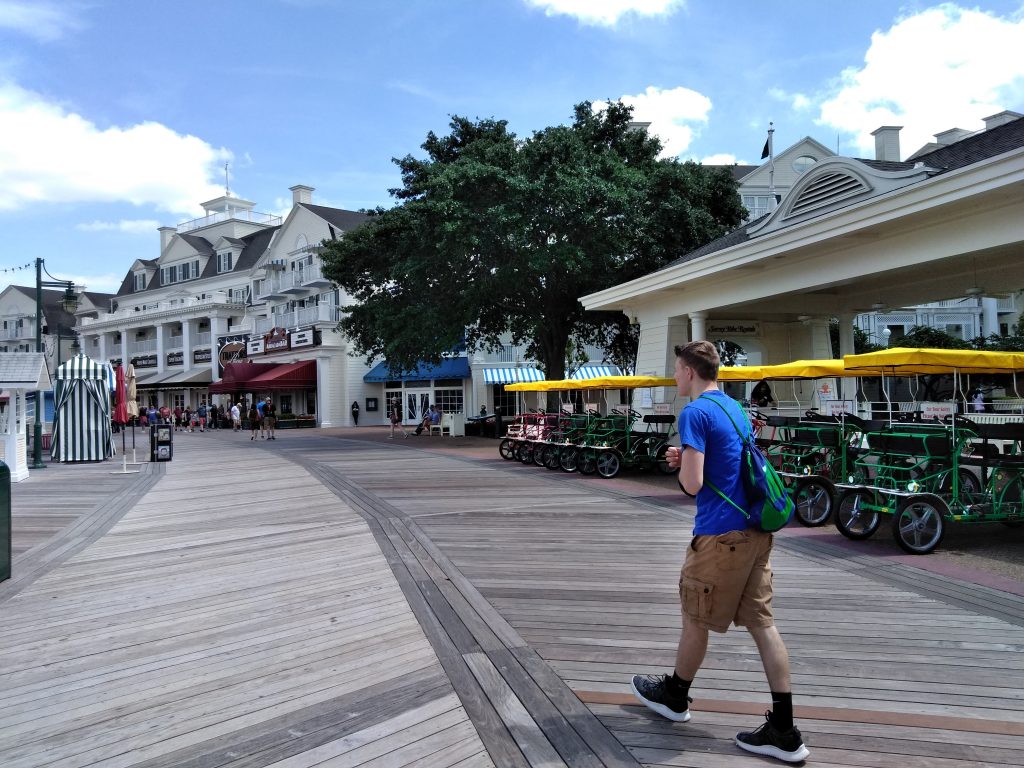 Disney Springs:
There is so much to do in Disney Springs, you could easily spend a day or half of a day there. You can pin trade, ride a boat to one of the nearby hotels and wander around, get a meal or a snack, and window shop through the stores. You can watch the volcano "erupt" at Rainforest Cafe. Listen to live music at the main stage or at many of the restaurants and bars in Disney Springs. You can check out the Lego Store and play with Legos. You can get free samples of slushies in Goofy's Candy Shop. If you are lucky, you can swing by Ghiradelli when they happen to be giving out free samples there too!
An added bonus at Disney Springs, if you have Memory Maker, is that you can use the photo studio at the photo center and get great, professional pictures for "free" (with the purchase of your memory maker).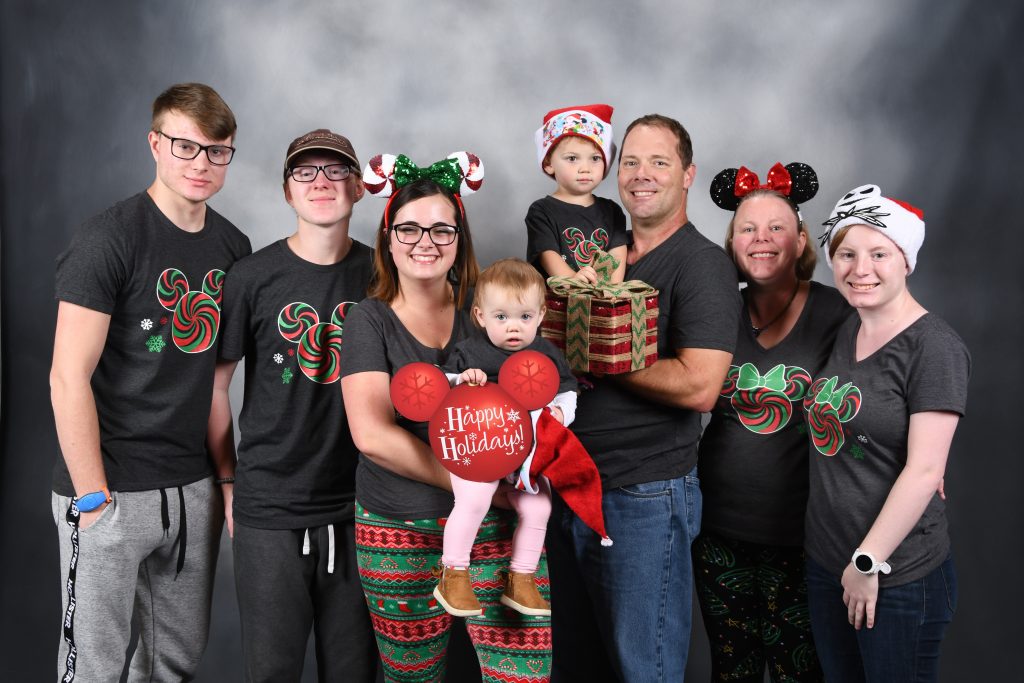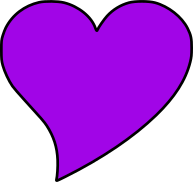 Pay Less for food
Share adult meals! The meal portions are HUGE! Most adults can share a meal and have plenty of food! Two children could definitely share one adult quick service meal!
Purchase kids' meals. They are less expensive, have a decent portion side, and they even come with a drink! When I was at Sunshine Season's in EPCOT I was able to get a kids' meal (half a roasted chicken, seasoned rice, a refillable drink) and then I added a very yummy chocolate and caramel brownie. This still costs less than the price of one adult meal and I couldn't even eat all of it!
Eat at a hotel quick service. They are usually slightly cheaper than eating in a park and you can use your resort mug so you don't have to pay an additional charge for a drink!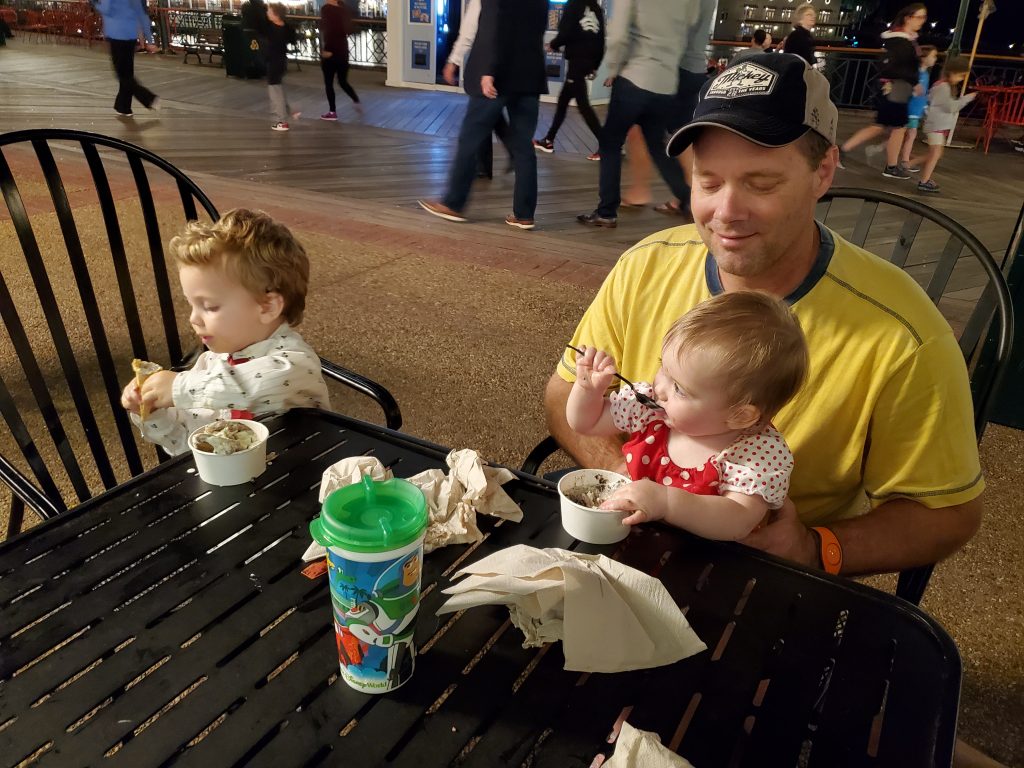 Research food options before you go! I really wanted to try Tonga Toast during my last Disney Trip. I looked it up and found it at Kona Cafe in the Polynesian. That was great! I found it! It was a nice table service restaurant. However, it looked a little more and found it at the Polynesian quick service (Captain Cooks). It was less expensive at the quick service for the same item AND I didn't have to purchase a drink at the quick service because I had my resort mug AND I didn't have to pay a tip like I would have needed to at Kona Cafe. So…win…win…win…win!!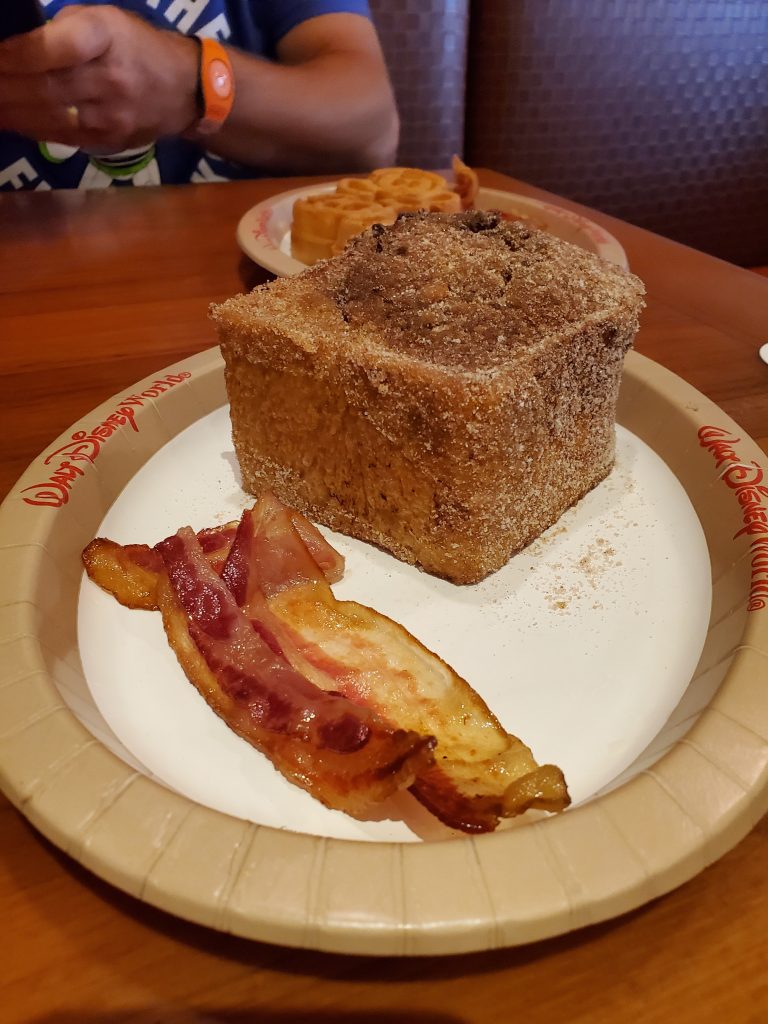 Also…character breakfasts are typically cheaper than character lunches and suppers!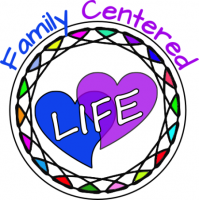 Do you know of any other tips to help make Disney World a little less expensive? If so…share them in our comments section!
---
To learn more about our Disney experiences, check out our posts on Boma at Animal Kingdom Lodge, dinner at Hollywood and Vine in Disney Studios, and all of the items we pack in our Disney Park Bag!
Join our mailing list to keep up to date with us! You can sign up on the top right hand of this page, next to the tip Hidden Mickey picture!
---