Disney is an amazing place! It's full of princesses, castles, rides, amazing food, Mickey, Minnie, and SO MUCH MORE! It is a wonderfully magical place for people of all ages, but for toddlers it is true magic for them!
Thinking of taking toddlers to Disney World? Toddlers can be challenging on a good day. And toddlers without their normal schedule and routine in the Florida heat, can be even more challenging! However, it is so worth the effort to see the magic in their eyes!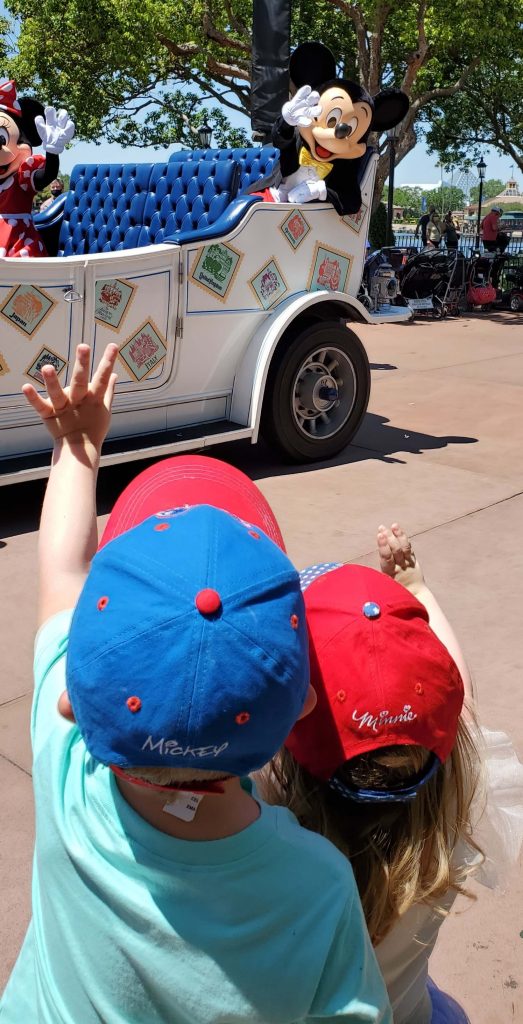 To help make the trip as magical as possible, here are a few tips and tricks that actually work for making a Disney trip with toddlers amazing!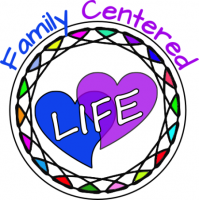 Be Prepared
Being prepared is the key! Plan ahead! Be mentally ready for meltdowns, hangry moments, and potty accidents! Be ready to have fun, but be ready for the ups and downs of a Disney adventure with toddlers!
First, prepare for the travel to Florida and back.
Second, be prepared for the parks and hotel stay!
Pack the necessities and their favorite things!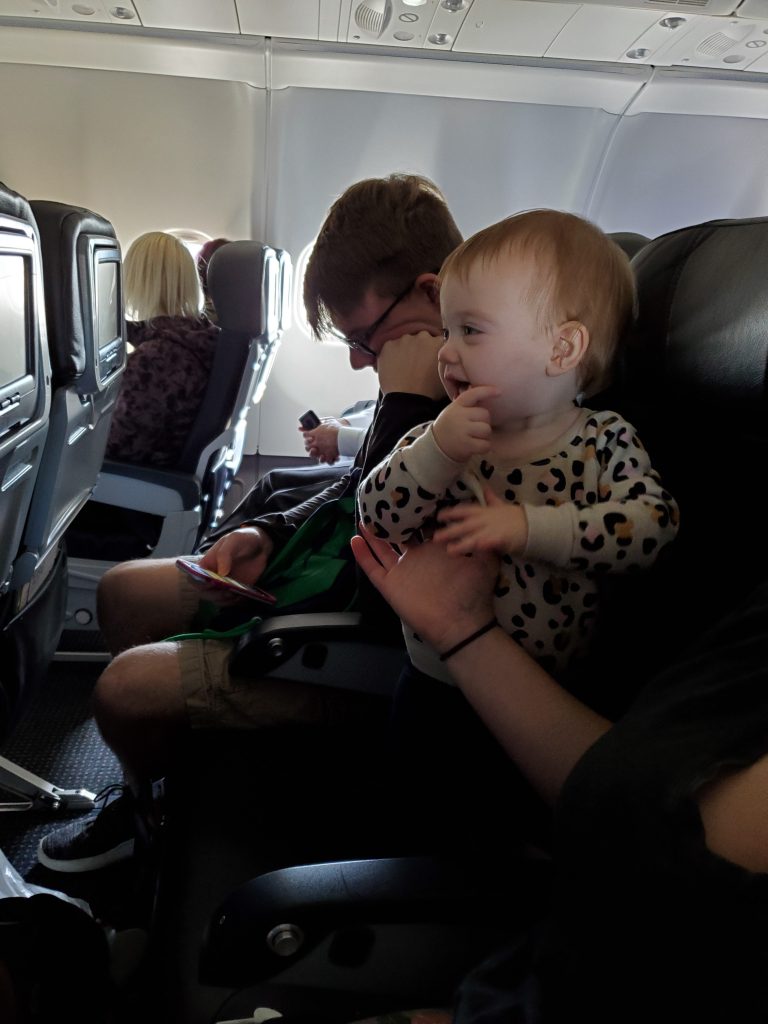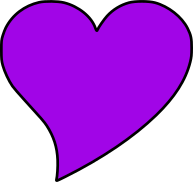 Some of the main things you need to think of are:
Do you have enough pull-ups?
Sunscreen!
Did you remember their favorite items to sleep with?
Do you have their favorite snacks?
Will you benefit from having a battery-operated fan on the stroller?
Is there a change of clothes in your park bag or diaper bag?
Will they wear hats to keep the sun out of their eyes and off their faces?
Pack a non-spill sippy cup or water bottle!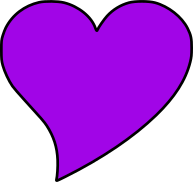 You also need to think about naps!
Can you bank on "Disney tired" or do you need to plan for naps or early bedtime some days?
Here is what "Disney tired" looks like by the way! The picture below is in line for Dumbo at Magic Kingdom!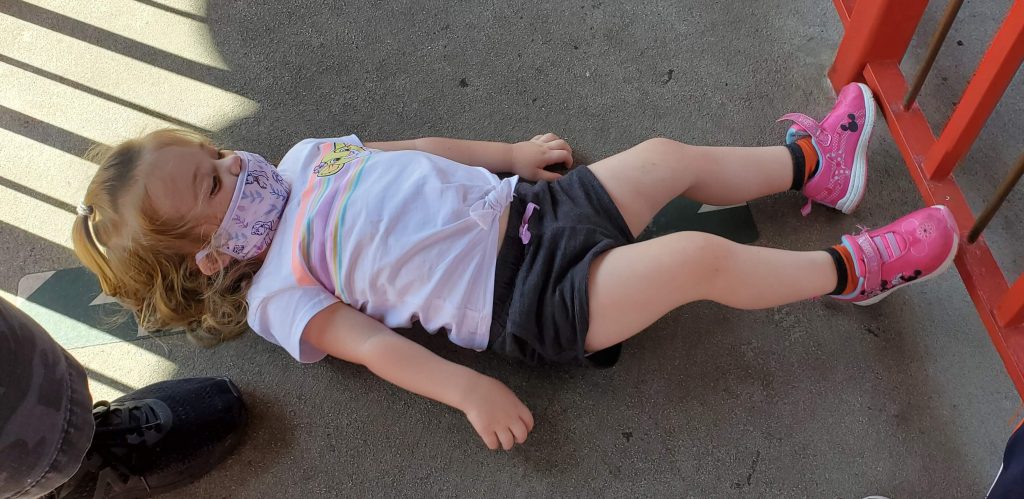 This picture shows Disney tired as well…so tired I was able to purchase and eat an entire ice cream BY MYSELF and WITHOUT SHARING! Now that is a tired toddler!!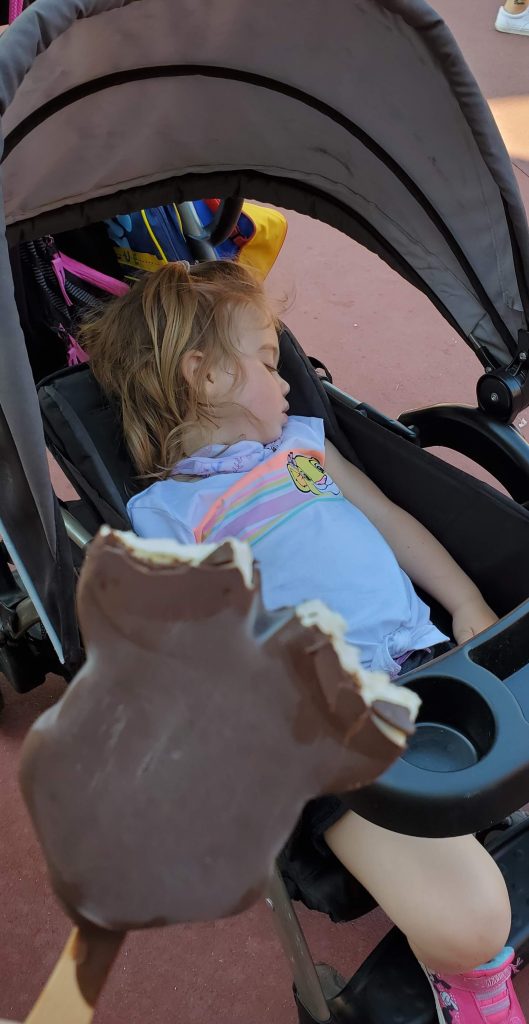 Pro tip: Be prepared for dirty clothes! Pack one scoop of laundry soap in a sandwich bag and be prepared to do at least one load of laundry. Being able and willing to do laundry has helped my stress level majorly! It saves me from packing tons of clothes and I am less worried if I get sticky fingerprints on my clothes or if they get poo on theirs. Being willing to do laundry is a sanity saver!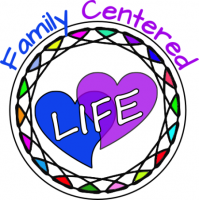 Pack Snacks They WANT
I have the normal favorites (Goldfish, popcorn, dried fruit, puffs, etc….). They are amazing and work well. They keep the "hangry" monsters away!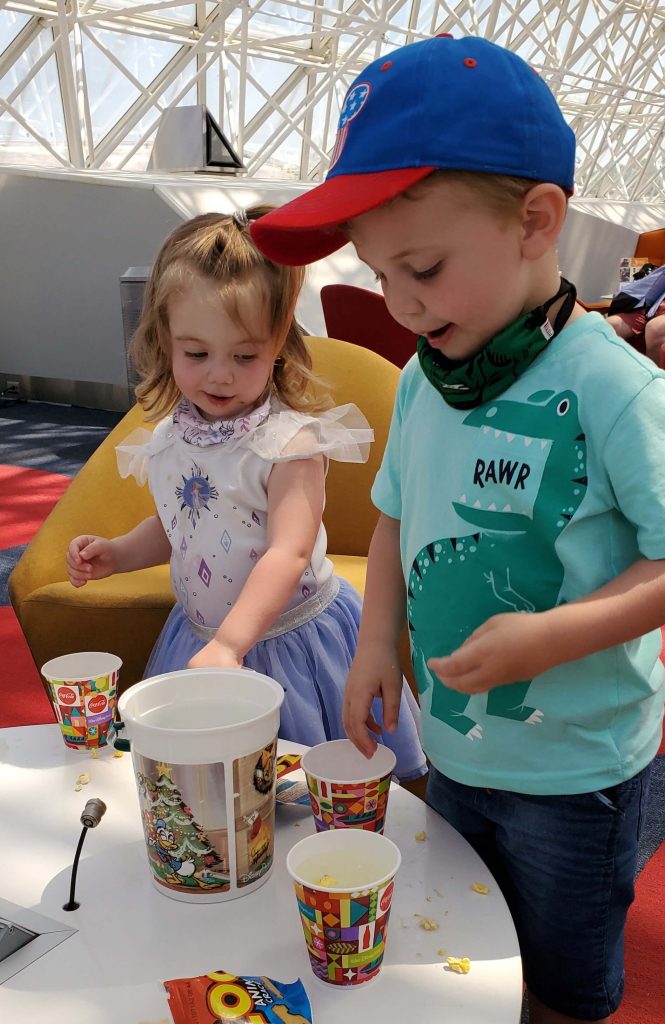 My best tip: Prioritize your snacks!
I love my regular snacks, but I also have prized snacks! The ones I only "find" when the lines are long or when my husband is annoyed the kids are fidgeting in long lines. They are the ones I only use for special circumstances when I need guaranteed contentment! Everyone has those snacks or other goodies! Here are ours:
Make sure to pack your prized snacks!
On our most recent trip, I have to say I had the king of prized snacks on the flight home!
I had chocolate bunnies for the plane ride home! I brought plastic covers for the plane trays (so we didn't leave a huge mess behind). Wipes were next to me in the seat and I had a change of clothes ready to go! We were prepared for a mess and I was ok with that. I wanted to keep the kiddos content and enjoying themselves and it worked amazingly! (Plus…only one of the kids needed to change clothes!)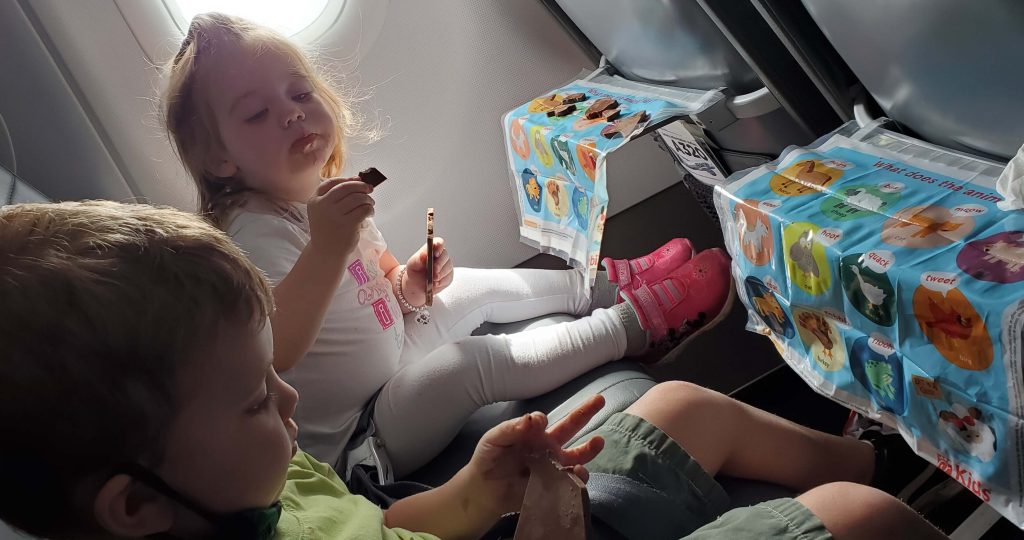 On a not-so-good-note, I was sad to notice our seats with two toddlers and chocolate bunnies were 10x cleaner than many of the other seats around us and in front of us!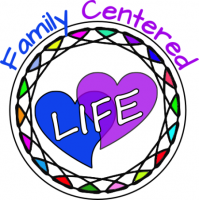 Bring the Stroller
Don't question it. Don't think they are too old. Just bring that stroller! You will be so very thankful that you did!
They are comfy! They can choose to walk or they can sit and rest between activities as their energy wanes! Strollers are also a great place to keep all of the stuff they need to make the trip easier! They offer a place to hold snacks, sippy cups, pull-ups, wipes, and all the other kid-important items!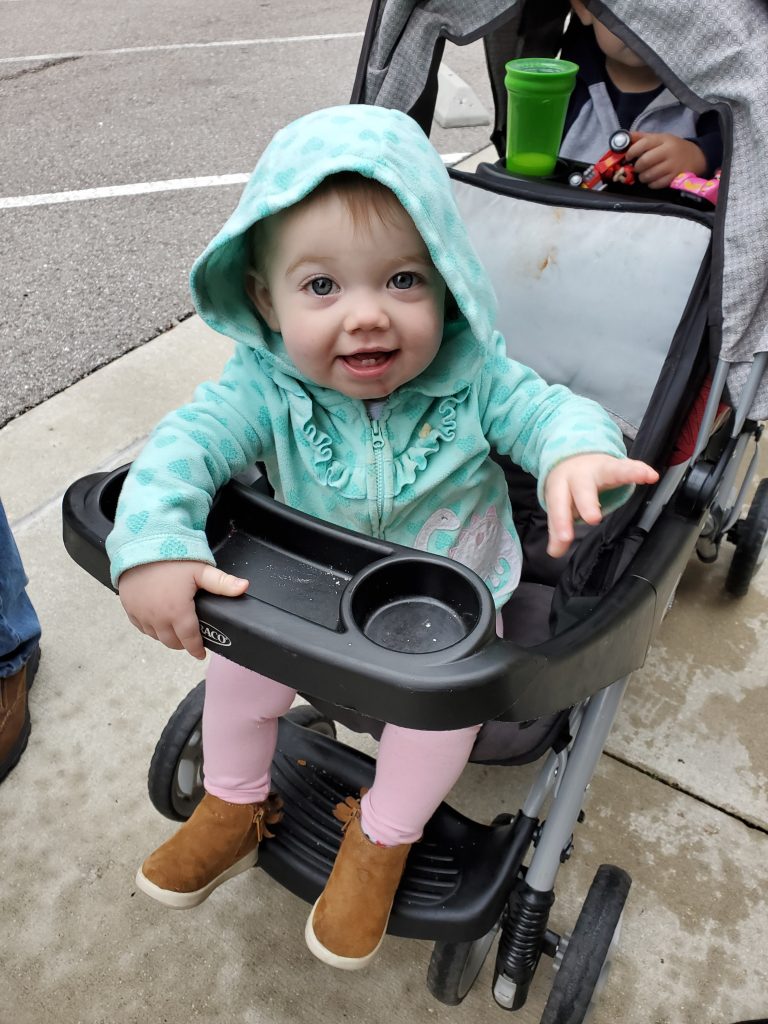 Bonus: The stroller can hold their stuff and YOURS!
We have a large carabiner hooked to our double stroller and it holds many things. However, it holds the most important item in our stroller–our popcorn bucket! $2 refill for immediate toddler happiness! You cannot beat that!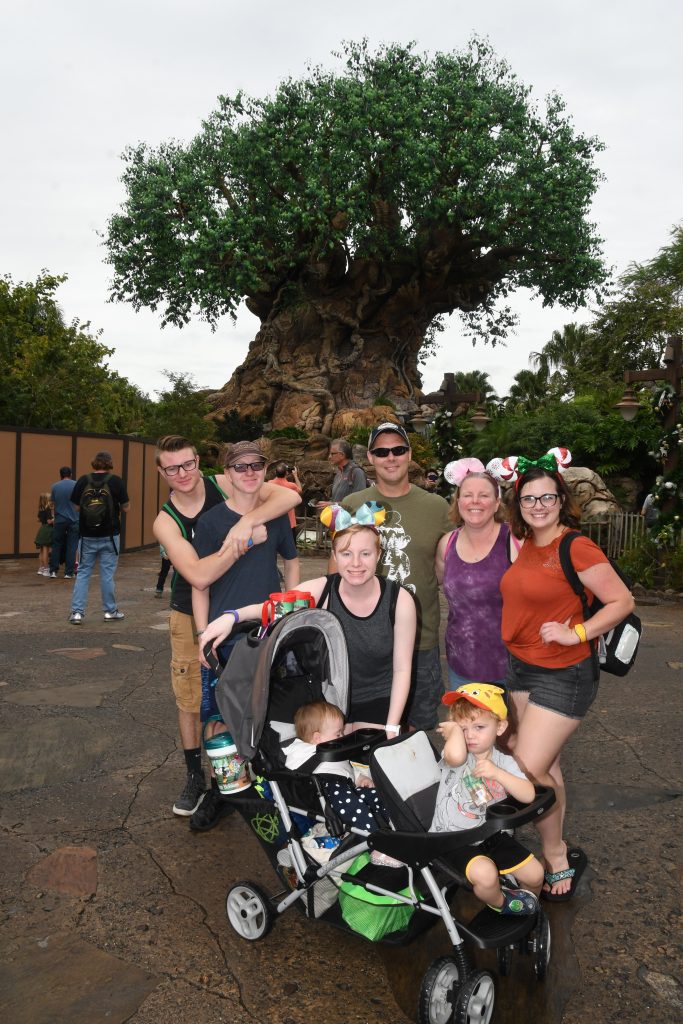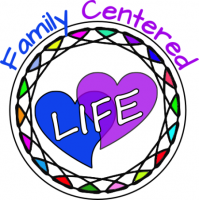 Allow for rest breaks
Take time to rest throughout the day. This can be short breaks here or there or longer breaks in the hotel room.
Breaks can be anywhere! Lunchtime! Supper time! Find a rock or nice place in the grass to sit on! Whatever makes you and the kids happy, is a good rest spot!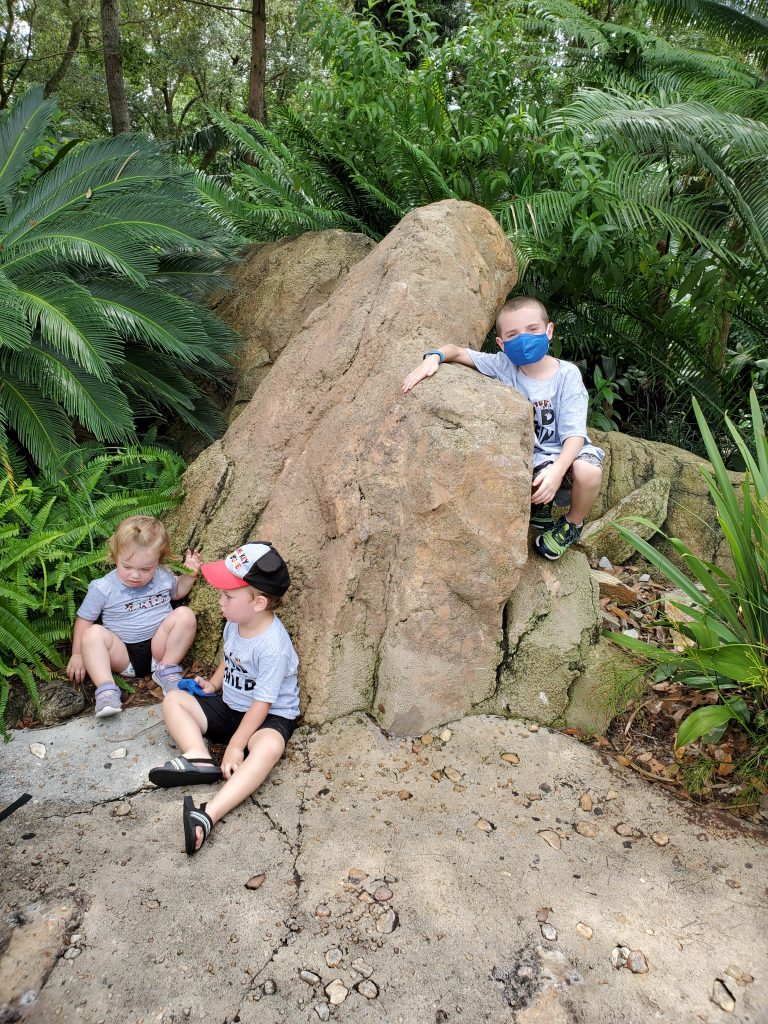 You also need to take time to rest away from lines, even if they are sitting in their stroller for the ride line! Toddlers will not do often well stuck in lines all day.
Rest breaks don't have to be just sitting either!
Be creative! Have fun on those rest breaks!
Let them dance to the live music that's all around the parks! In my opinion, the best places to find fun music is in Animal Kingdom and Disney Springs!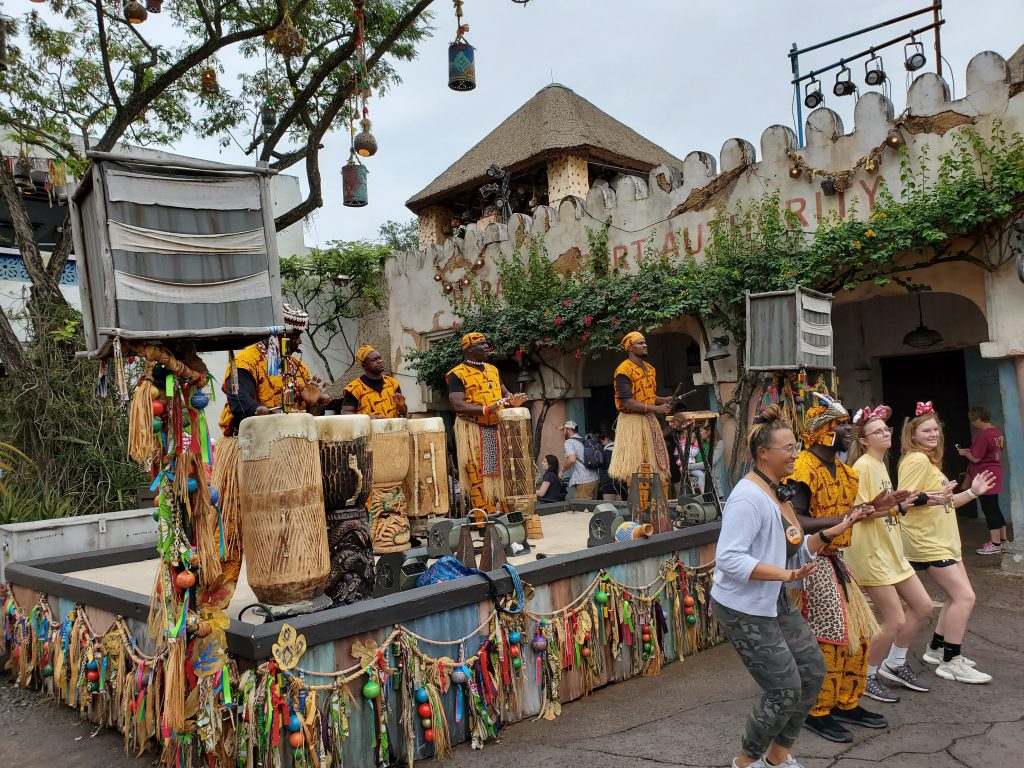 Enjoy a show! The indoor performances with air conditioning are our favorite! Plus, the shows are GREAT and the kids really do enjoy the shows too!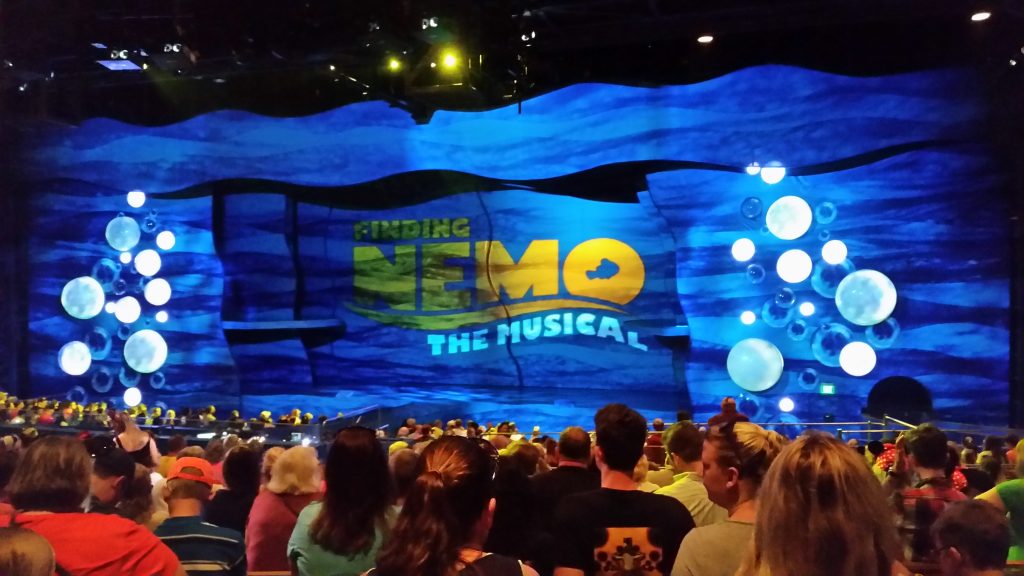 Make sure to take time to watch parades and wave to their favorite Disney friends! Parades and mini-parades are a great time to find some shade and wave to their favorite friends!
On our most recent trip to Disney World with your two youngest grandchildren, Mickey waved at and blew a kiss to our three-year-old grandson. That was the highlight of his entire week! He was ecstatic that that Mickey blew him a kiss! He high-fived my husband! Jumped with joy (literally)! And it was what he talked about the most when he returned home!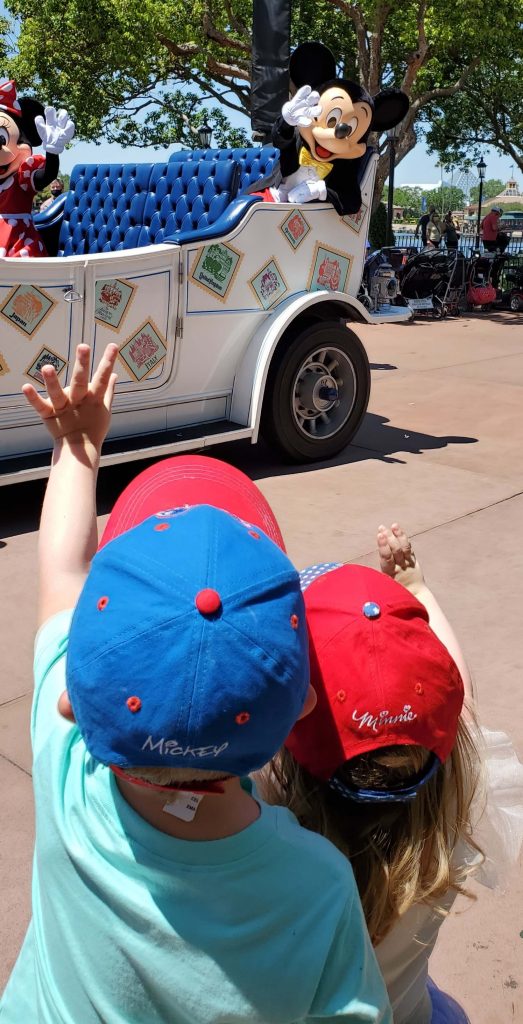 Simple. Toddler. Joy.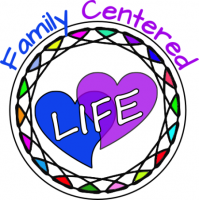 Explore Less Common Areas of the Parks
The parks are enormous! There are seemingly endless activities to do in the parks and some are less known thatn others!
Do more than just ride the rides! Explore and enjoy!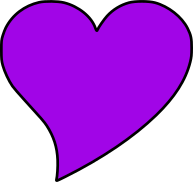 Enjoy the Animals
There are so many fun places through out the parks to enjoy animals, but miss the walking trails in Animal Kngdom! See the gorillas, tigers, and BATS!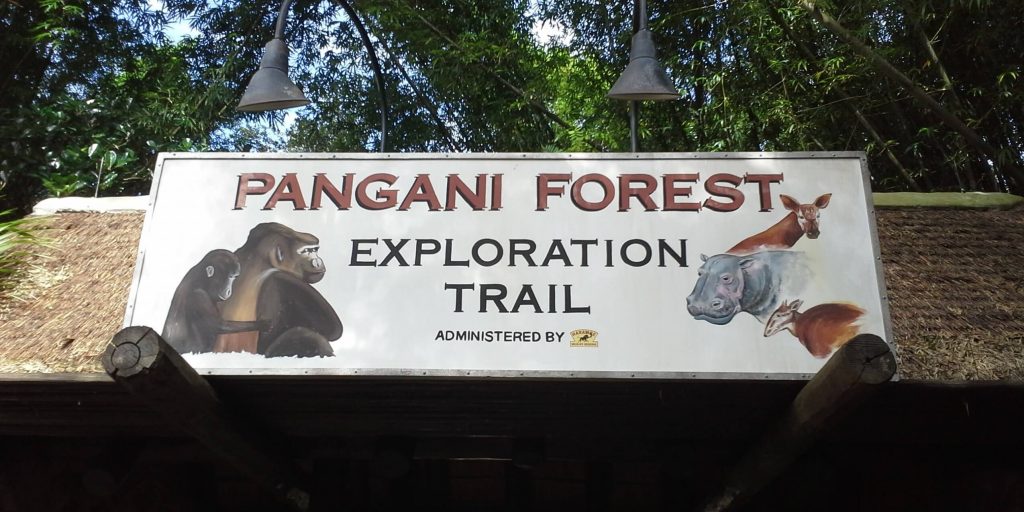 Also…pet goats! YES! Take the train in Animal Kingdom to Planet Watch and explore! Toddlers love trains and animals! It's a perfect adventure!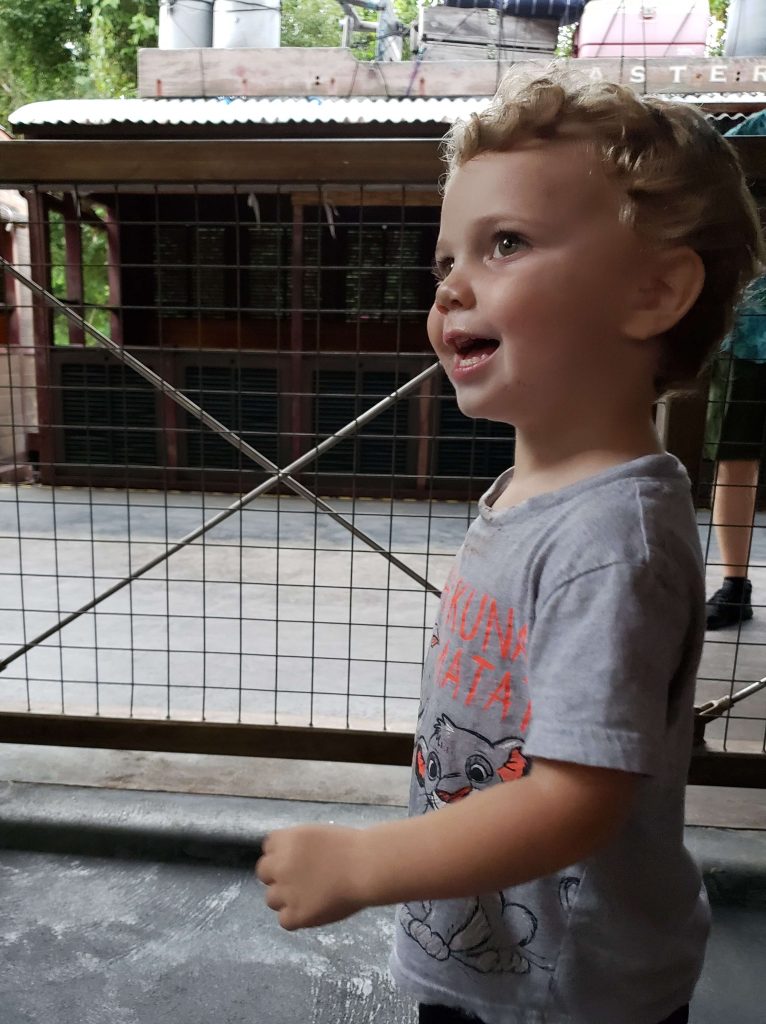 Pet those goats! They are quite adorable!
Plus…if I can brave the goats with flip flops, you will be just fine!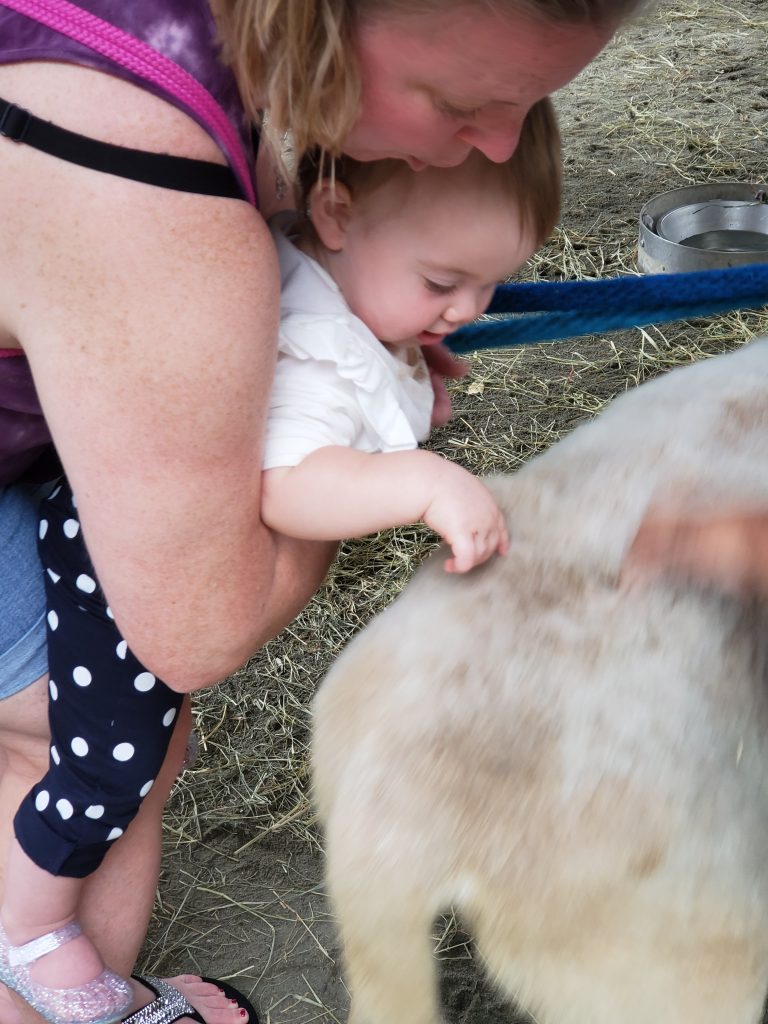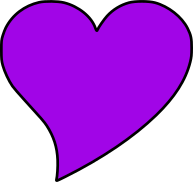 Playgrounds
Take advantage of the playgrounds to have the kids burn off some energy and parents enjoy a bit of a break too!
There are playgrounds in every park, but some are easier to find than others! This one is at the entrance of Splash Mountain!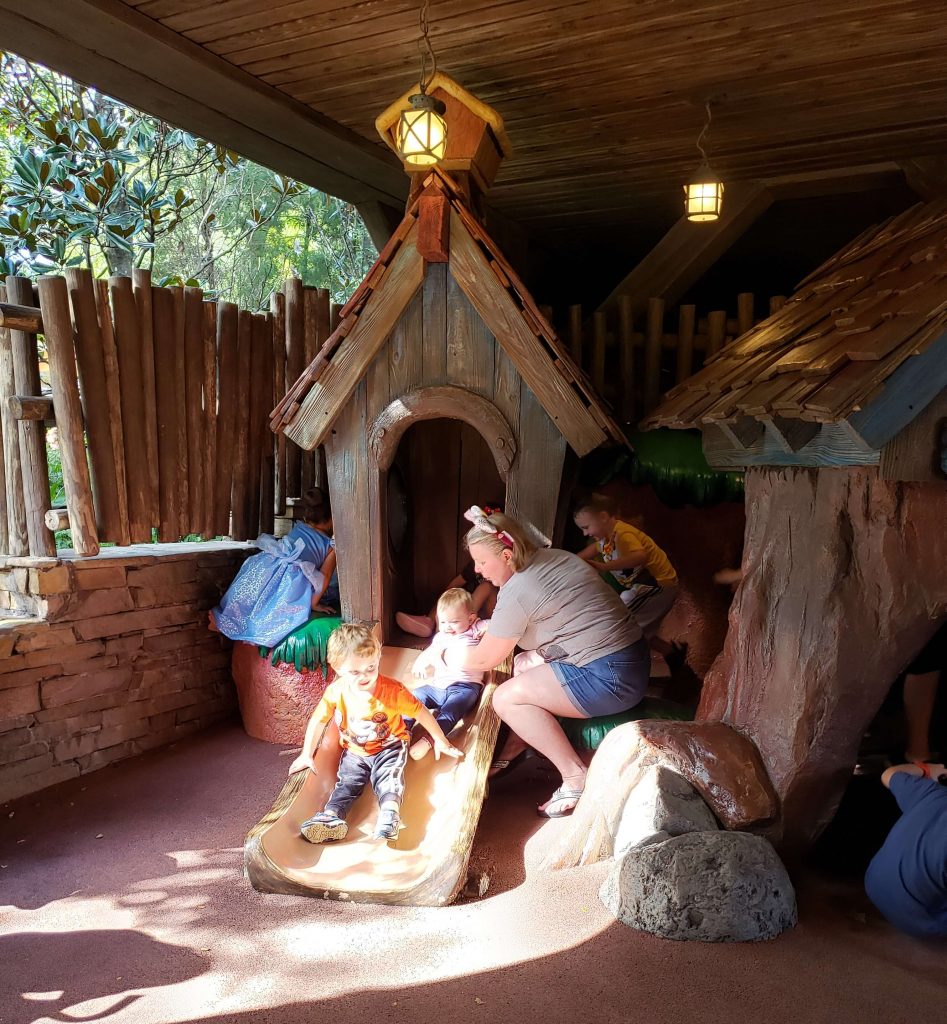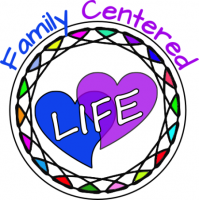 Explore more than just the parks
There is so much more to Disney World than just the parks!
Check out the hotels! Check out the restaurants! Check out Disney Springs! Enjoy the various modes of transportation!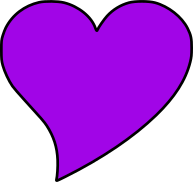 Visit Animal Kingdom Lodge
It is definitely worth the bus ride to Animal Kingdom lodge to look around! The resorts are beautiful and animals live at both resorts! You can often get a closer looks at some of your favorite animals right in the back yard of these hotels!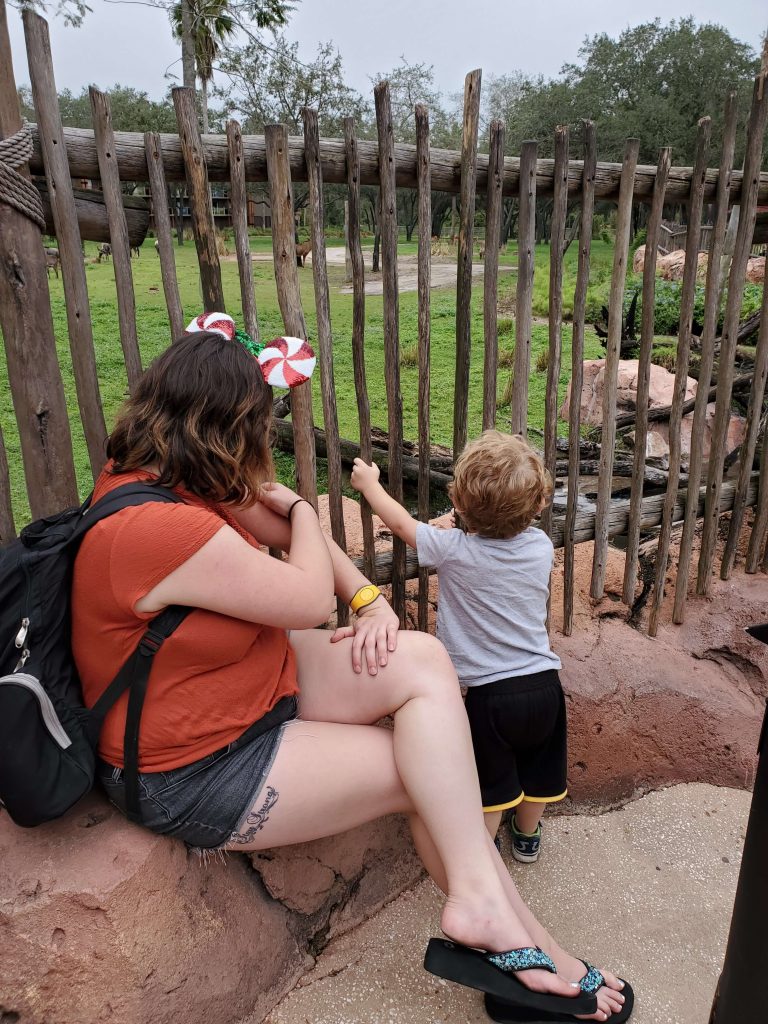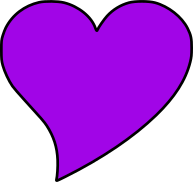 Play in the sand!
There are a few different places to find sand around Disney World. Blizzard Beach water park is an obvious one. However, these are also sandy beaches at the Caribbean Beach Resort, Disney's Beach Resort, and all the hotels on the monorail route!
Our toddlers enjoyed finding "Easter eggs" while playing in the sand at the Caribbean Beach resort. Needless to say, the "Easter eggs" were bird poop (…..ewwwwwww).
We just gave up and used lots of hand sanitizer when they were done! They had a blast and I can't wait to remind them that they enjoyed playing with poop at Disney World!!!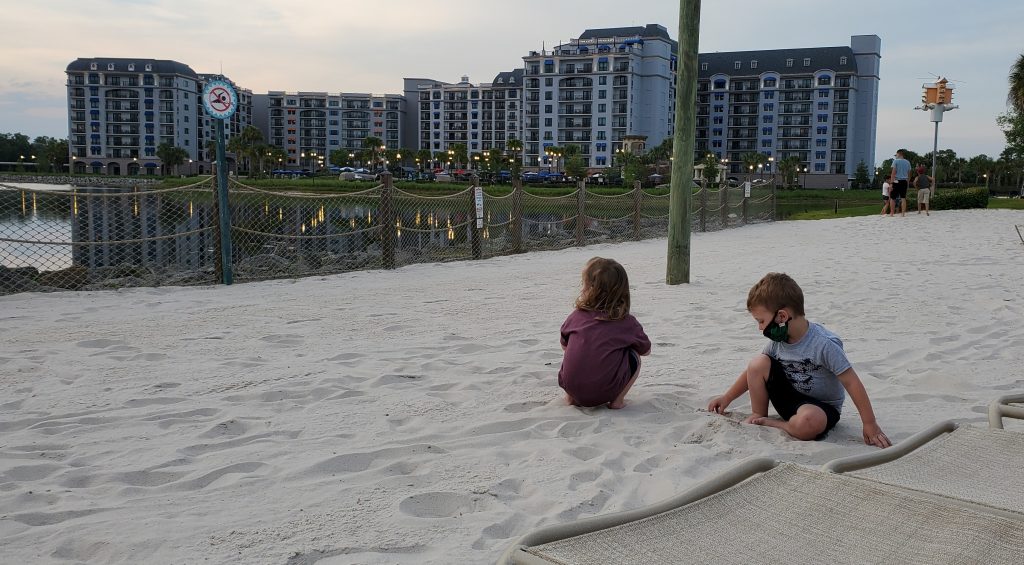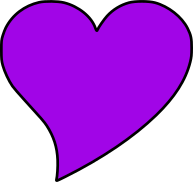 Try out the various transportation options
Disney transportation is free and it's a lot of fun! Make sure to try it out, even if you drive!
SkyLiner
Disney's SkyLiner let's you "fly" over parts of Disney World going to and from various resorts, as well as both EPCOT and Disney's Hollywood Studios!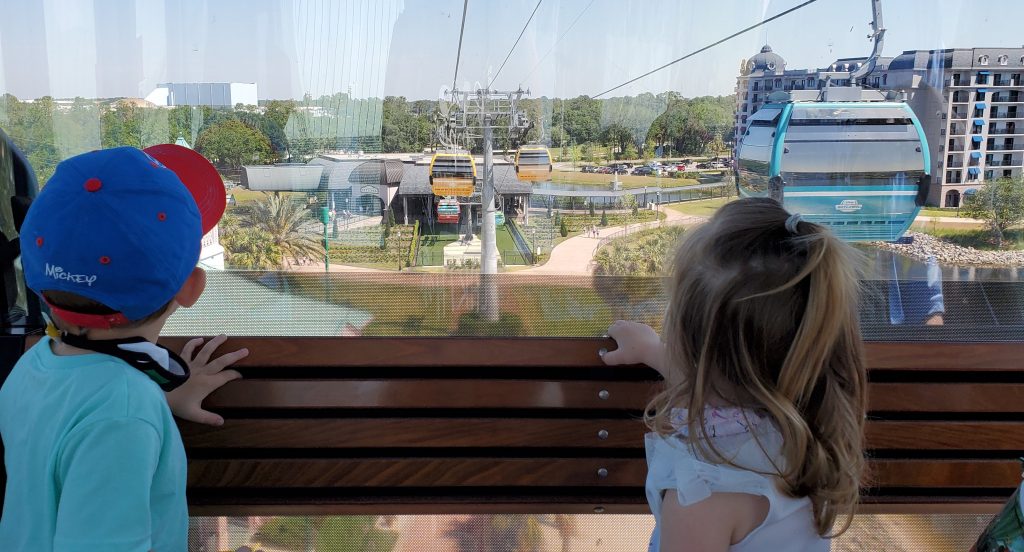 The views are amazing and give you a whole new look at the beautiful scenary!
Boats
Take a boat ride! There are boat rides in the parks, such as Pirates of the Caribbean and the boat to Tom Sawyer Island.
But there are also boats that are outside of the parks and can be used by anyone!
This was our view on our boat ride between Disney's Wilderness Lodge and Magic Kingdom!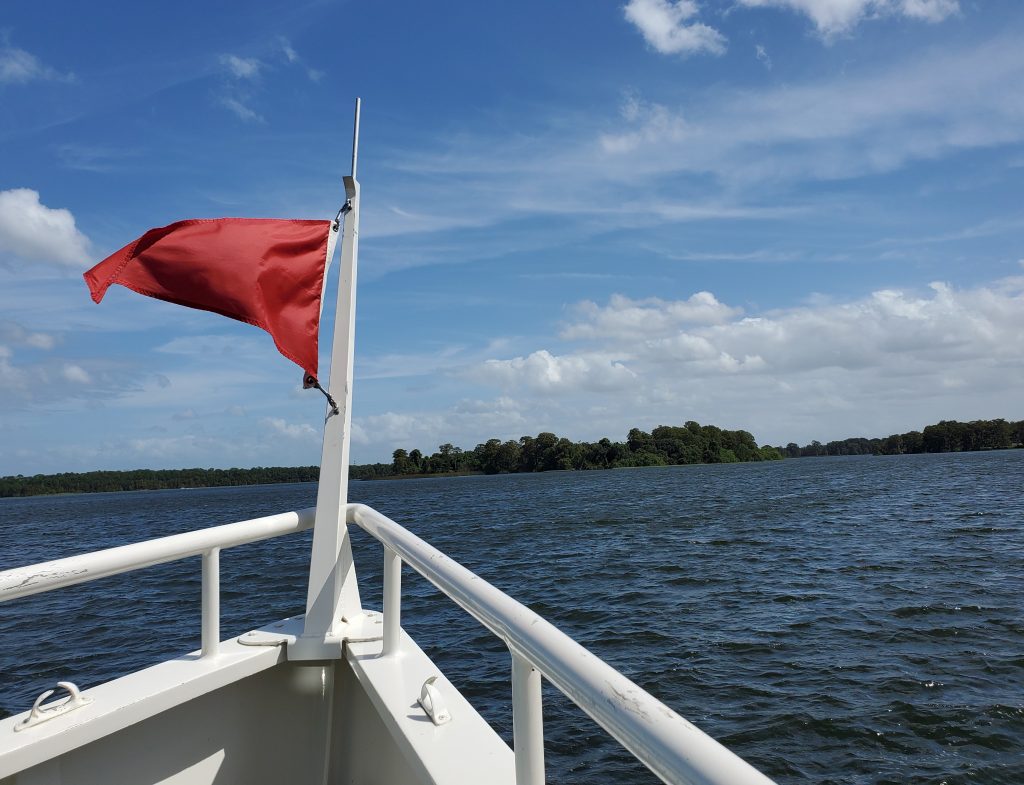 Monorail
If you go to Disney World, you have to ride the monorail at least once!
There are actually three options for the monorail!
From Transportation and Ticket Center to EPCOT
From Transportation and Ticket Center directly to Magic Kingdom
Transportation and Ticket Center to the Magic Kingdom resorts on the monorail loop (Poly, Grand Floridian, and Contempoary) and Magic Kingdom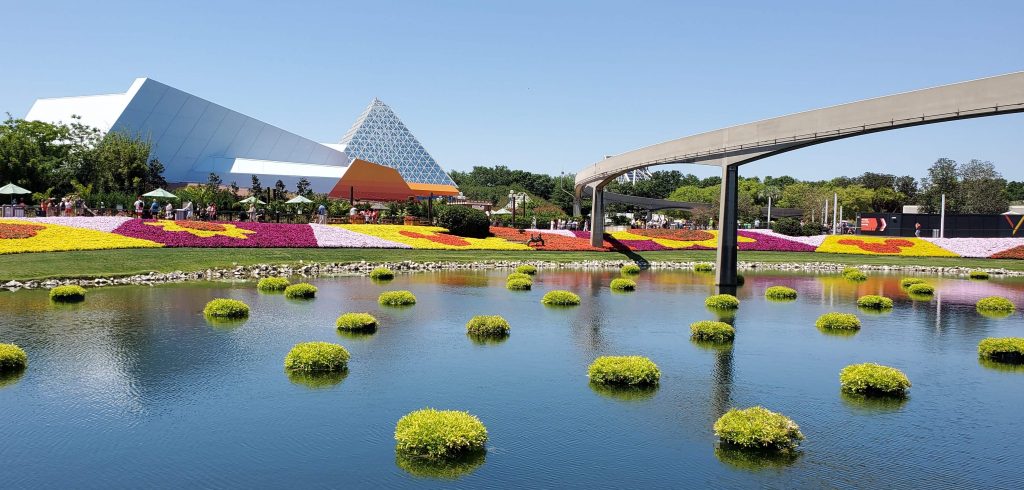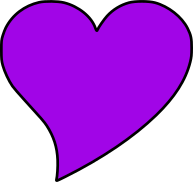 Enjoy Disney Springs
Walk around Disney Springs! Enjoy the sites! Take a boat ride! Eat something yummy! Or just enjoy the live music!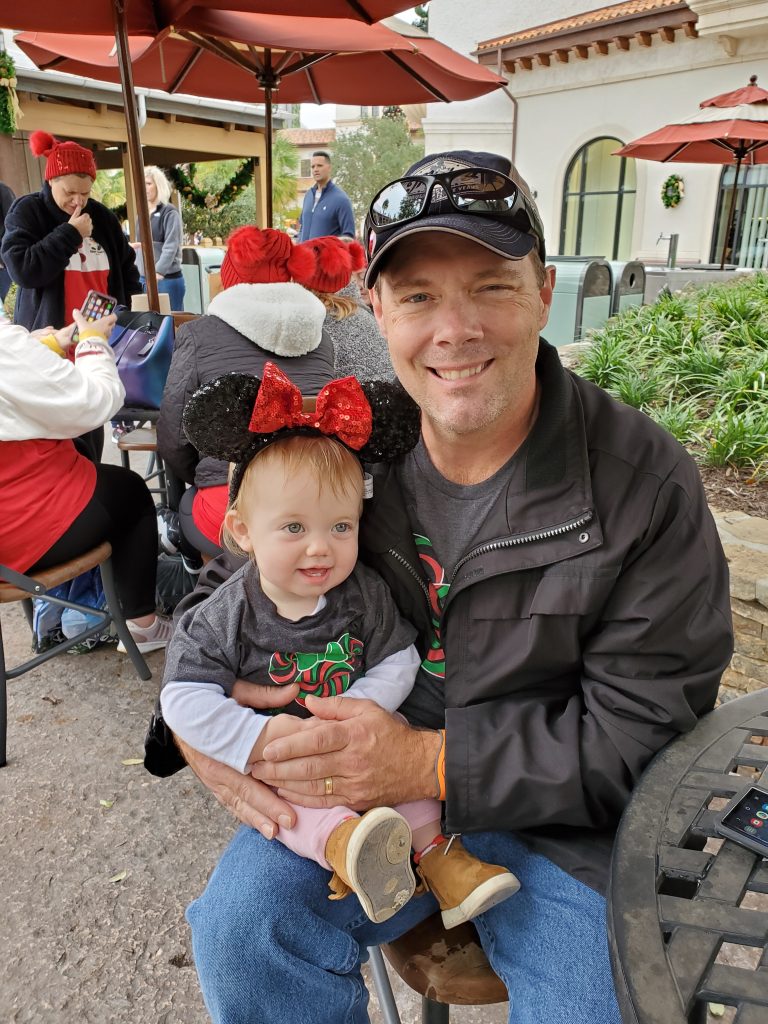 Plus, we can't forget all the fun places to eat! Rainforest Cafe is located in Disney Springs and just outside of Animal Kingdom! T-Rex (the only one in the US…I just found that out recently) is located in Disney Springs. There are endless kid-friendly restaurant options to enjoy!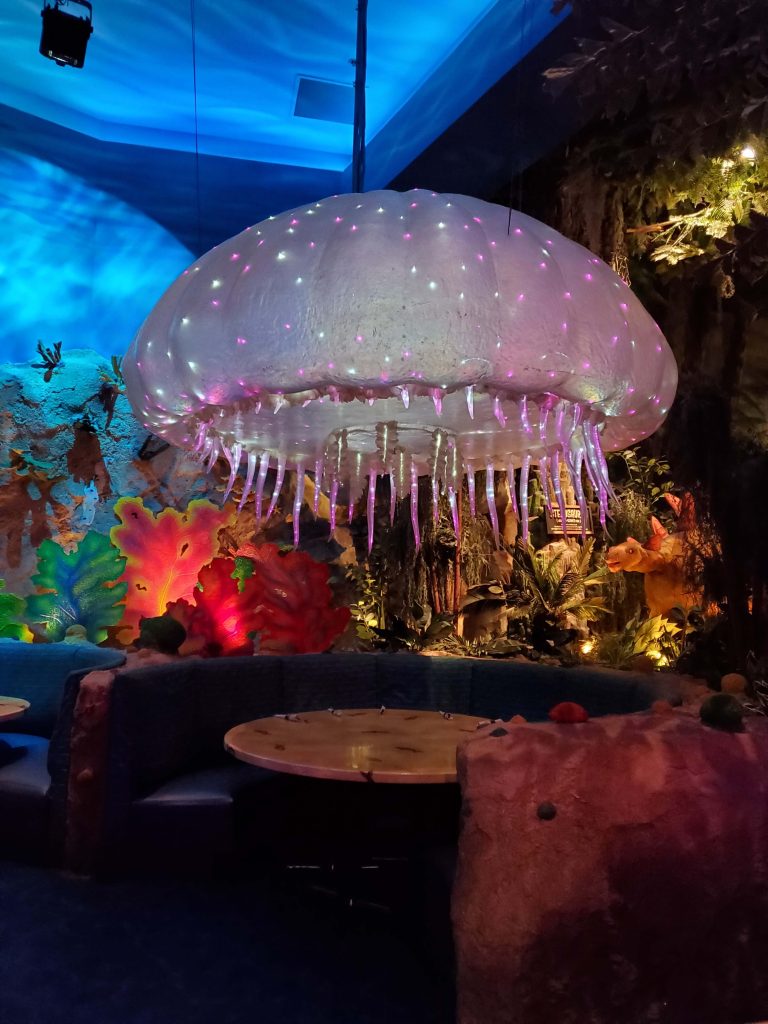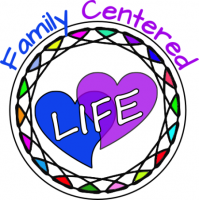 Enjoy the Pools
Most of all when exploring your hotel…enjoy the pool!
Florida is HOT! The pools are a great way to start your day, cool off midday, or finish the night off with some relaxation!
The picture below is the pool at Kidani Village in Animal Kingdom Lodge. It is my FAVORITE pool on property! It's has a splash park, small water slide, big water slide, and pool with zero entry all in one place!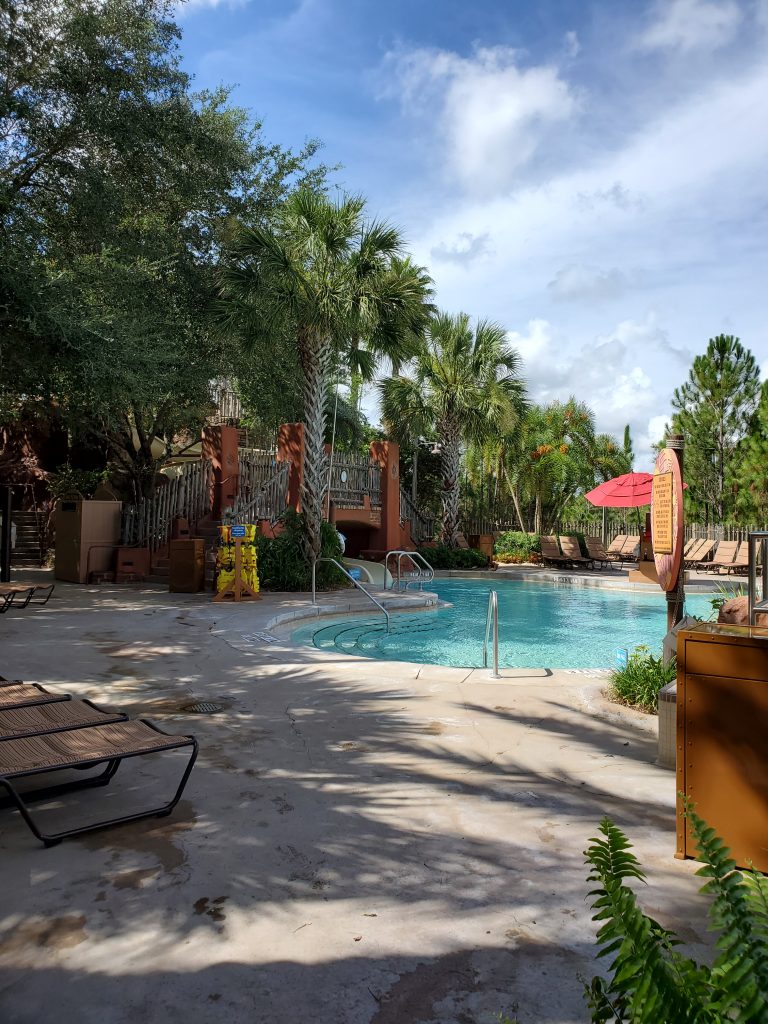 It also hosts my husband's favorite bar on property!
Pro Tip: Earlier I mentioned doing laundry while on vacation. Some of the hotels (ex. Saratoga Springs) have laundry facilities RIGHT BY THE POOL!
Double the fun! Pool time for the kids! Laundry done while you are having fun relaxing, swimming, or consuming a nice cold adult beverage!! Woot!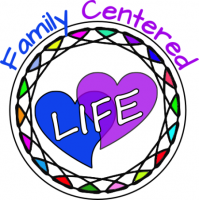 BONUS TIP
Pack fans! Fans are a lifesaver!
Pack stroller fans!
Hand held fans!
I have a hand held fan, but I like my neck fan better!
Pack neck fans!
This is my favorite one! This is the one I own and it's a lifesaver! It's great for the parks and it's great for when the air conditioning when out in my office for two days! I'm so glad I had it to use at work in addition to the parks!
For any fans, make sure to know whether they are rechargable or if they need batteries! Don't forget the batteries or chargers!!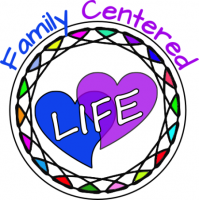 Keep Reminders of the Memories
Some people don't want to take their kids to Disney World until they can guarentee the kids will remember all of the trip. However, they may be 13 or older before they can remember the trip and they will miss some of the magic if they are that old on their first visit.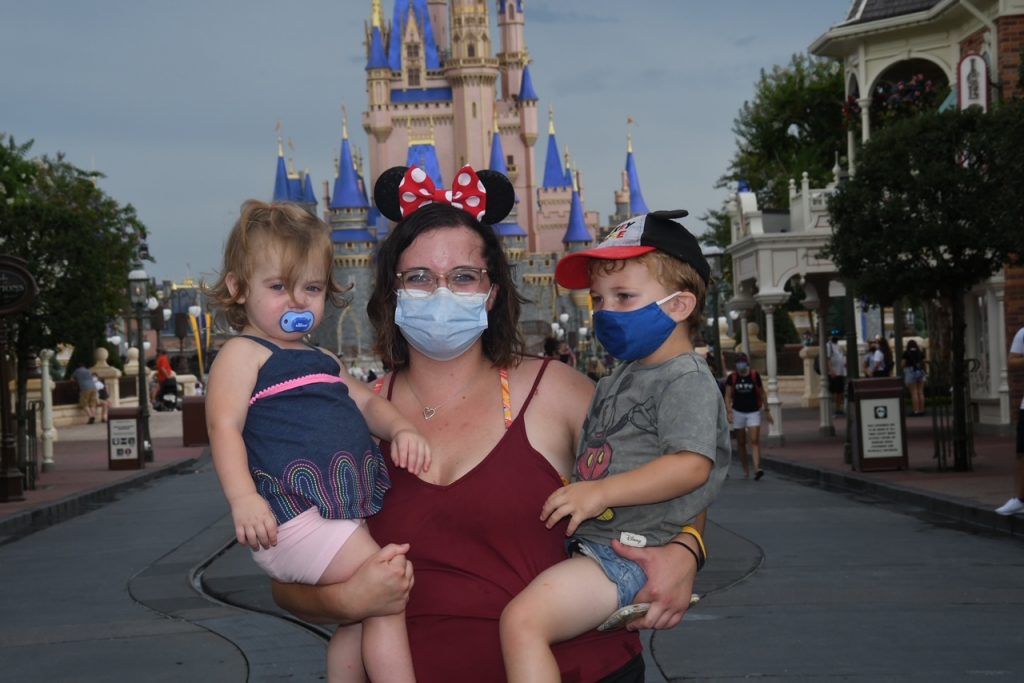 We've been able to go with two of our grandchildren three times so far and the older of the two is only three! They have an amazing time every time! They enjoy it and "Play Disney" when they are home. They are Disney Kids!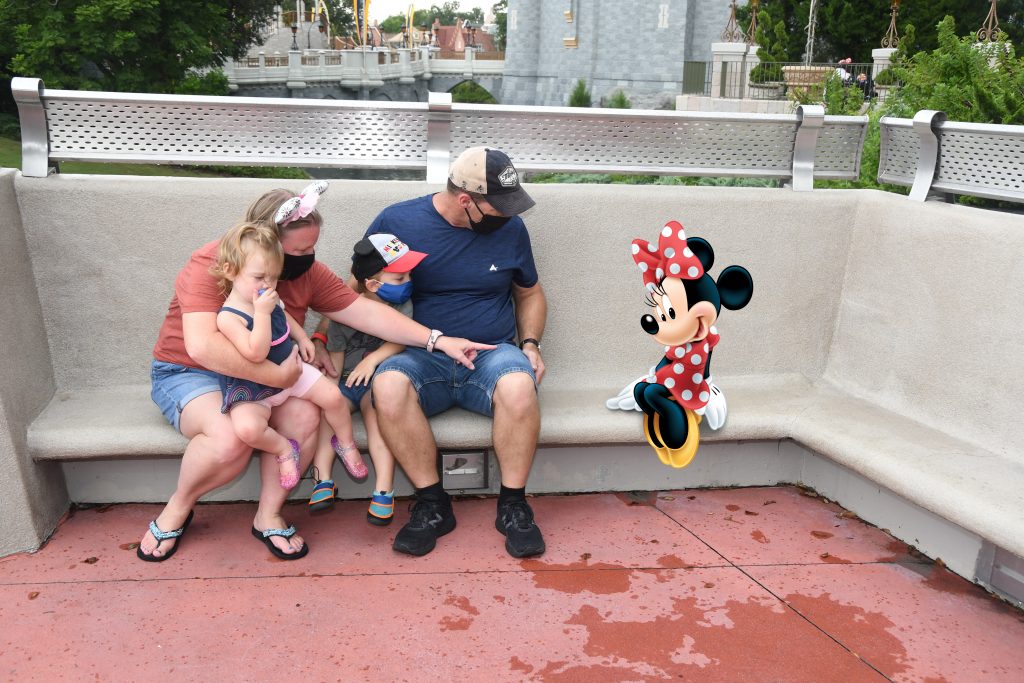 When we were at Disney World with the three-year-old recently we talked about previous trips. He was able to verbalize that he could not remember going to Animal Kingdom, but he knew he had been there. He knew he liked it and he was looking forward to it. When we discussed how he knew he had been there, he talked about seeing the pictures at our house from the parks and knowing he had enjoyed it. It was really neat to hear him talk about it.
However, they do still remember certain parts of Disney World, even at such a young age. The three-year-old knows where "Mickey's Castle" is and that the hot air balloon is in Disney Springs. Yes. He talks about Disney Springs. He knows he will get to see Mickey when he visits and he's just as happy to see him in a parade as he is to see him in person.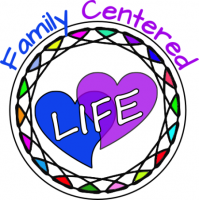 The future will be here too soon!
When I took a trip with just one of my teen boys a few years ago, I remember overhearing two ten-year-old-ish boys talking at the Kidani pool. Listening to them talk, I know that's what I wanted for my grandchildren. Those two kids were debating which hotel had the best pool. They had been to Disney so many times that they were able to enjoy the pools and were able to know enough about the pools to know what they liked and didn't like.
I think about that time often when I think of taking my grandkids. That will be them! They will be the ones debating which pools or activities are the best. They will be the "tour guides" when they go with friends or other family members in the future.
Those kids that are toddlers right now will have those memories of Disney and know they were able to go and have fun even before they could remember their time there!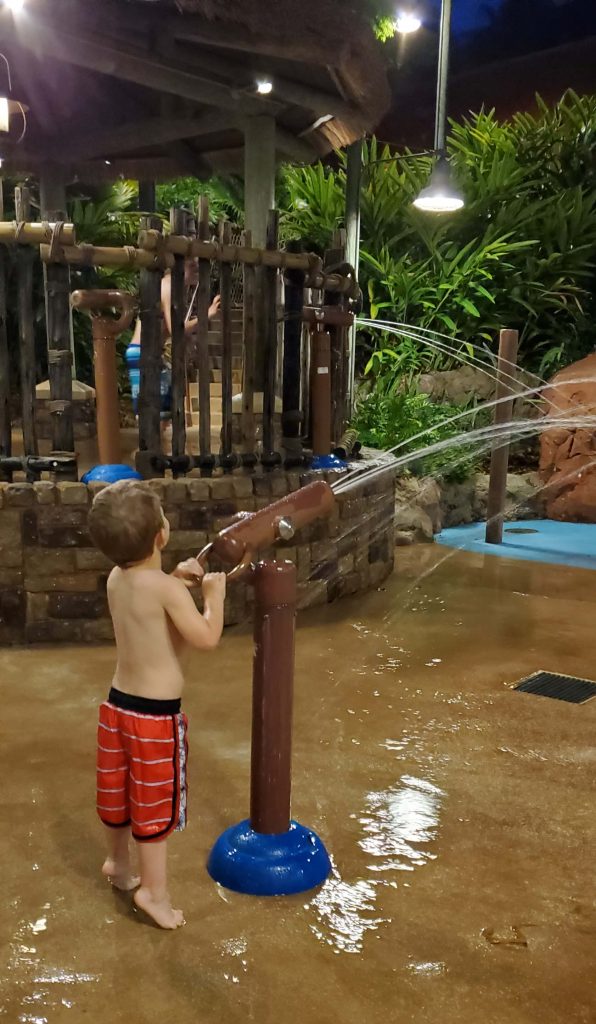 Pro Tip: Kids two and under are FREE at all of the parks! Just one more reason to take toddlers!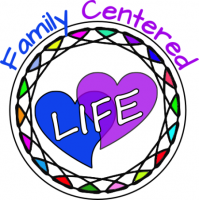 Take Aways
Disney with toddlers is possible!
Disney will toddlers is FUN!
They have fun!
You have fun!
They make memories.
You have amazing pictures to talk about for years and years to come.
Disney offers Memory Maker so YOU can actually be in the pictures with your kids!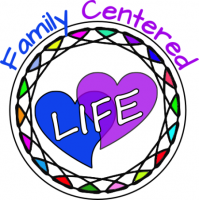 You May Also Like: