Splashin' Safari is located inside Holiday World in Santa Claus, Indiana. You pay one ticket price and get admission to both Holiday World and their waterpark, Splashin' Safari!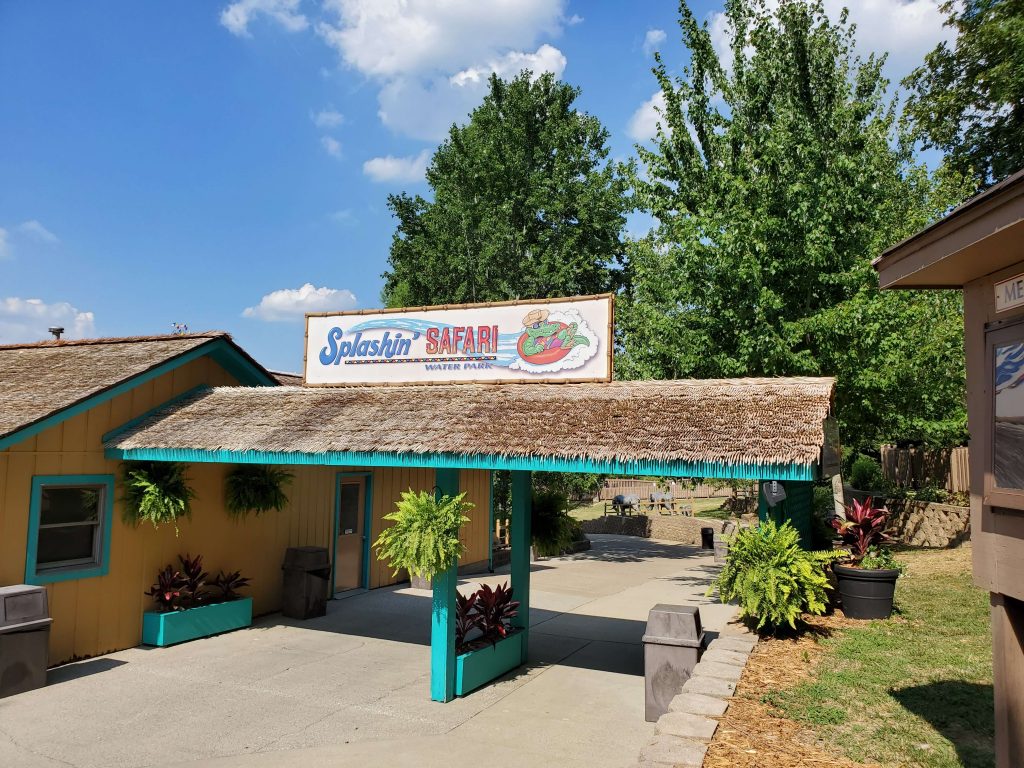 Splashin' Safari is considered the #3 water park in the US by Fodors! It is top-rated for its amazing attractions and its wide variety of attractions.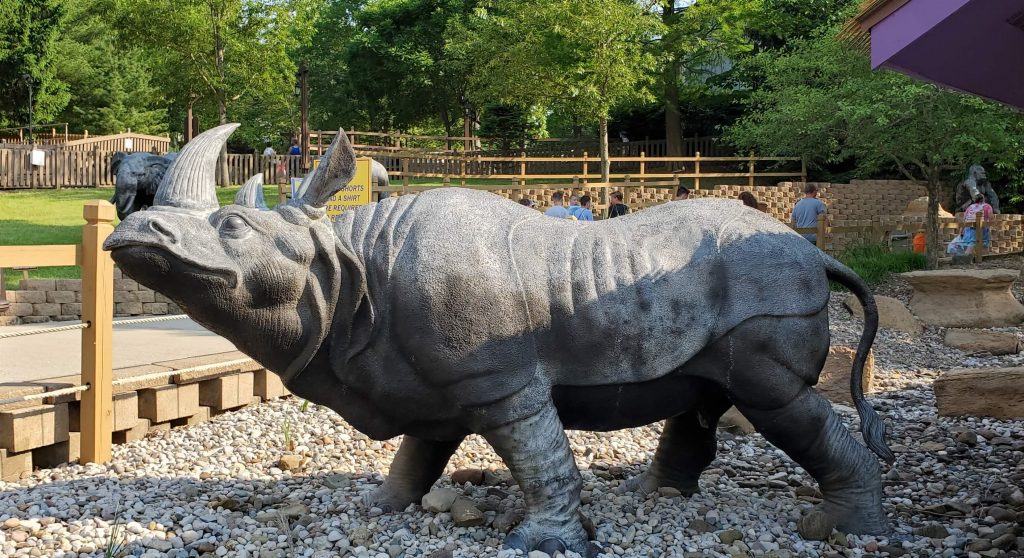 Since its name has "safari" in it, all of the attractions are named and decorated to follow this theme! For example, the concrete rhino in the picture above. These animals are located at the entrance of Splashin' Safari!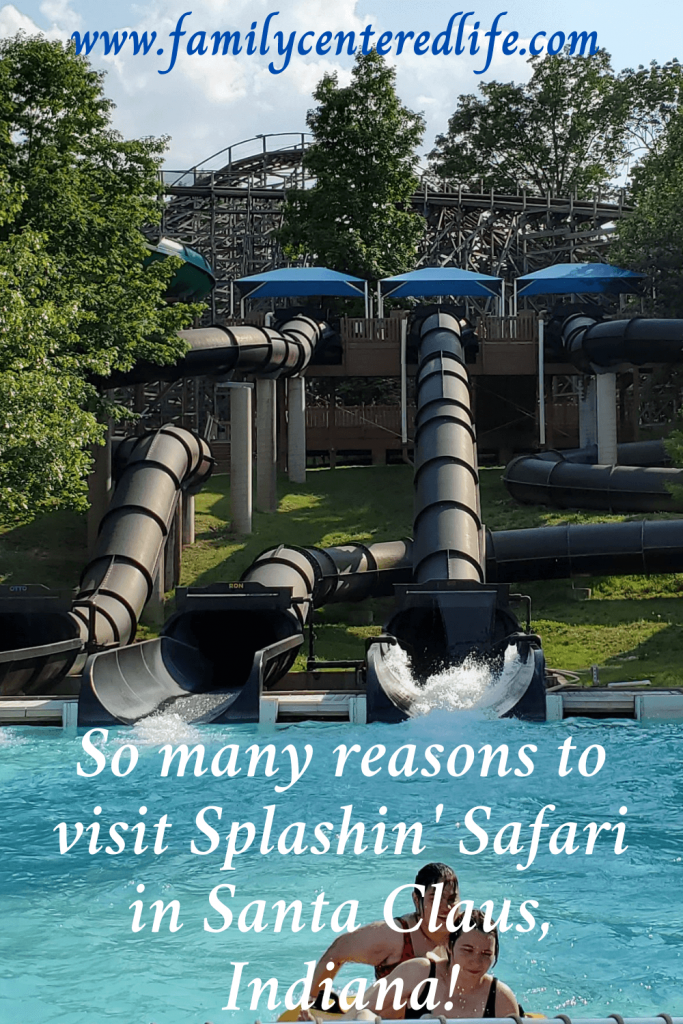 There is a wide variety of attractions available for kids, teens, and adults! There are small slides and large slides. There are two wave pools, a lazy river, splash parks, and so much more! Read on to discover all the fun located at this one park!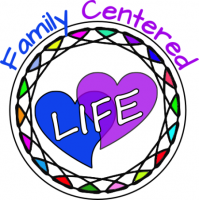 Wave Pool

There are two wave pools and this is the larger and newer of the two. The waves go on and off every few minutes. There are small fountain spouts near the seating areas that small children enjoy.
There are also free life vests available for children to use as needed. This allows parents to have one less worry at a busy water park. At least their child will float if they stumble or go out further than they intended!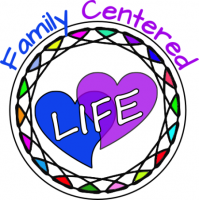 Kid Splash and Slide Areas
As I said before, there are so many areas for big kids and little kids. There are several areas that are dedicated to the smaller ones in our families.
This is Splash Land! There are small and medium slides, wading areas, and sprinklers. It's a great place to let the young ones have some freedom to enjoy the water while you keep a watchful eye from the shallow end!

There is also plenty of space for parents or older siblings to play and slide with the younger ones!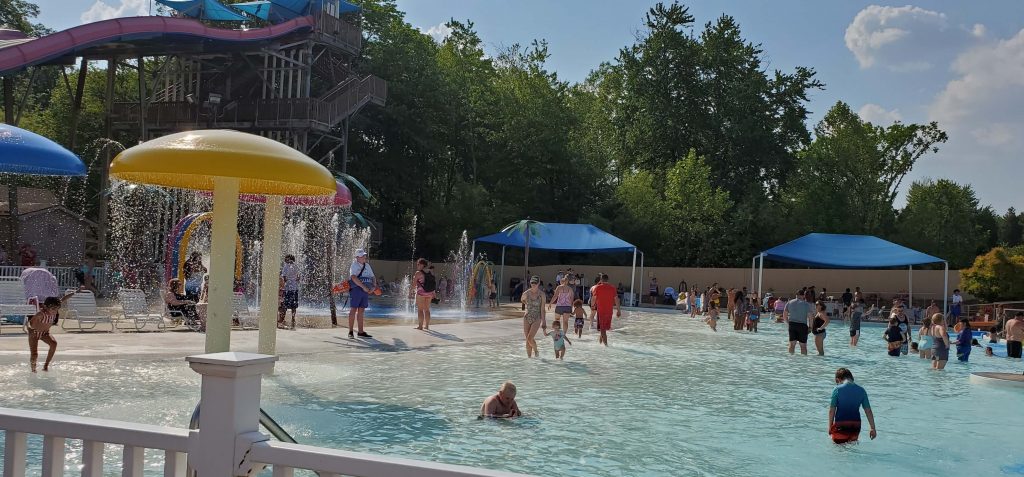 One more bonus of this play area for the younger kids: There is a larger slide right next to his play area. This allows for parents to take turns using the big slide while one stays with the little kids in Splash Land!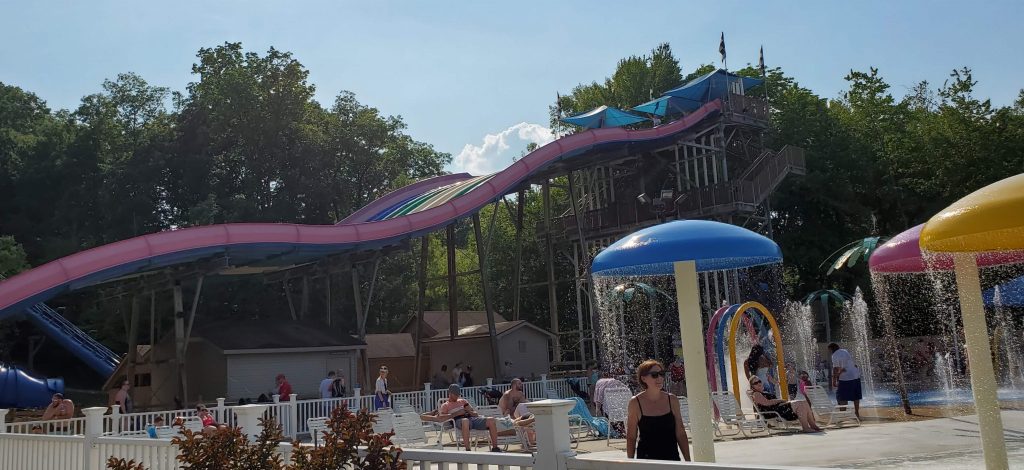 Another separate section that focuses on younger children is Tembo Falls and Tides! There are much smaller slides here and a toddler-size or pre-school-size wave pool. It's my toddler grandchildren's favorite part of the water park thus far!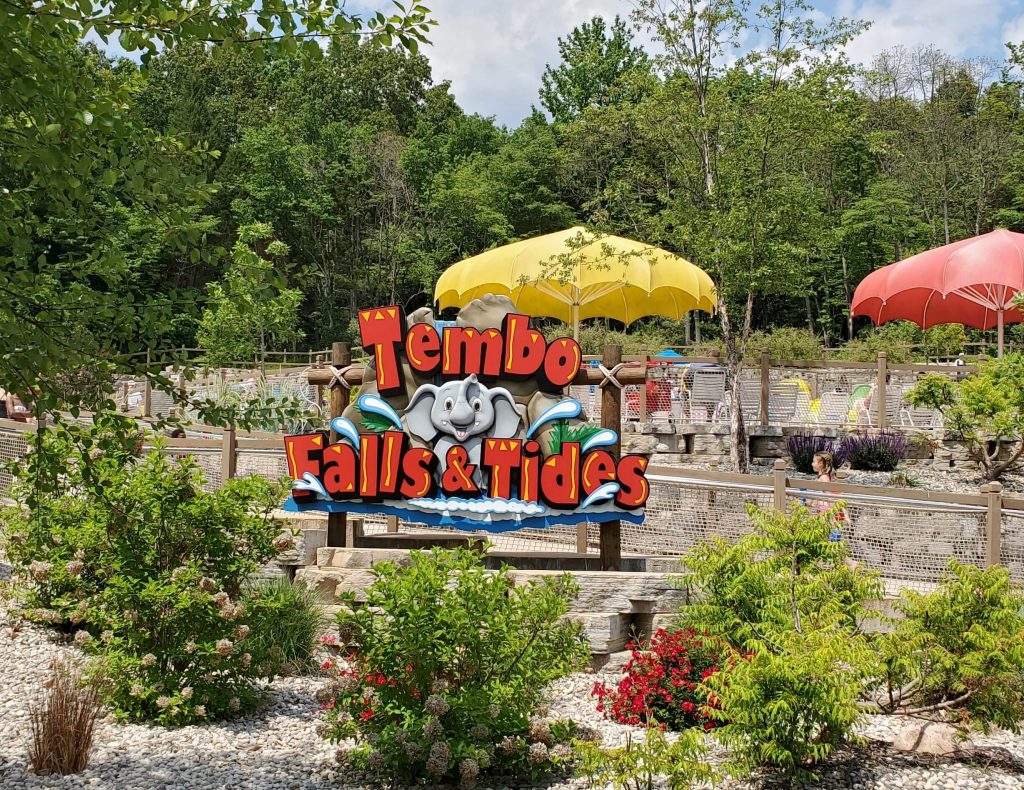 Another bonus: Tembo is located directly behind this much larger play structure! This allows for older children to run and play on bigger play equipment while parents can tend to toddlers on toddler-size slides and play equipment!
Since the two areas are so close, it's easy for the older kids to walk back to where your belongings are with the smaller siblings! Plus, the free drinks are just a short distance from this larger play area.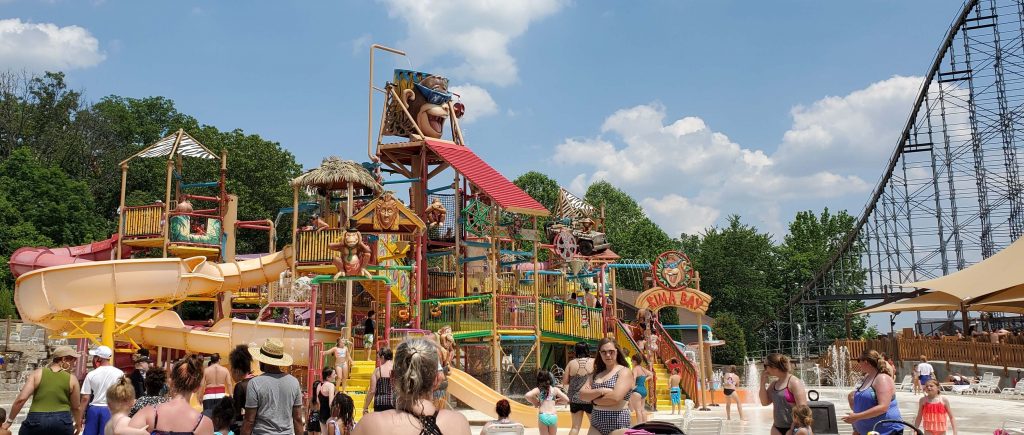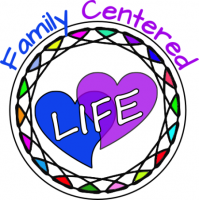 Big Kid Water Slides
As I said before, there is so much more to do at Splashin' Safari than just small kid play areas! There are MUCH LARGER slides and attraction!
There are the large mat-racing slides!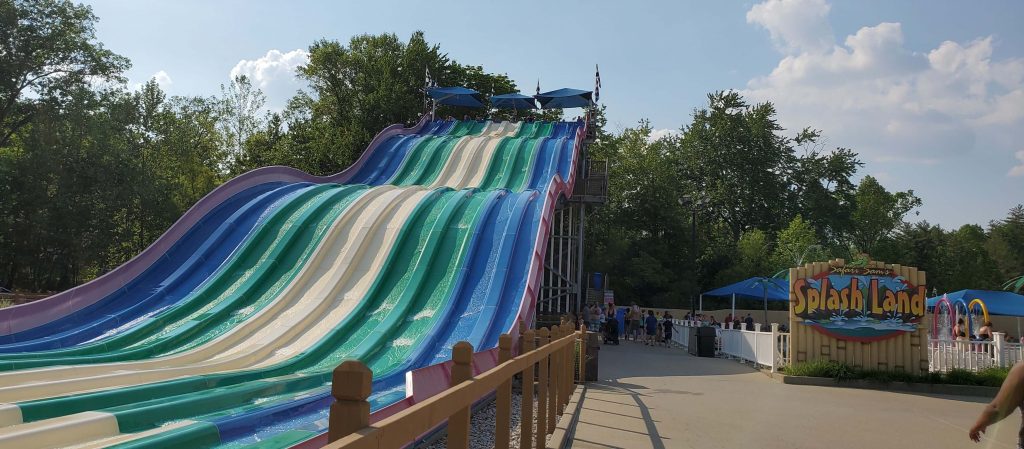 Various water slides are located throughout the waterparks. There are family slides that allow younger children to ride with the family.

There are also several larger slides that are meant for older kids and adults!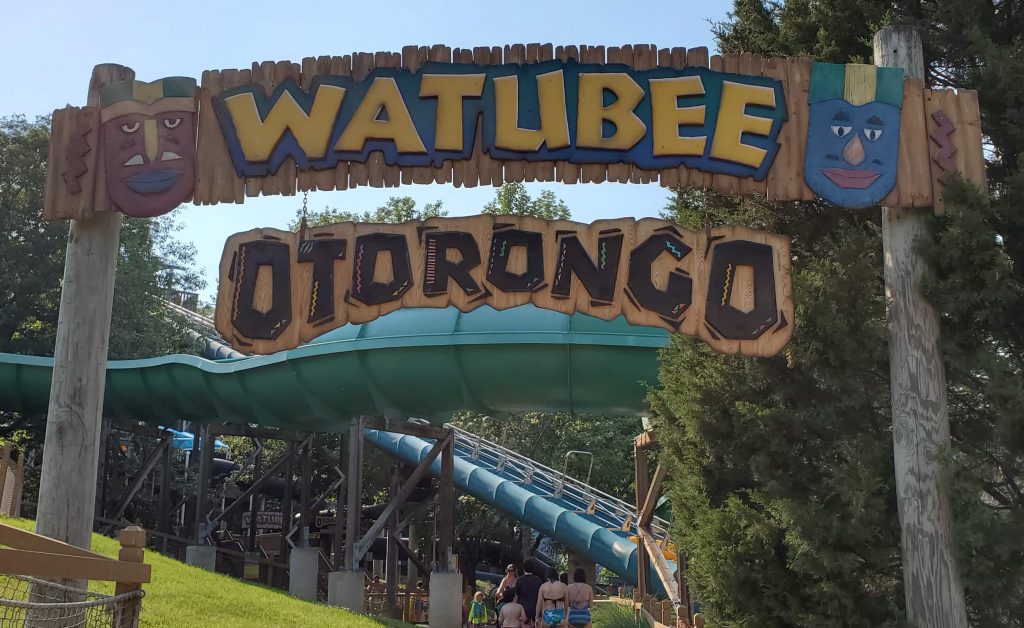 The Otorongo slide has three separate lines. Thus, each line leads to one of these three slides that go into the same ending pool. All three slides are slighly different and some go faster than the others or have steeper drops.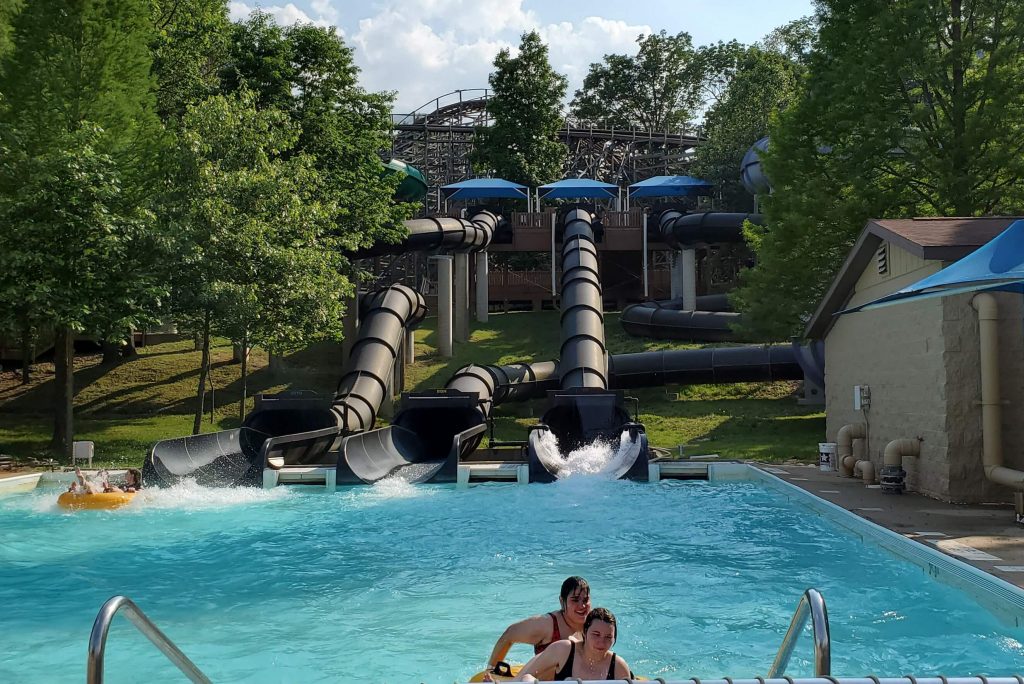 I swear the slide options are endless!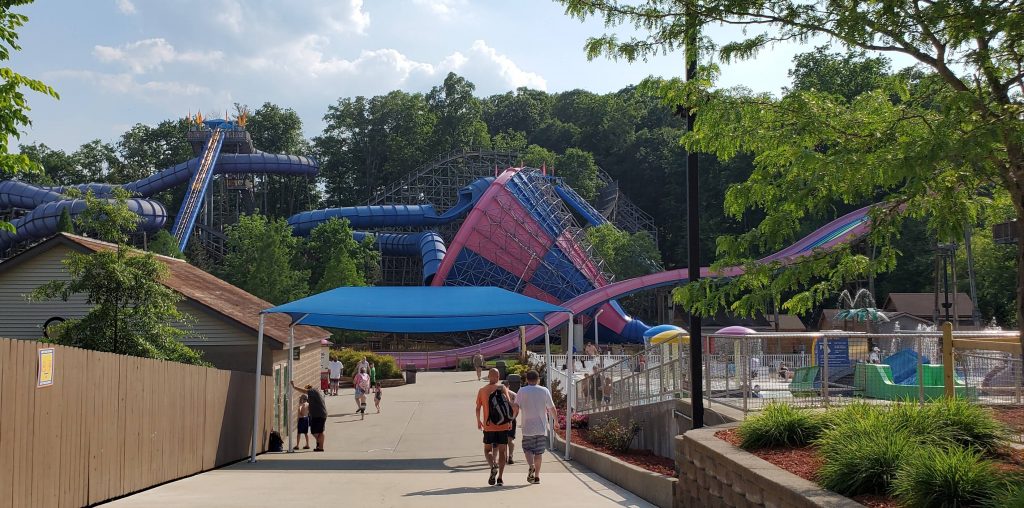 My husband even enjoys the water park! (That really is a look of enjoyment!)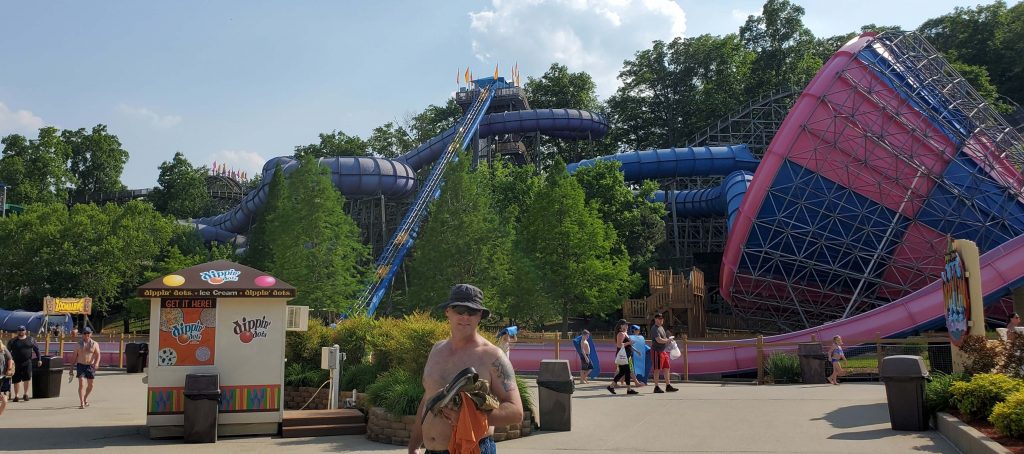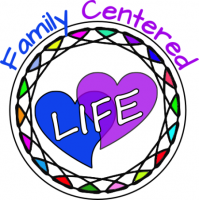 Water Coasters
In addition to traditional water slides, Holiday World as three water coaster.
The water coasters propel you through the slides at a higher rate of speed than the regular water slides. The newest water coaster is Cheetah Chase, shown below.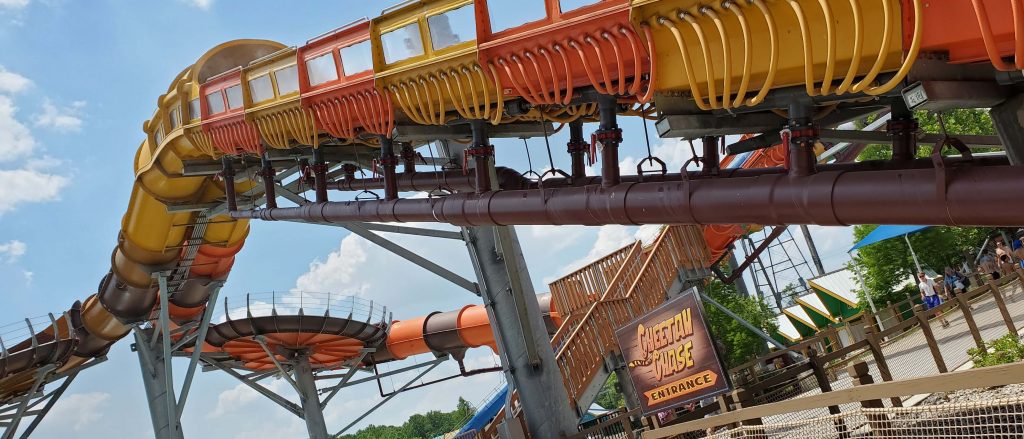 The other two water coasters are located near the larger of the two wave pools.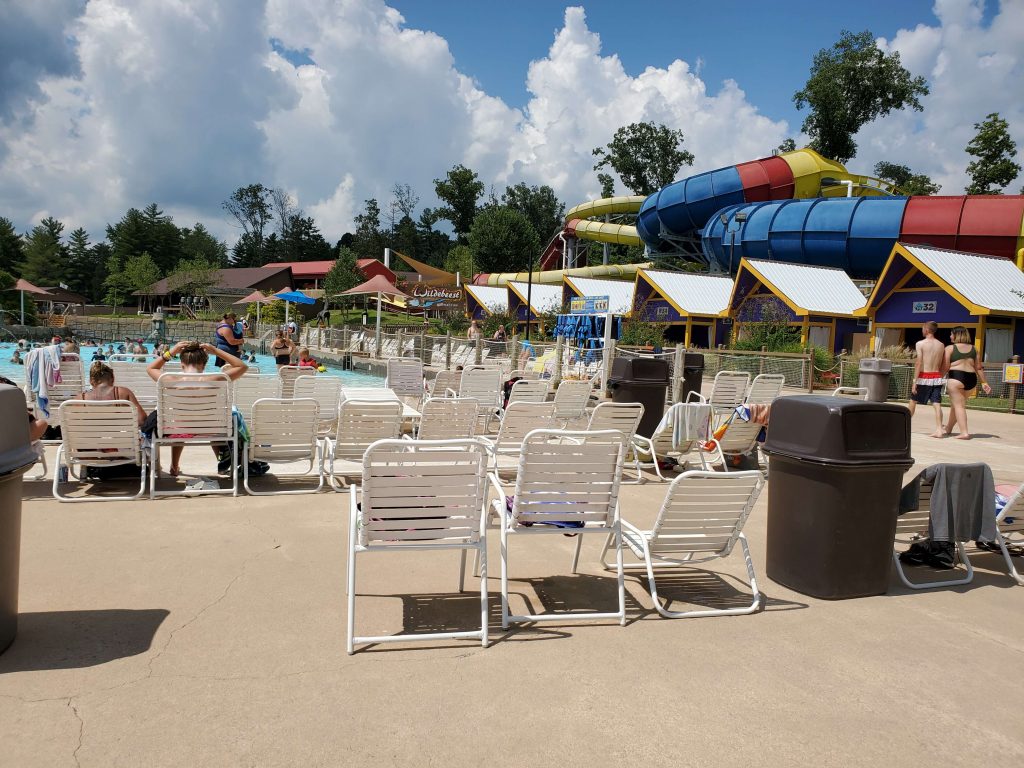 The perfect proximity of the two water coasters (Mammoth and Wildebeast) to the wave pools allows more adventurous family members to do the water coasters while the less adventurous family members can hang out at the wave pool!
This proximity makes it easy for there to be easy family fun and entertainment for everyone!
BONUS: CNN Travel rated the Mammoth water coaster at Splashin' Safari the #1 water coaster in the US in 2018.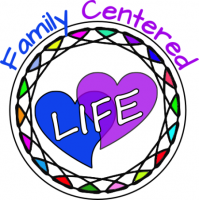 Lazy River
I saved my favorite for last! The lazy river (any lazy river) is my favorite part of the water park! I love being able to just relax and float around in circles. It may sound silly, but this is a part of my self-care!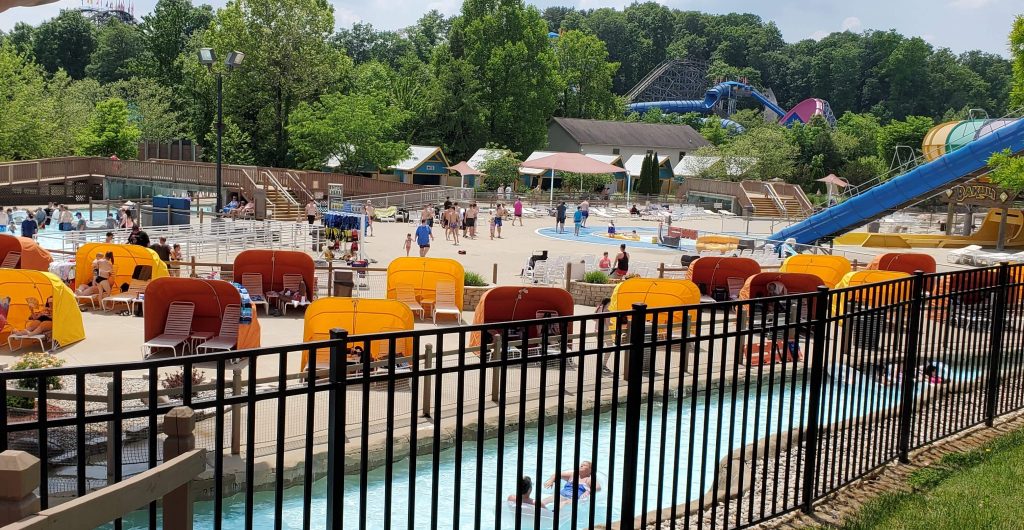 We live within 40 minutes of Holiday World, so I can drive up after work on stressful summer days and just float around in circles! The little satisfactions in life!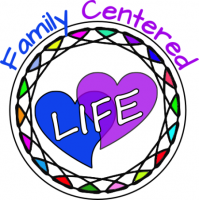 PLUS
In addition to the typical waterpark attractions, Holiday World has a few extras that are available.
Cabanas for Rent
You can plan ahead and rent one of the cabana's that are available throughout the waterpark. The cabanas have a cooler with bottled water in it and yuo havve a dedicated shady spot with chairs and a table to use throughout the day.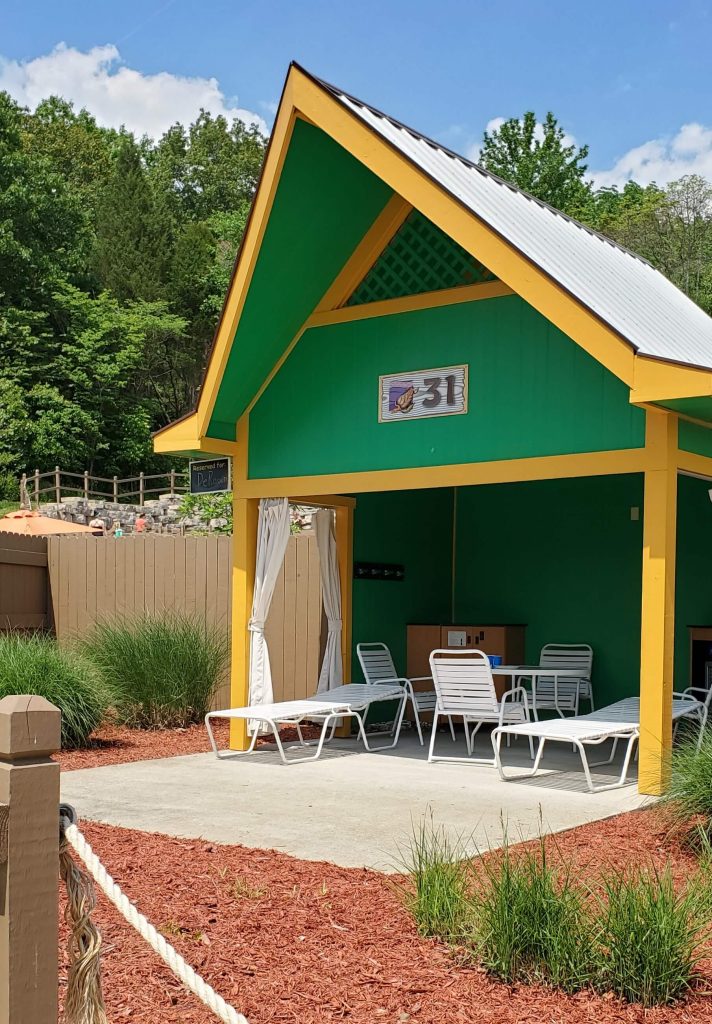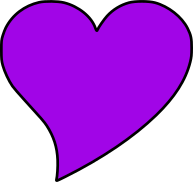 Free Sunscreen
This is the first theme park I ever heard of offering free sun screen. There are several areas throughout both Holiday World and Splashin' Safari where sun screen is readily available.
My granddaughter and I have very sensitive skin and I'm very sensitive to smells, and have never had any issues with it whatsoever!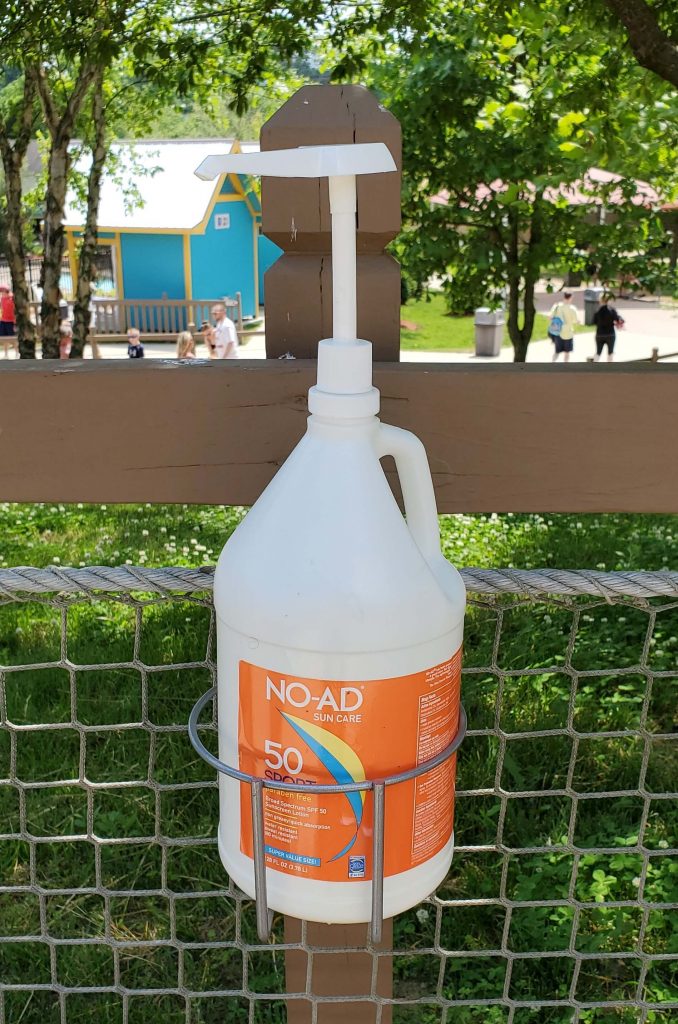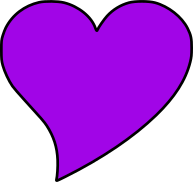 Free Drinks
All fountain drinks are free, all day, every day. Drink stations are available at restaurants and "Oasis" stations throughout both Holiday World and Splashin' Safari!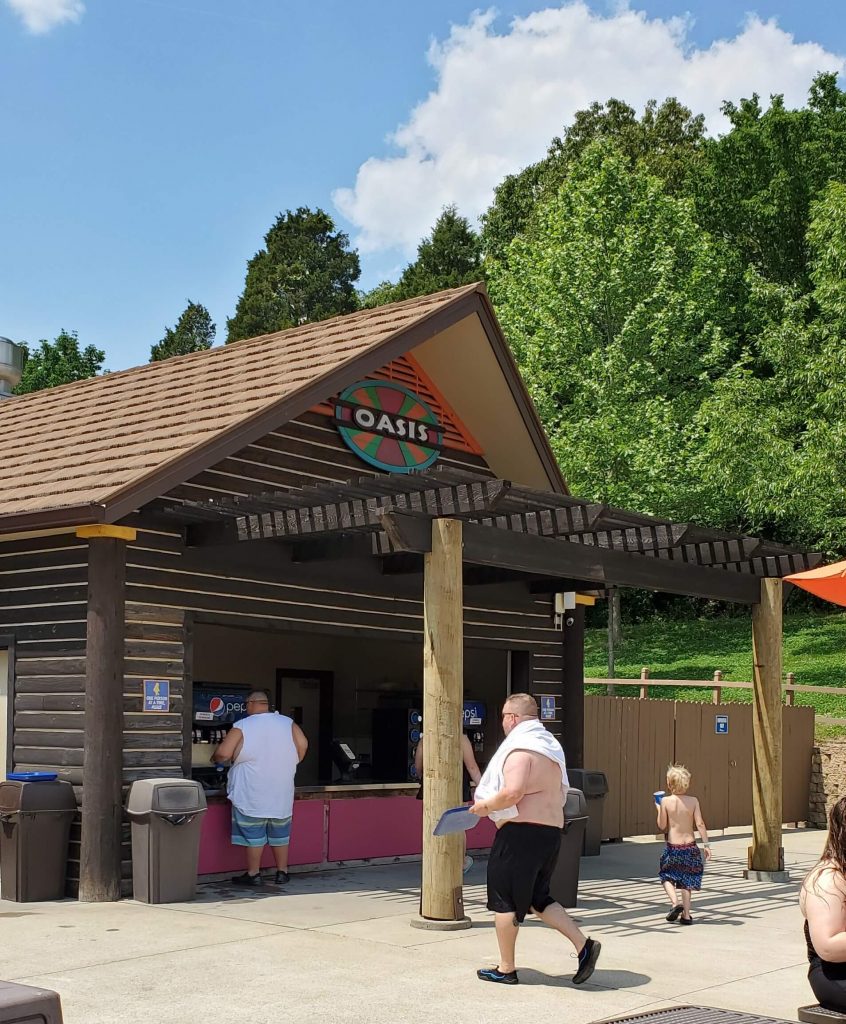 No special coupons, cups, or bottles are needed! They supply the cups and offer a wide variety of drink options. They have caffeinated beverages, as well as tea, lemonade, Gatoraid, and water.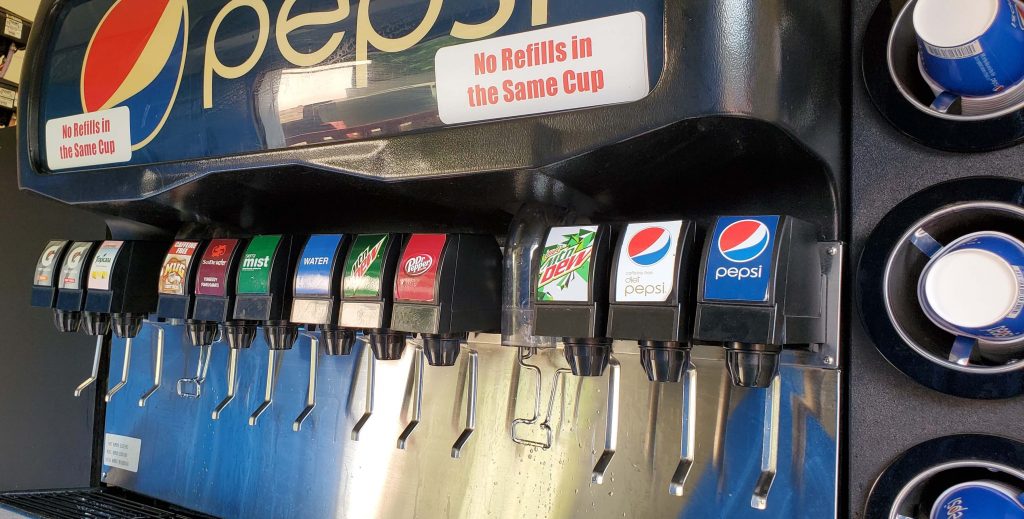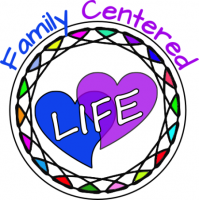 Find out more about Holiday World HERE: