Are looking for a relaxing vacation spot? Somewhere where you can be close to nature and enjoy free activities? We found it! Check out the Gatlinburg and Pigeon Forge areas of Tennessee!
In addition to the beautiful area and natural wonders of the Smoky Mountains, you find the hidden gems of moonshine distributors and wineries! The best part is the wineries and most moonshine distributors have free tastings and give away free souvenirs!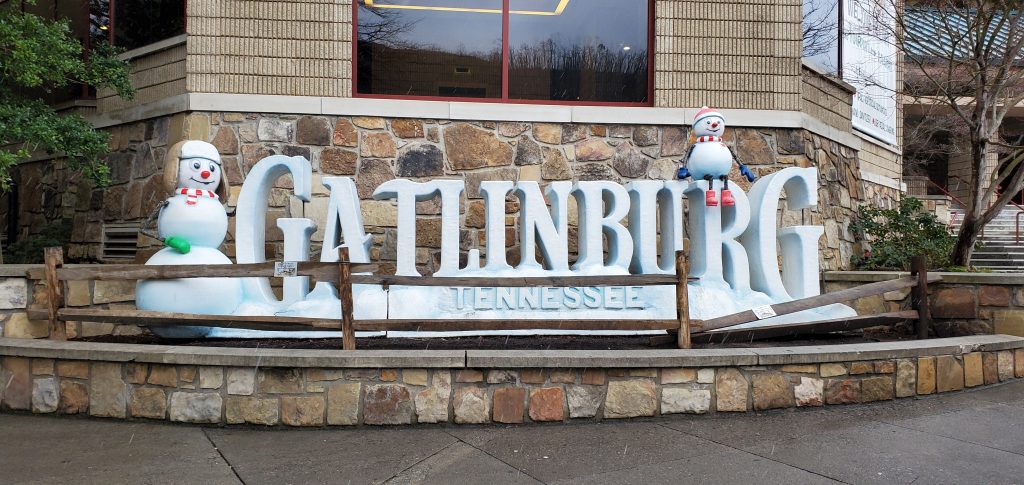 PLUS, you have to check out the wine trails located in and around the Gatlinburg, TN area!
My husband and I are not huge drinkers, but we had an amazing time wandering the Gatlinburg and Pigeon Forge area sampling various types of wines! We participated in two separate wine trails: The Gatlinburg Wine Trail and the Rocky Top Wine Trail! With both wine trails, we were able to try various wines for free, get our brochures stamped, and earn free goodies on stop #3 and stop #5 along each wine trail!
Learn why we had such a great time in Gatlinburg and why we believe the wine trails are in the top five things you need to do when visiting Gatlinburg!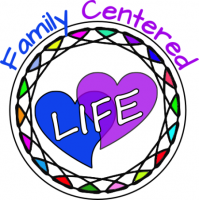 The Gatlinburg Wine Trail
You can start off the wine trail at any participating winery you choose! You obtain the passport brochure at any of the participating wineries along the wine trail and then stop by the other wineries in any order that you choose!
Your brochure gets stamped at each stop and you earn free goodies after your third and fifth stamps! Personally, I love anything free, but the idea of trying free wine to get free goodies for trying the free win is amazing!!
**Keep in mind you MUST be 21 to participate in the wine tasting and IDs are checked at EVERY winery!**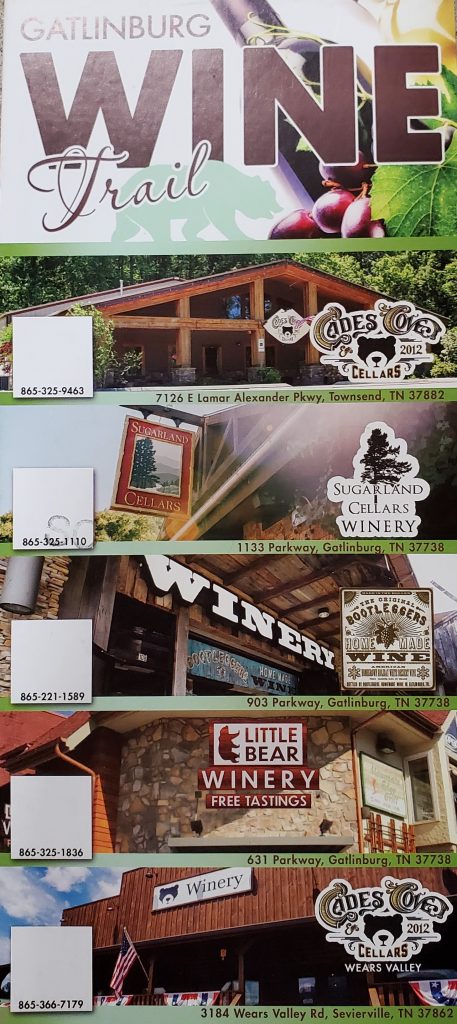 The location of each winery is on the back of the passport brochure and all are easy to find.
My husband and I decided to follow our GPS instead of this map to get us to the Cades Cove wineries. However, that was not the best decision on snow and ice-covered mountain roads! The map they provided had us go on well-traveled roads, but our GPS had the "shorter" version in mind.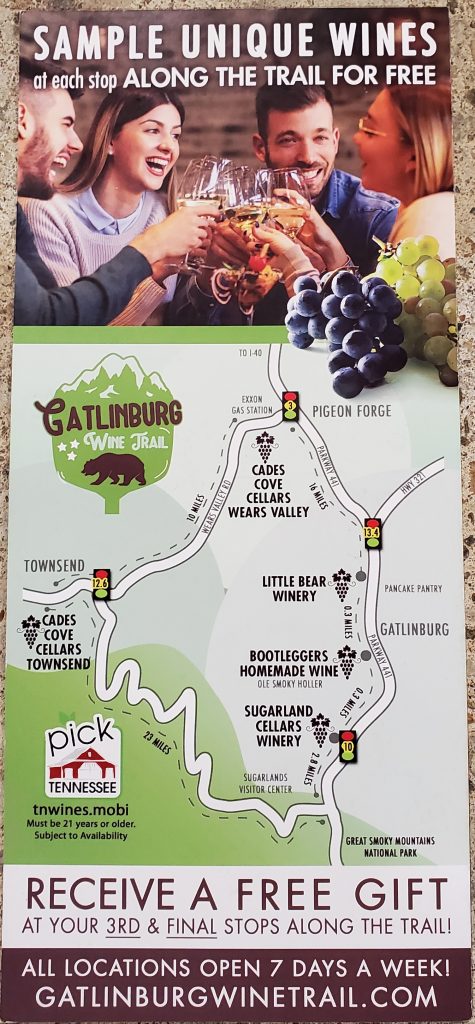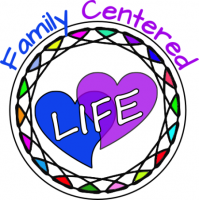 Sugarland Cellars Winery
Sugarland Cellars Winery was the very first winery we stumbled upon in Gatlinburg and are very thankful they asked us if we were participating in the wine trail. We knew nothing about it, but were thrilled to check it out!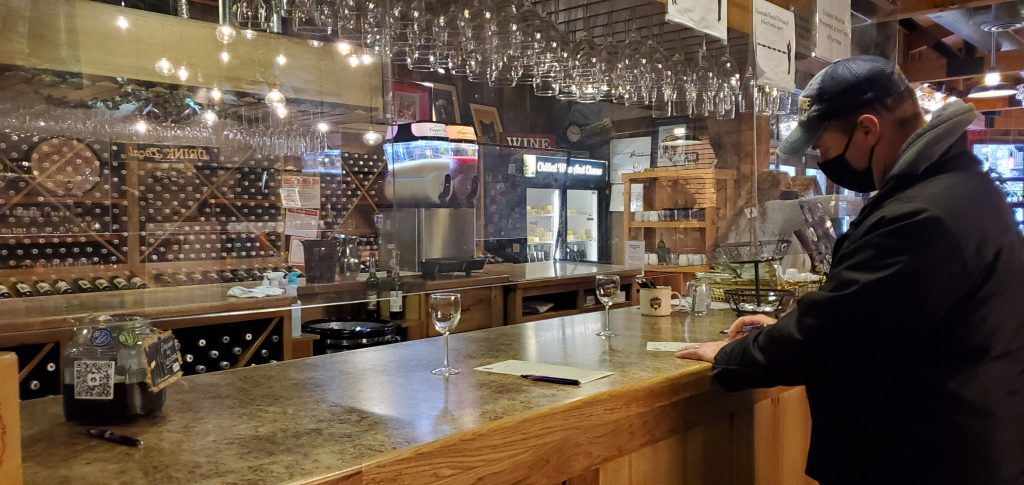 I had never found a wine that I really enjoyed, but I finally found one I actually liked while we were on this first stop of the wine trail!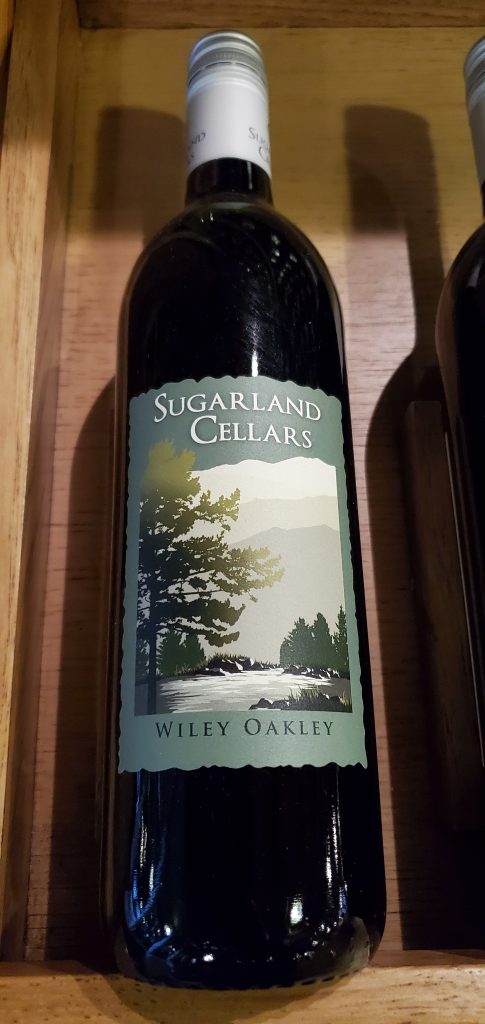 I even found a couple more along the way of the two wine trails, but this was the first one I actually enjoyed!!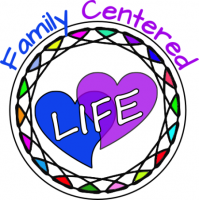 Bootleggers Homemade Wine
Bootleggers was our next stop along our way. It is a much smaller store and had a wider variety of wines than I expected. This stop had wines based on several different fruits and I am more accustomed to wines based on mainly grapes!
Many of the other stops had wines made with fruit bases other than grapes, but this was the first for us!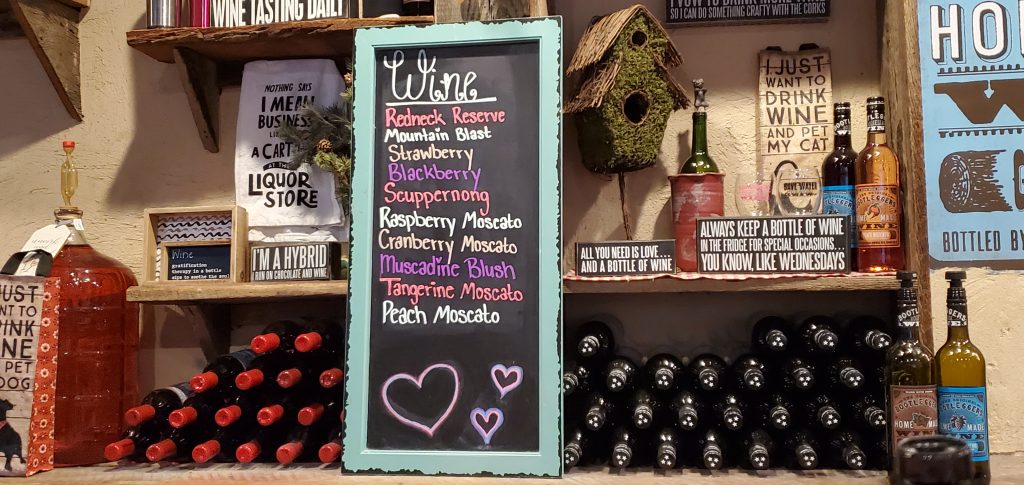 We could not try all of the favors for free, but trying four at each stop was plenty for me!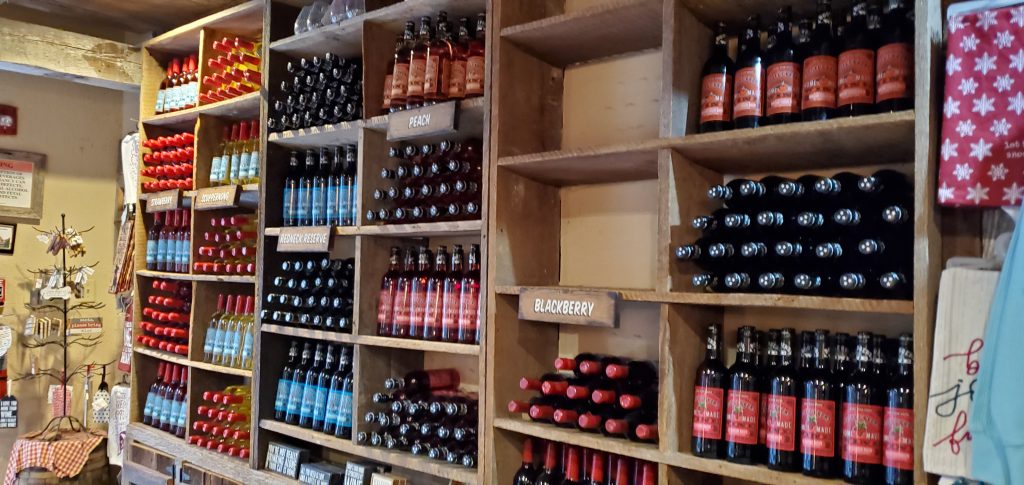 I enjoy cranberry as a mixer, but had never tried cranberry wine before!! Honestly, I never knew cranberry wine was even a thing before this trip!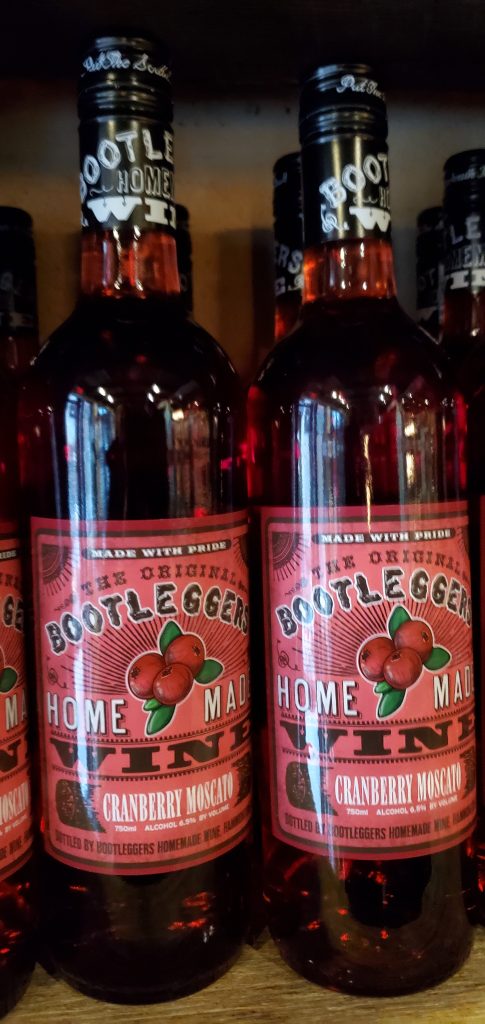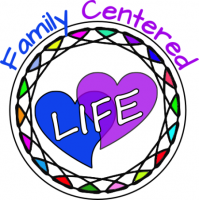 Little Bear Winery
Little Bear was the third of the three wineries on the Gatlinburg Wine Trail within walking distance on the Gatlinburg strip.
There were several other wine and moonshine locations to stop and visit along the strip in Gatlinburg, but this was the last one on this wine trail.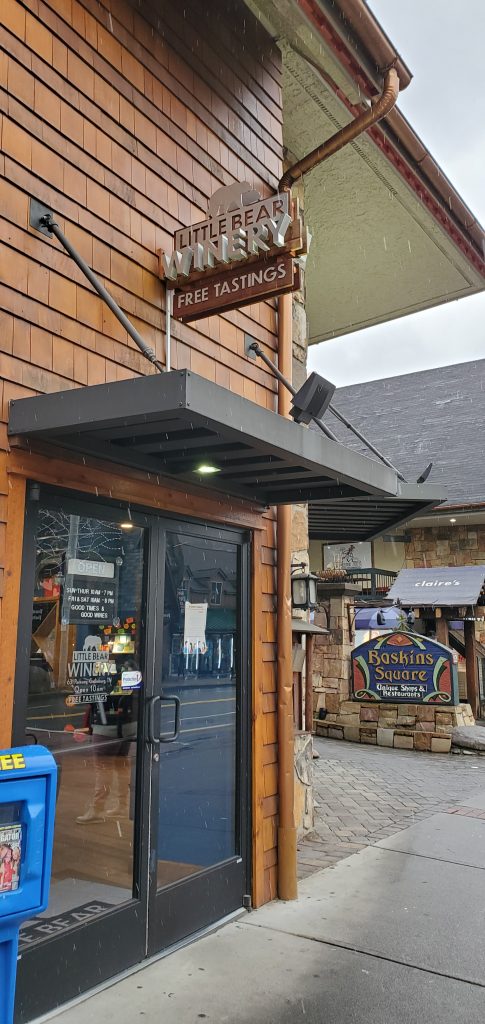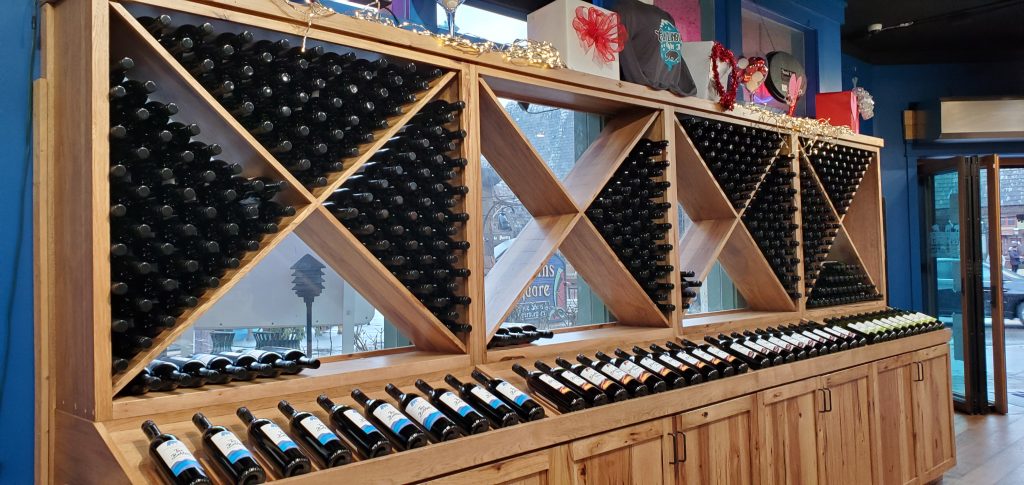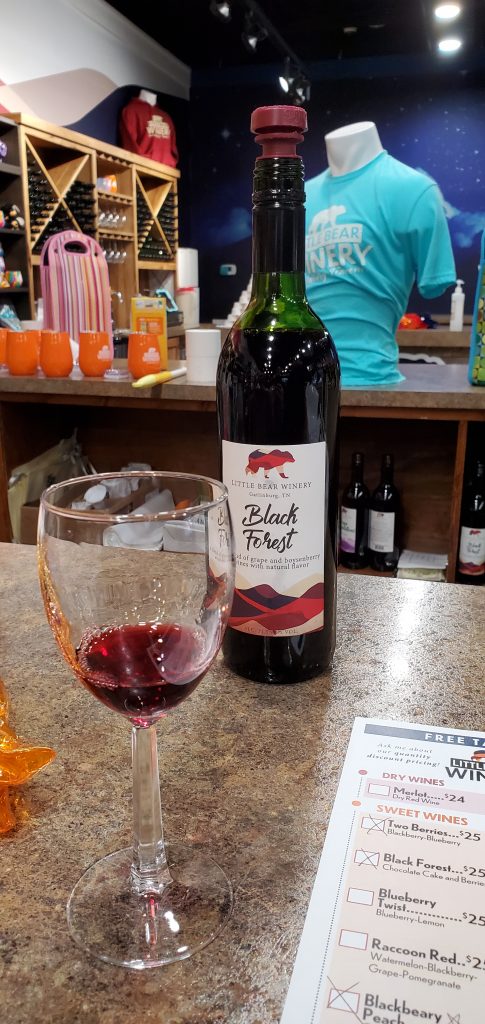 My husband tried the muscadine wine. We learned that muscadine is a type of grape that is only grown in this area of Tennessee! This reminded my husband of several country songs that talked about muscadine wine. However, he never knew what that was! Now we know!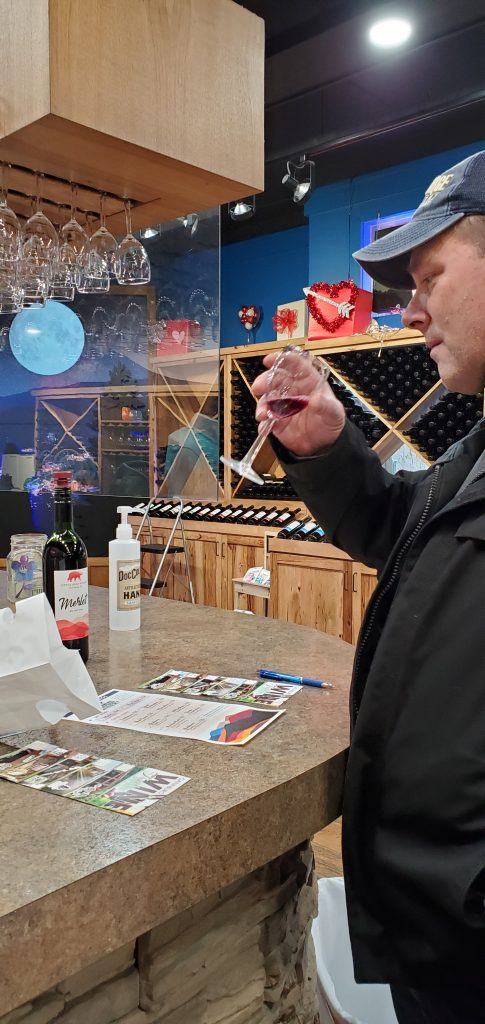 For me, I enjoyed the atmosphere at Little Bear Winery the best and had to get some pictures of the wall art!! It was just too adorable!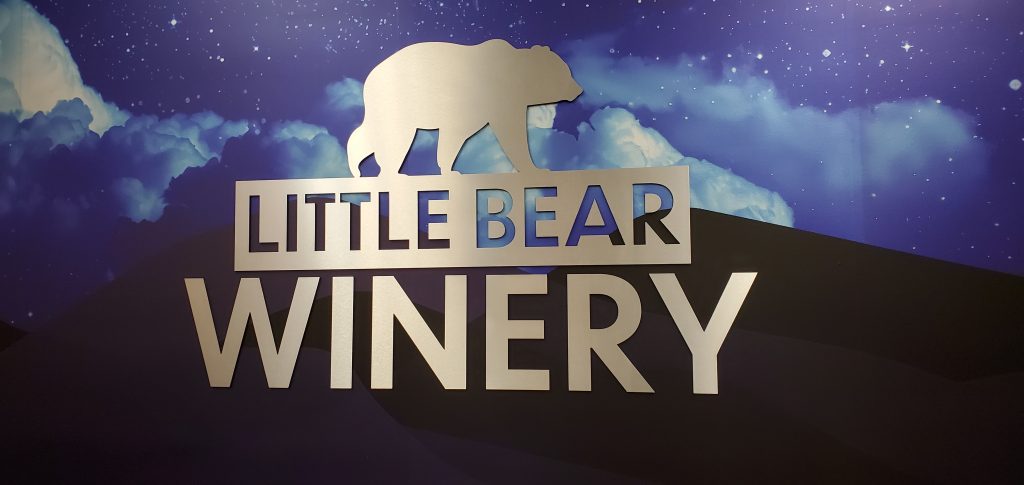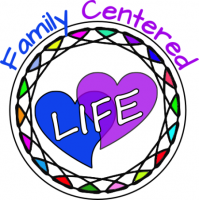 Cades Cove Cellars Wear's Valley
The two wineries in Cades Cove were a bit of a drive, but well worth the effort! We were able to sample additonal wines and see where the wine was actually made!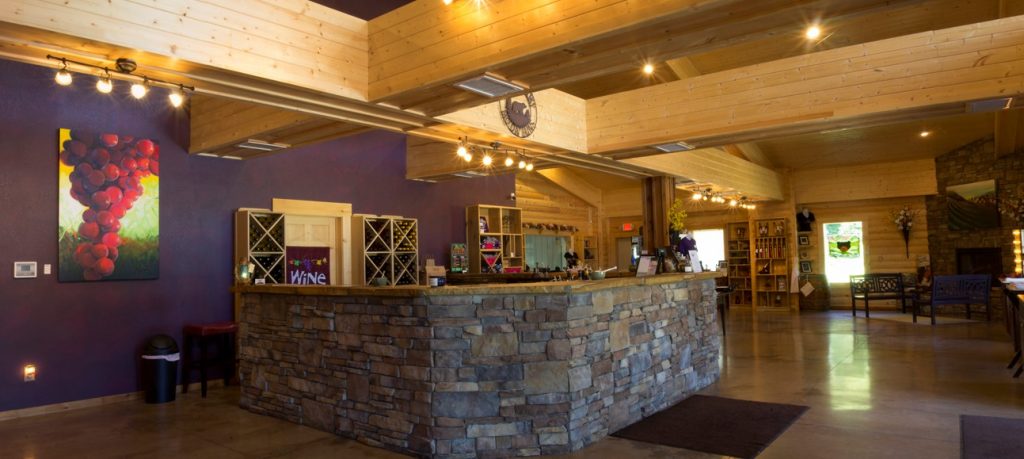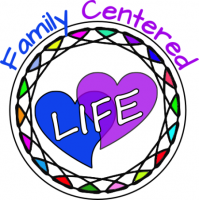 Cades Cove Cellars Townsend
Unfortunately, I got fewer pictures at the Cades Cove locations because we were enjoying our time so much!
However, I wasn't too busy to remember to bring home some of the wine we sampled!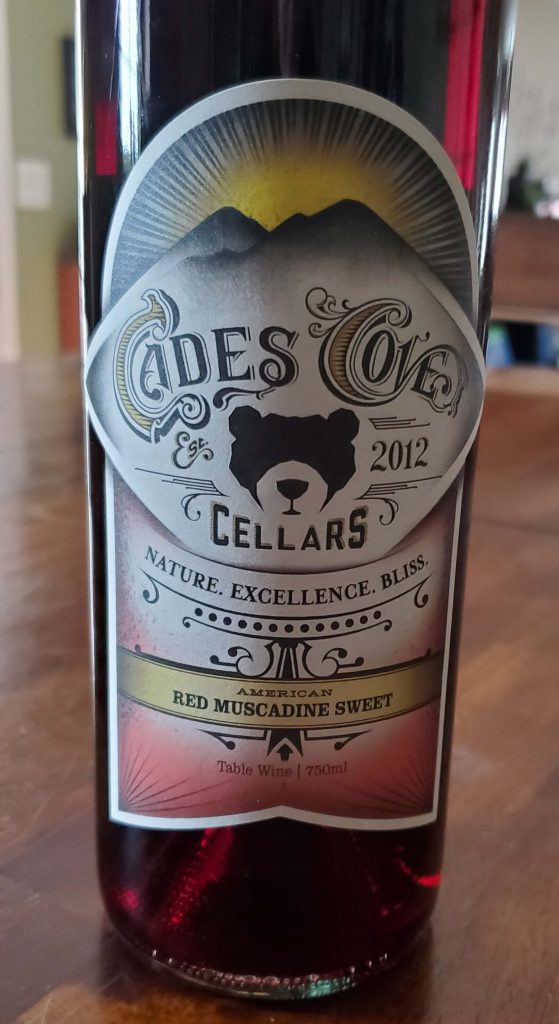 Plus, here is my splurge on this last stop along the Gatlinburg Wine Trail!. I could not pass this up considering I work in the mental health field!! Needless to say, it is a decoration for my home and not for my office!!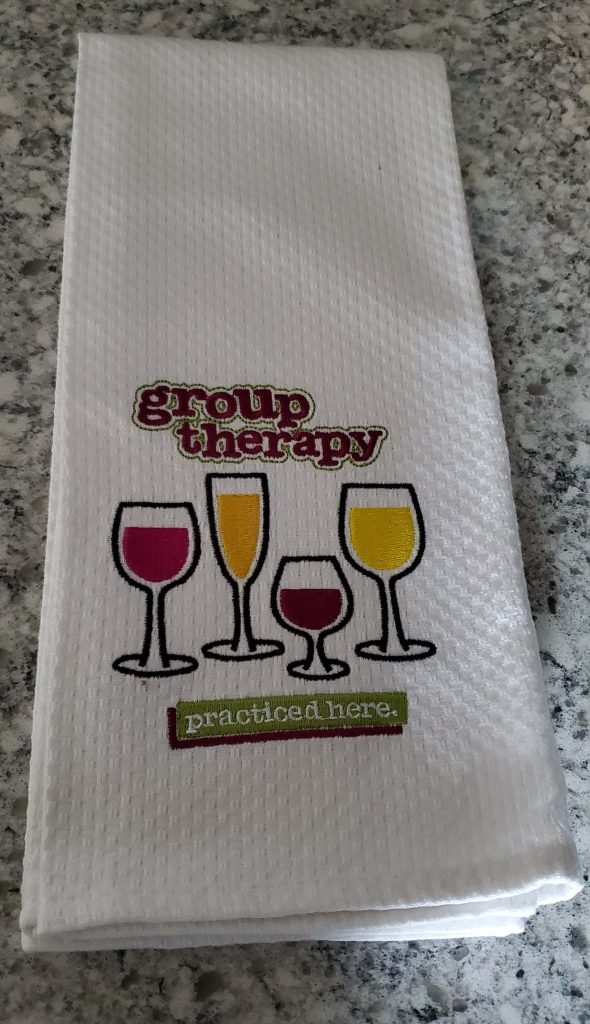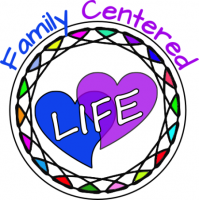 Gatlinburg Wine Trail Free Goodies
We can't forget about the free goodies for doing the free wine tastings!!! My husband and I each got one stemless wine glass after the first three wine tasting stops.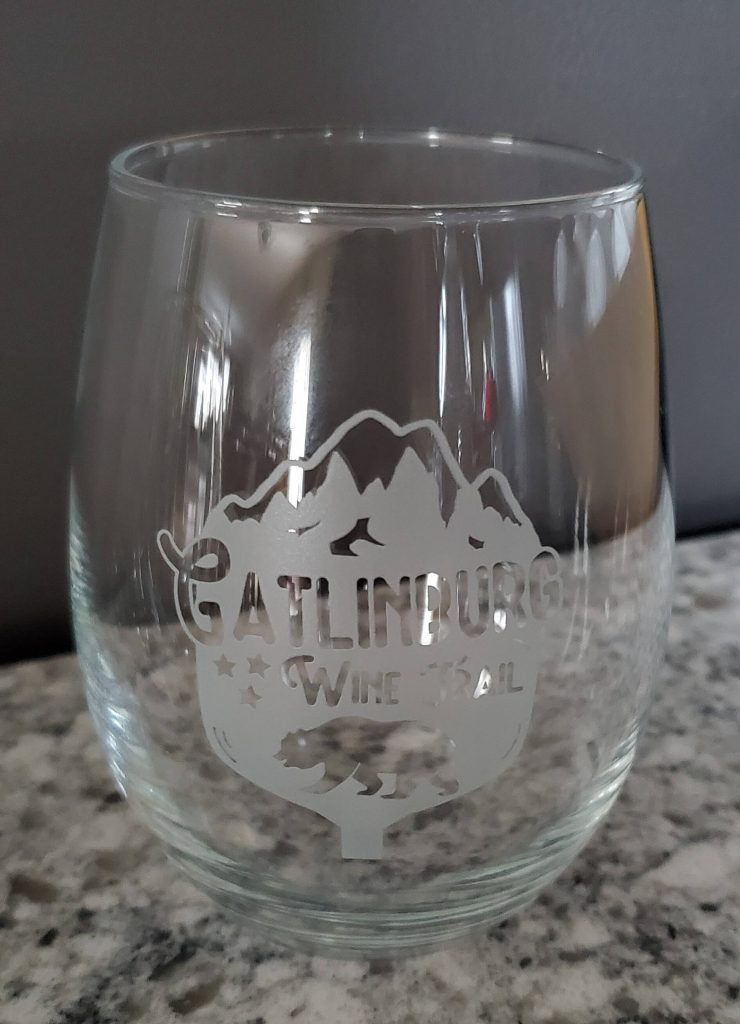 We each received one of these mugs after our fifth tasting on the Gatlinburg Wine Trail.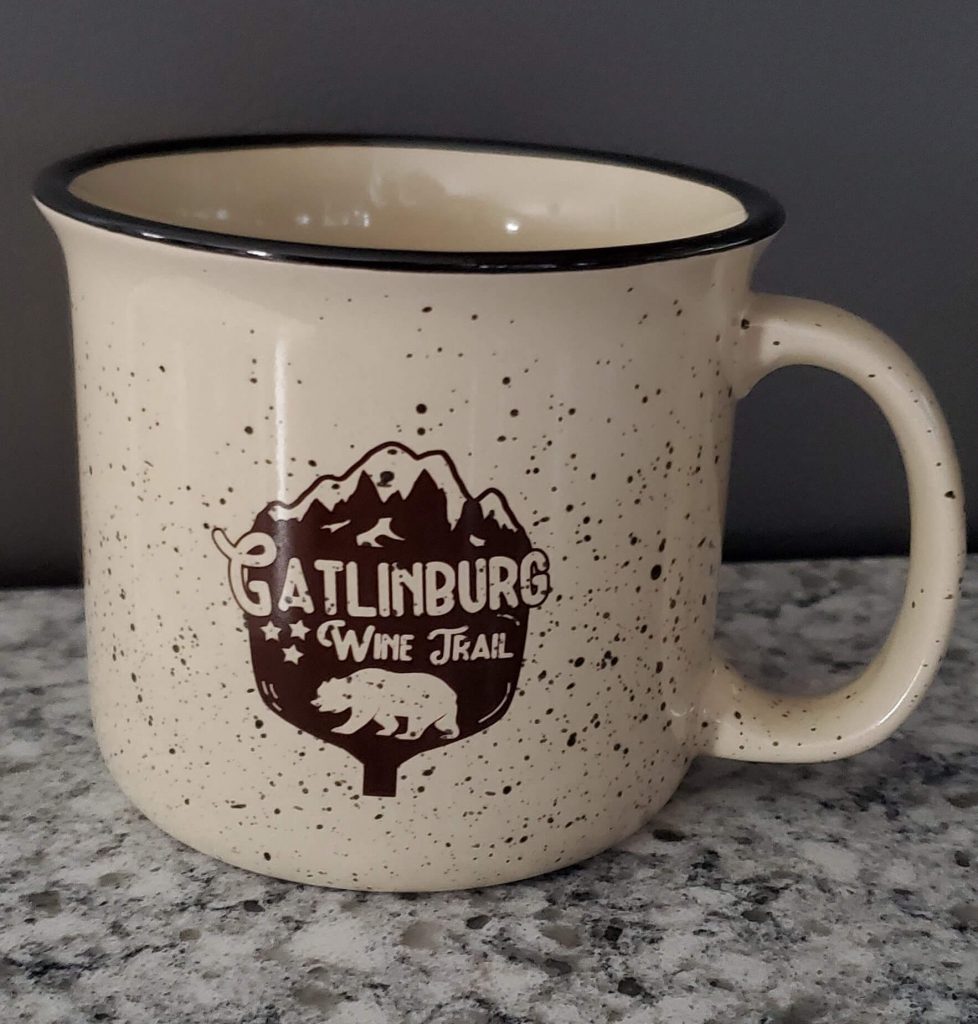 He calls his a coffee mug or soup bowl. I call mine an ice cream mug!!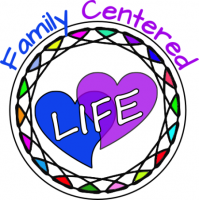 The Rocky Top Wine Trail
We are now on to the second wine trail that we completed in the Gatlinburg, TN area! We decided that since one was so much fun, we might as well do both of them!!
The Rocky Top Wine Trail is very similar to the Gatlinburg Wine Trail. You get a passport brochure at any of the participating wineries along the wine trail and you can stop by the other participating wineries in any order that you choose!
You get a stamp at each stop after you have tried their wine samples and get free goodies after your third and fifth stamps!
**Again…you MUST be 21 to participate and IDs are checked at EVERY winery!**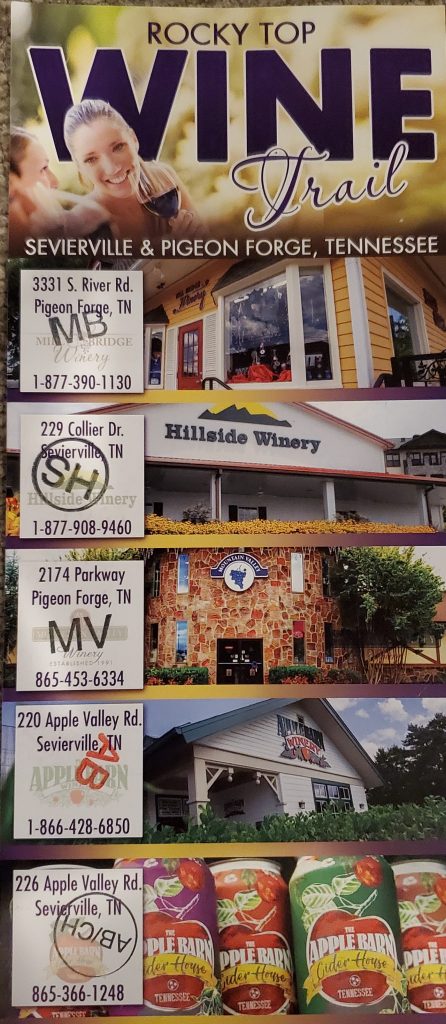 The Rocky Top Wine Trail passport brochures also have the stamps on one side and the map and directions on the other side.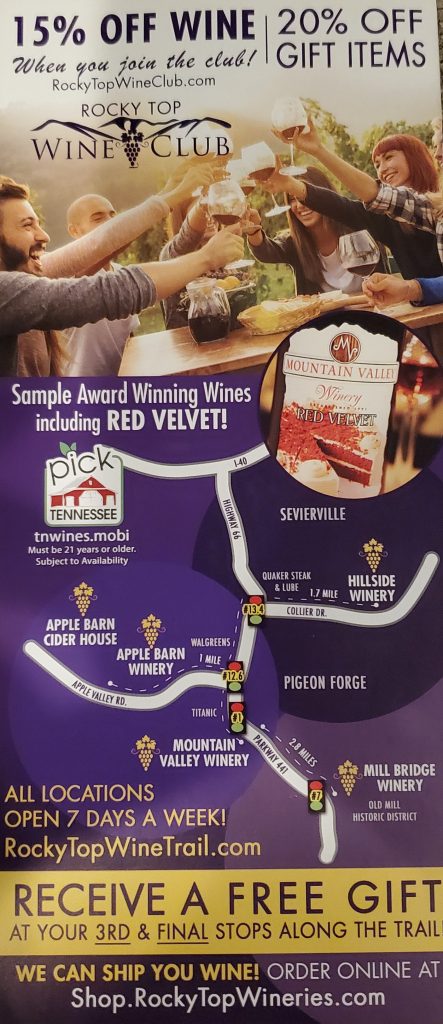 The Rocky Top Wine Trail had more driving involved than the Gatlinburg Wine Trail. We were able to walk to three and drive to two of the stops on the Gatlinburg Wine Trail. We had to drive to all of the wineries on the Rocky Top Wine Trail, but two stops were at the same location (the Apple Barn).
All were easy to find, just one had more drive time than the other.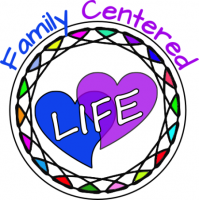 Mountain Vally Winery
Mountain Vally Winery was our first stop on the Rocky Mountain Wine Trail! We didn't even know there was a second wine trail until we stopped by just to see what they had to offer!
My husband stopped to look for a small wine bottle stand and we lucked into a second wine trail!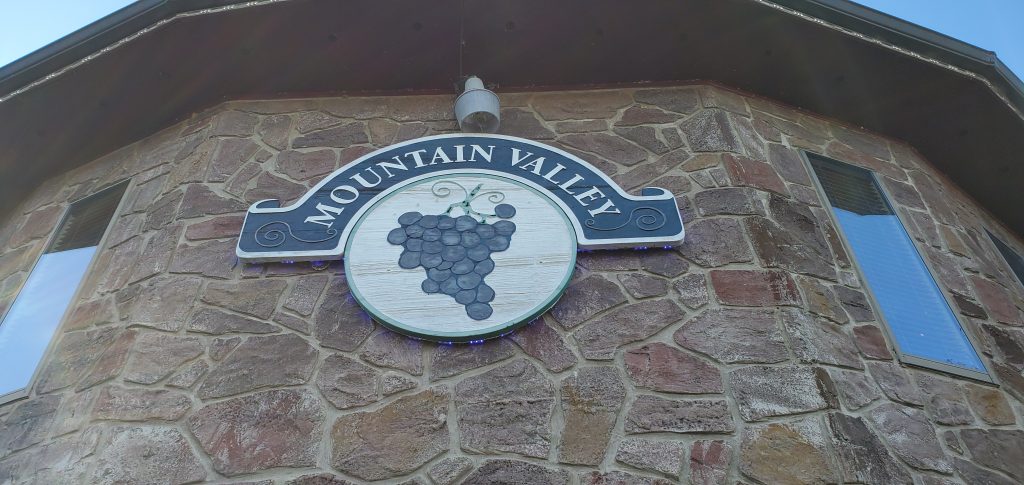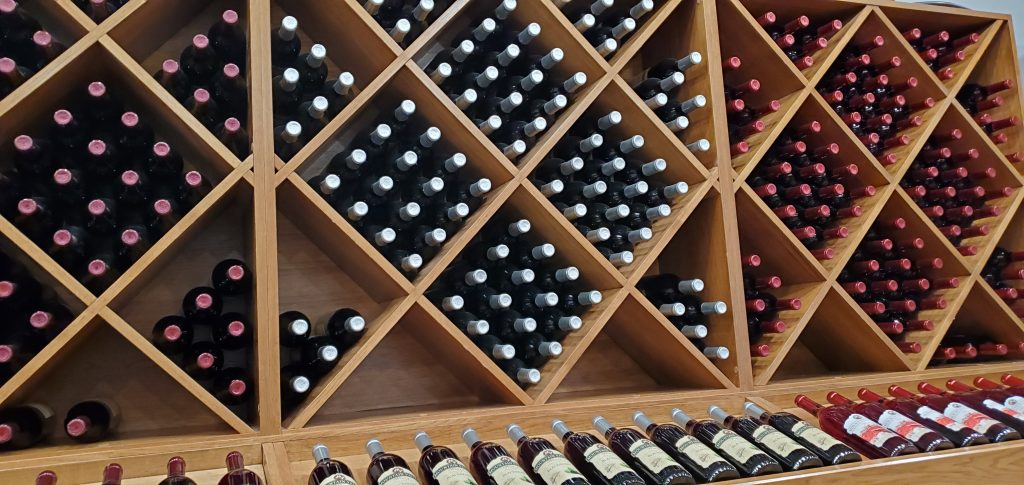 Here were the wine selections we were able to choose from. We could pick any four to sample.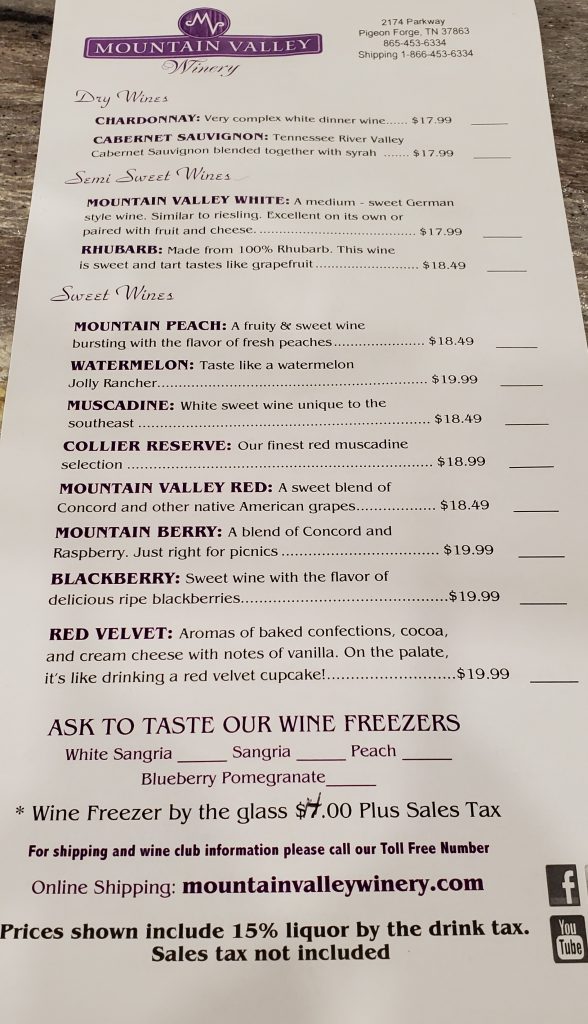 My husband is typically a beer drinker only and he even enjoyed the wine trails! We are both looking forward to do the wine trails again when we visit next time or when we find another destination with wine trails!!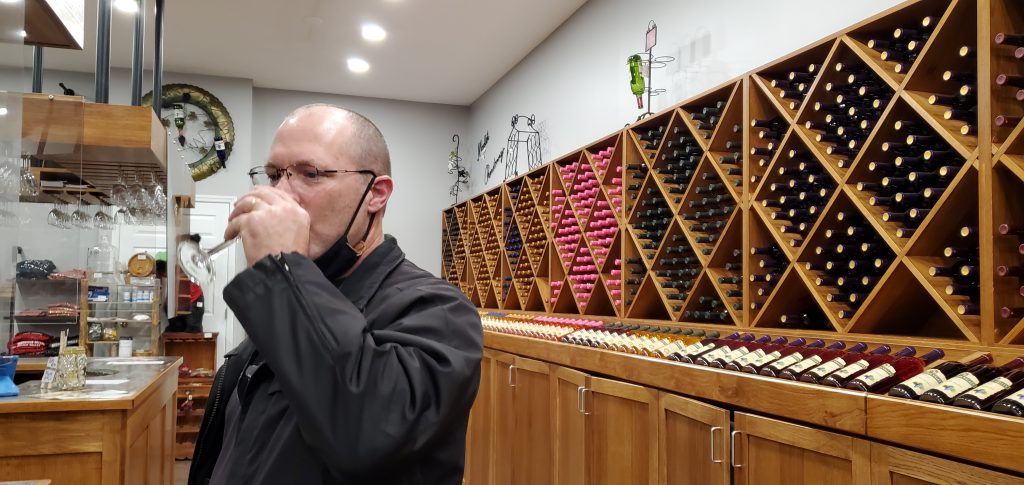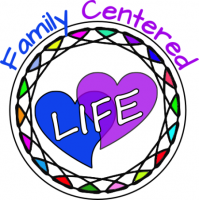 Hillside Winery
Here are the wine options we had to sample at Hillside Winery! Some were carbonated wines. Those were not my favorite, but I've never been a fan of anything carbonated besides sodas.
Fun fact, we found out they could not call the carbonated wine "champaign" because they were not made in France.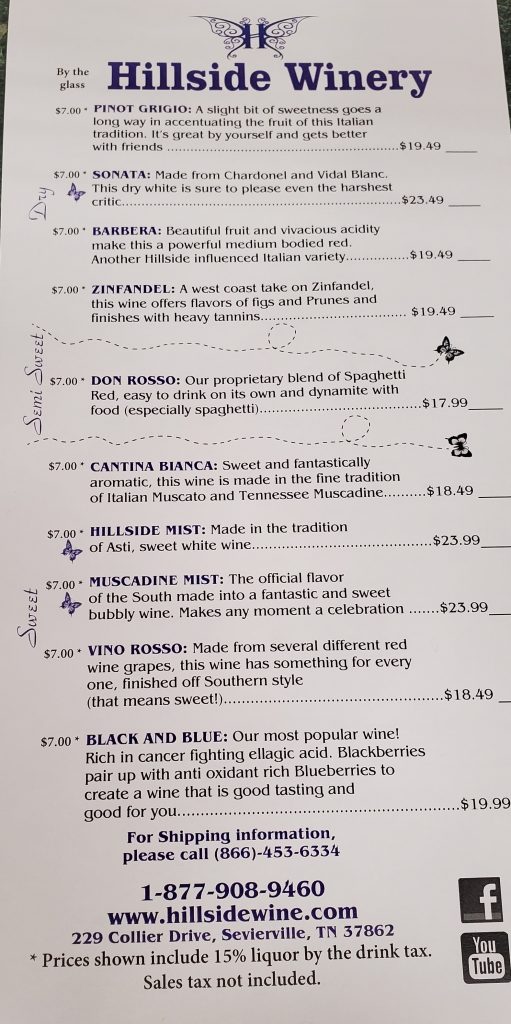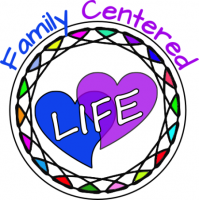 Apple Barn Winery
The Apple Barn has two stops on the property–the Winery and the Cider House. We hit the winery first because it was closest to the parking area.
I love how the vineyard was located right on the property! This small section of the vineyard is located in the main area of the complex. The larger vineyard area is located behind main buildings.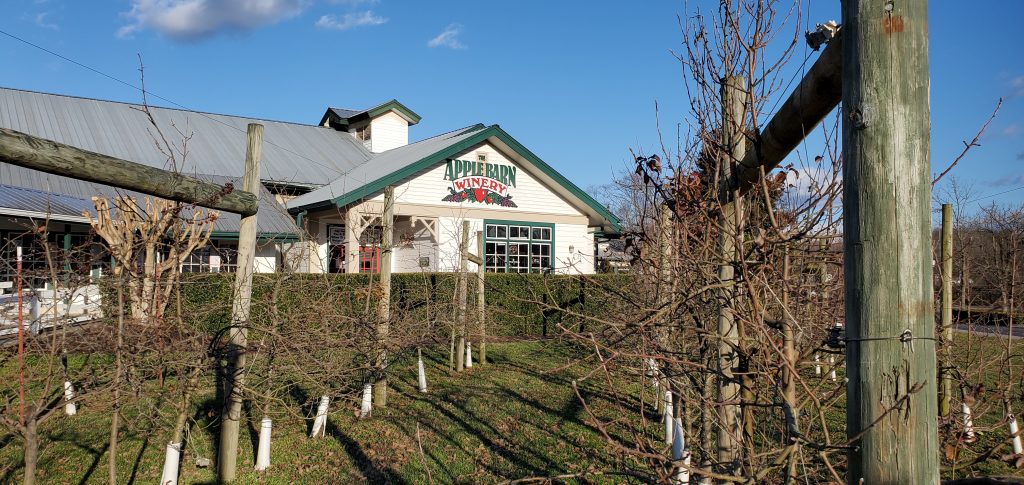 Here were our wine choices from the Apple Barn!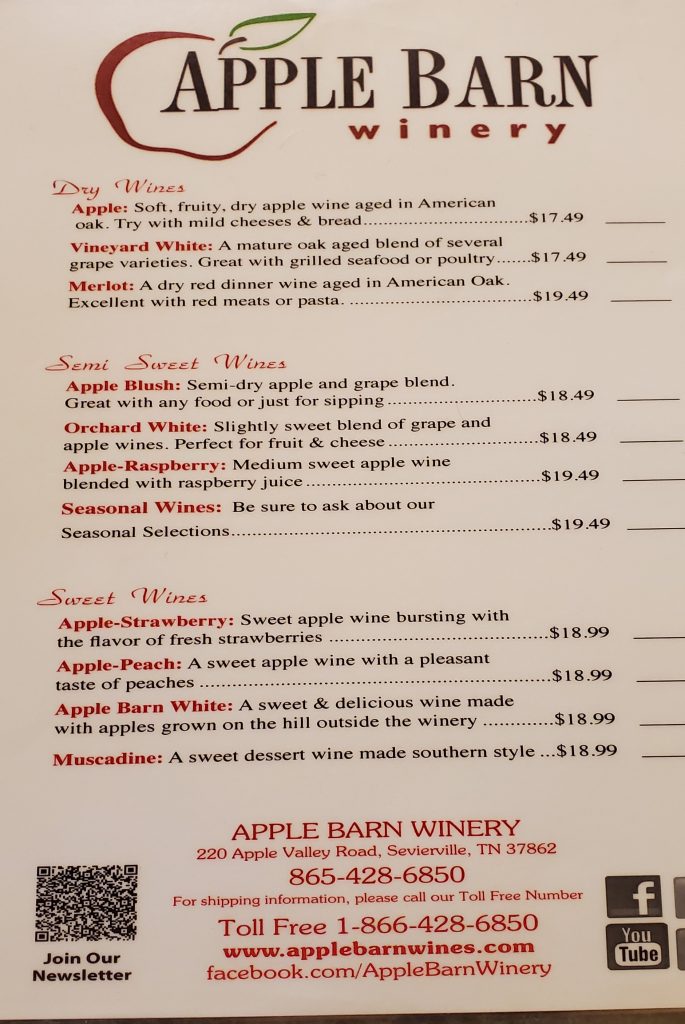 They even had one seasonal (Christmas) option still available. I planned to go back and purchase this, but got sidetracked by the creamery!!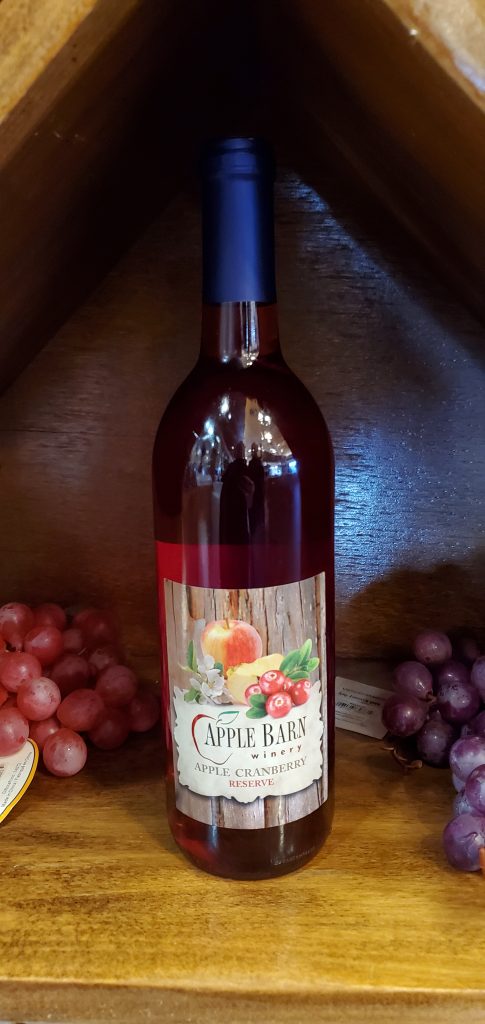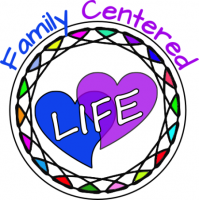 Apple Barn Cider House
Again, the Apple Barn Cider House is on the same property as the Apple Barn winery.
Hard ciders were not my favorite, but I'm glad we got to try them anyway!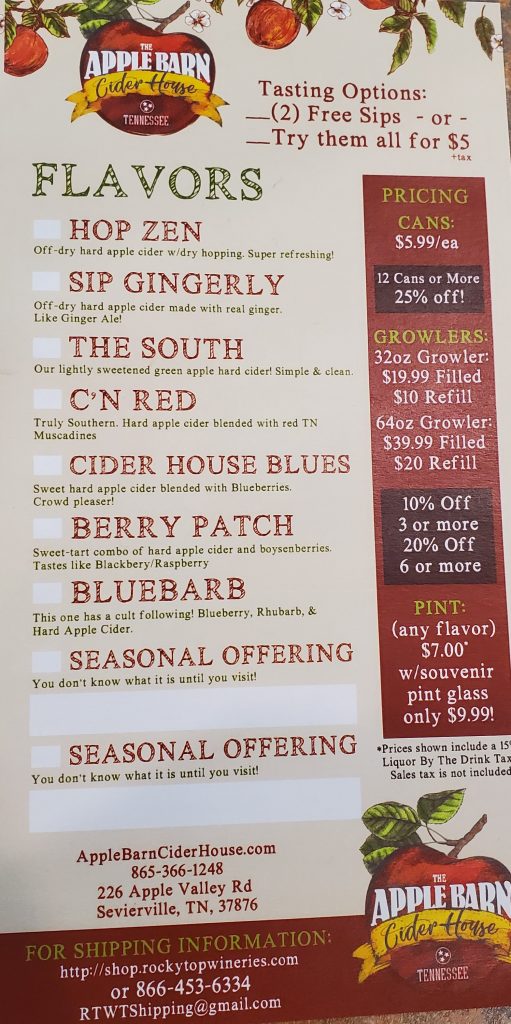 BONUS: The Apple Barn had an ice cream shop (creamery) on property!! The Apple Valley Cremery had a wide variety of flavors and everything we tried was amazing!!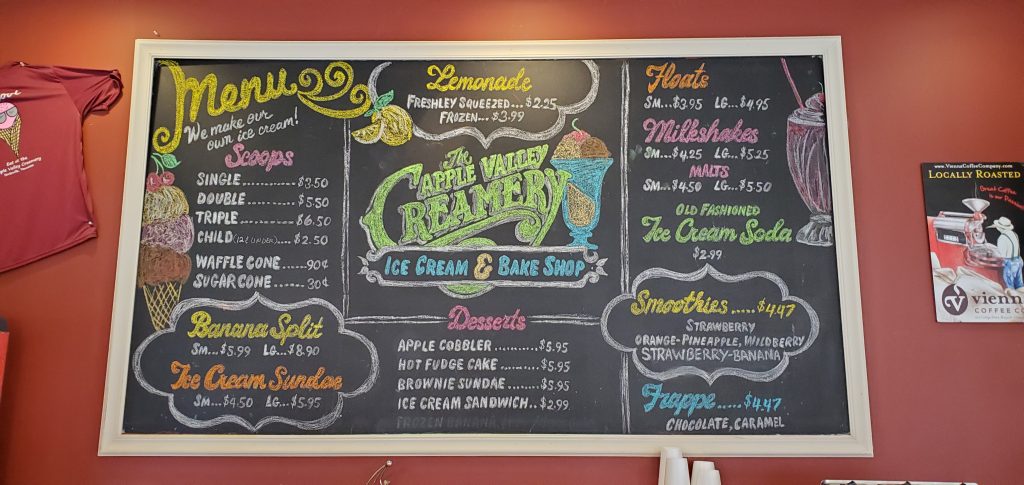 We were able to try some ice cream samples (in addition to our wine and hard cider samples). Of course, I had to actually purchase ice cream! YUMMY!!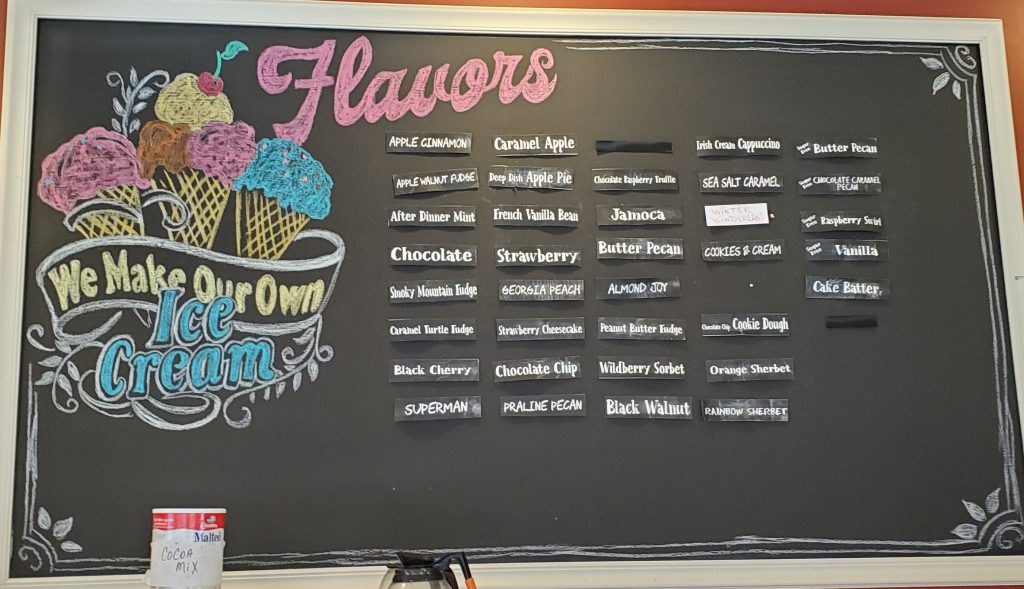 There was also a bakery attached to the ice cream shop, but they did not have samples available at the time we visited due to COVID-19 limitations.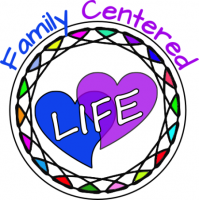 Mill Bridge Winery
The Mill Bridge Winery was the concluding stop for both of the wine trails on this Tennessee vacation. It is a beautiful location, across the stress from the Old Mill. (On a side note, when you go to Pigeon Forge, you have to take time to check out the Old Mill. The food is amazing and the setting is just breath-taking.)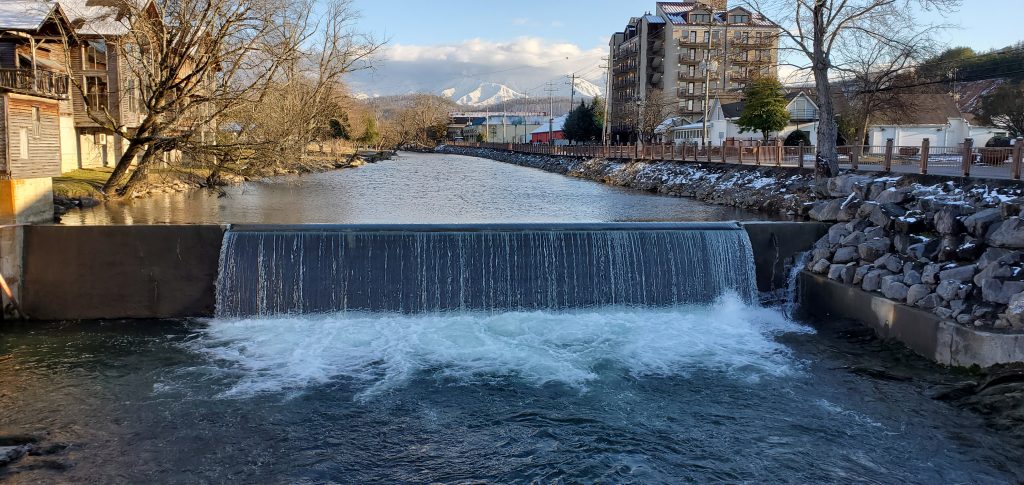 Our wine selections from Mill Bridge Winery: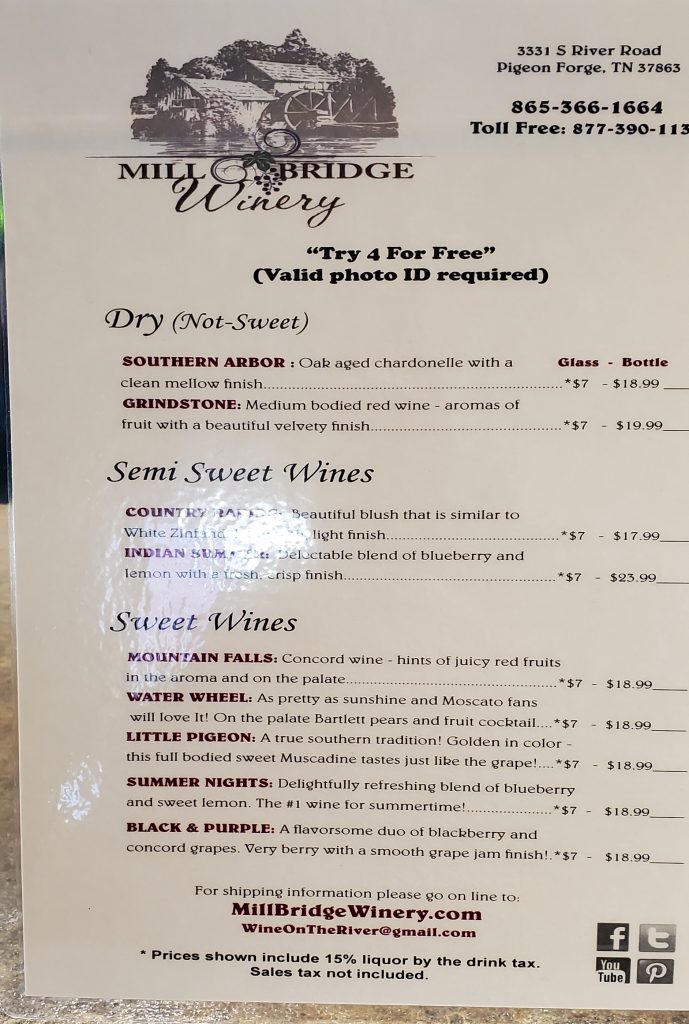 I thought this was a great name for their wine because we were very close to the Little Pigeon River!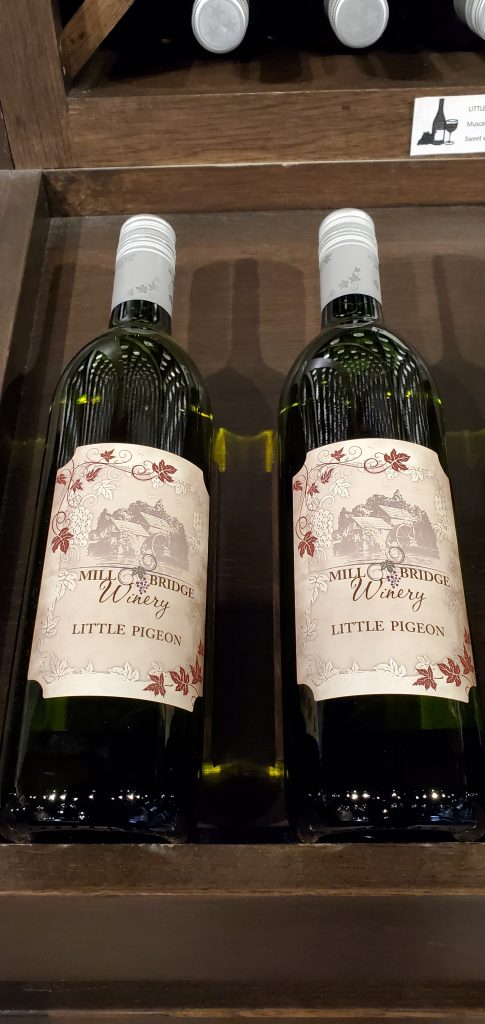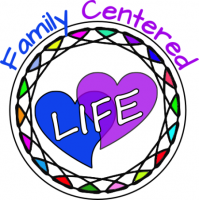 Rocky Top Wine Trail Free Goodies
Again, we can't forget the free goodies for trying the free wine samples!!
We received wine glasses from our third stop on the Rocky Top Wine Trail.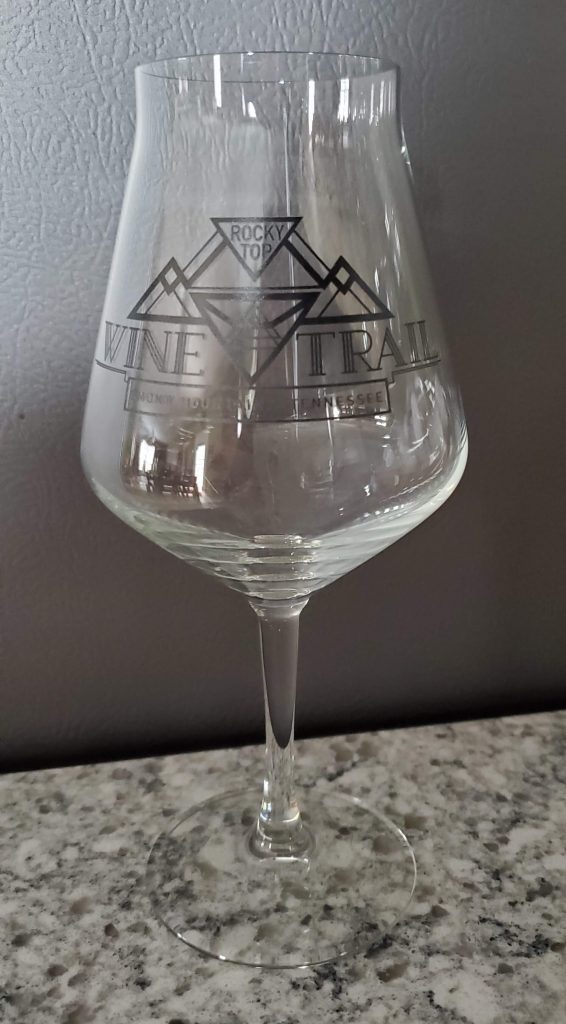 We received "corkscrews" from our fifth stop on the Rocky Top Wine Trail. They neglected to mention that the corkscrew was attached to a multi-tool!! That was a pleasant surprise!
All of the free goodies from both wine trails were good quality! Just additional treats to our free wine tasting days!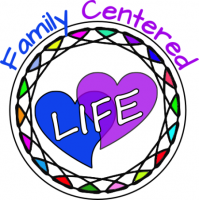 Bonus…our take-home section!
With all of our wine tasting, we decided to purchase a few bottles of wine to bring home with us!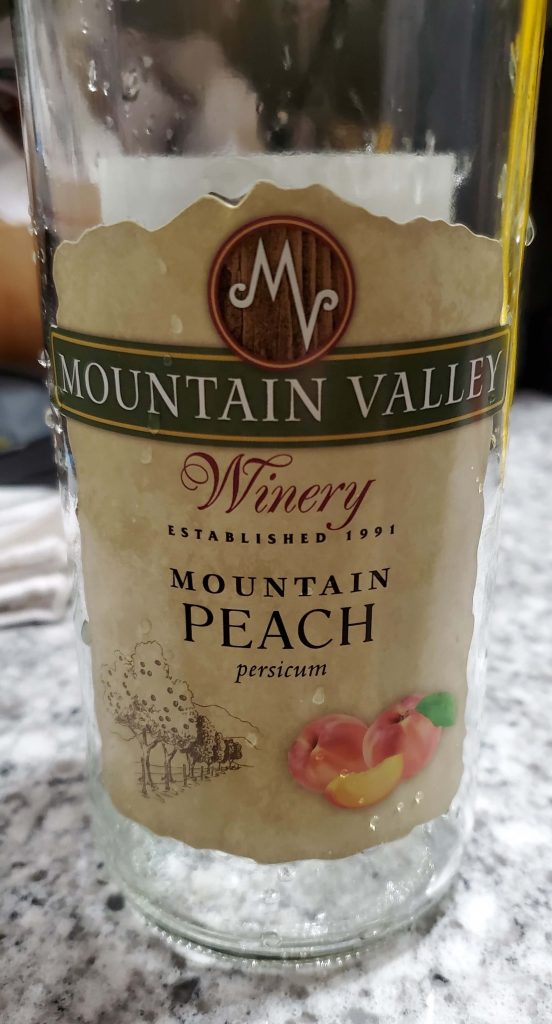 In addition to our wine selections that we brought home with us, I wanted to add some slushy mixes too!
These are the ones we purchased and they are AMAZING! I found these on Amazon and was honestly surprised they were the same price on Amazon as what I paid for them at the wineries in Tennessee!!
I'm a huge fan of anything peach, but the sangria mix is just as good, if not better than the peach one! However, I enjoyed both! I mixed peach wine with the peach slushy mix and blackberry wine with the sangria mix! Wow! Yummy!
I've already told my husband that, once we run out of wine, he will need to find a friend heading back to Gatlinburg to do some shopping for us or we need to make a quick weekend trip sometime!!
In case you are looking for ideas for additions to your own wine collection: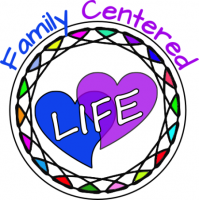 Here is some additional great information you're interested in more about the Gatlinburg TN area!